Winter Warming Dishes from Around the World
Around the world, people have different ways of warming themselves up when the weather gets chilly. Here are a few recipes of winter dishes from around the world. Fill free to try or make any of these recipes if you are tired of the same old cup o' chili that you eat every winter.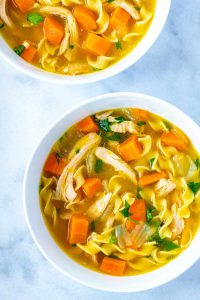 USA: Chicken Noodle Soup
Ingredients
2-1/2 pounds bone-in chicken thighs
1-1/4 teaspoons pepper
1/2 teaspoon salt
1 tablespoon canola oil
1 large onion, chopped
1 garlic clove, minced
10 cups chicken broth
4 celery ribs, chopped
4 medium carrots, chopped
2 bay leaves
1 teaspoon minced fresh thyme
3 cups uncooked kluski or other egg noodles
1 tablespoon chopped fresh parsley
1 tablespoon lemon juice
Instructions
Pat chicken dry with paper towels; sprinkle with 1/2 teaspoon pepper and salt. In a 6-qt. stockpot, heat oil over medium-high heat. Add chicken in batches, skin side down; cook until dark golden brown, 3-4 minutes. Remove chicken from pan; remove and discard skin. Discard drippings, reserving 2 tablespoons.
Add onion to drippings; cook and stir over medium-high heat until tender, 4-5 minutes. Add garlic; cook 1 minute longer. Add broth, stirring to loosen browned bits from pan. Bring to a boil. Return chicken to pan. Add celery, carrots, bay leaves and thyme. Reduce heat; simmer, covered, until chicken is tender, 25-30 minutes.
Transfer chicken to a plate. Remove soup from heat. Add noodles; let stand, covered, until noodles are tender, 20-22 minutes.
Meanwhile, when chicken is cool enough to handle, remove meat from bones; discard bones. Shred meat into bite-sized pieces. Return meat to stockpot. Stir in parsley and lemon juice. Adjust seasoning with salt and remaining 3/4 teaspoon pepper. Discard bay leaves.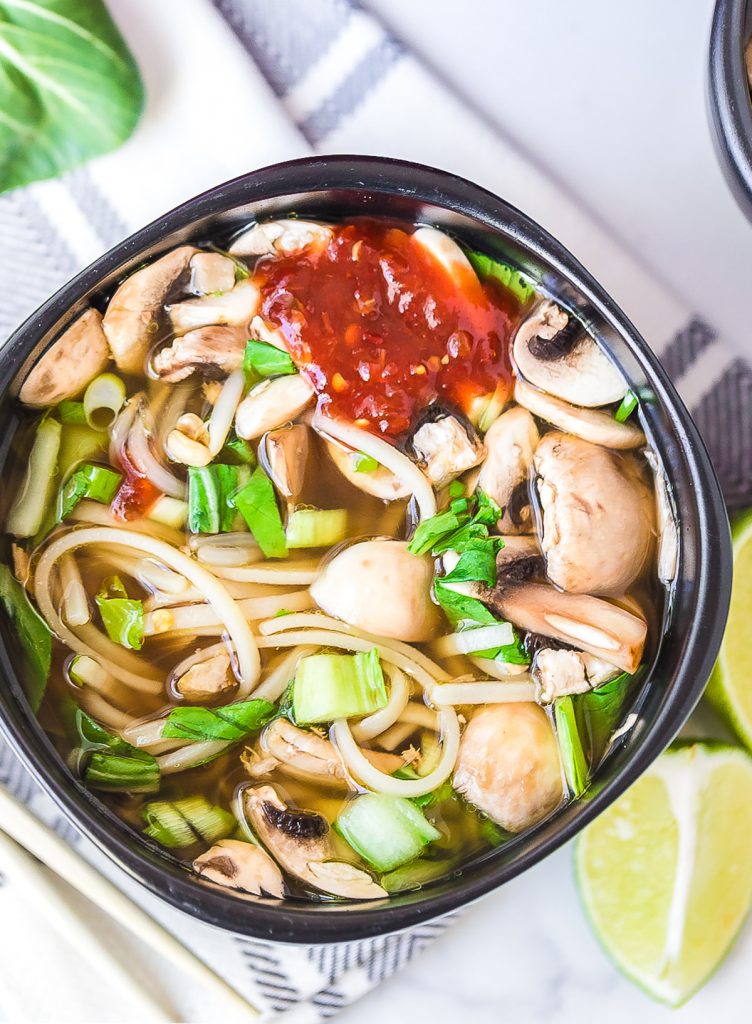 China: Hot Pot
Ingredients
6 cups chicken stock
6 cups water
1/2 cup rice vinegar
1/3 cup soy sauce
1 1/2 tablespoons sesame oil
3-5 slices fresh ginger
3-5 cloves garlic, cracked
1 pound boneless chicken thighs thinly sliced
5 ounces bean thread noodles or rice noodles
1 bunch green onions
1 1/2 cup mung bean sprouts
8 ounces mushrooms, any variety
4 baby bok choy
Chile-garlic sauce
Instructions
In a large pot, bring the chicken stock, water, vinegar, soy sauce, sesame oil, ginger and garlic to a boil. Add the chicken and simmer for 5-7 minutes, until just cooked through. Add the noodles. Stir, then cover and remove from heat.
Meanwhile chop all the veggies and place in serving bowls. When ready to serve, allow each person to fill their bowls with fresh vegetables and a bit of chile sauce.
Ladle the scalding hot soup over the veggies and let them sit for 5 minutes, then mix well before eating.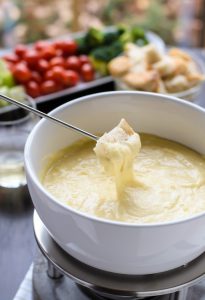 Switzerland: Fondue
Ingredients
1/2 pound Gruyere, coarsely grated
1/2 pound Emmental, coarsely grated
2 teaspoons cornstarch
1/2 garlic clove
2/3 cup dry white wine (Chardonnay is fine)
4 tablespoons Kirsch (dry cherry brandy)
Pinch freshly grated nutmeg
Freshly ground black pepper
Dipping items of your choice, such as bread cubes or apples
Instructions
Toss the 2 cheeses together with the cornstarch. Rub the inside of a heavy saucepan with the cut garlic clove. Add wine and 2 tablespoons Kirsch and bring to a boil. Reduce the heat to medium-low and add the cheese mixture, stirring, until mixture is hot and smooth.
Add remaining 2 tablespoons Kirsch if mixture is too thick. Season with nutmeg and pepper, to taste. Transfer to a fondue pot and serve immediately with dippers of choice.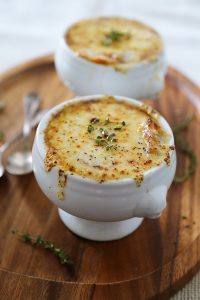 France: Onion Soup
Ingredients
3 large onions peeled and sliced
½ teaspoon brown sugar
1/3 cup butter
8 cups beef broth 64oz
1/3 cup dry white wine
3 sprigs fresh thyme
1 bay leaf
1/4 teaspoon pepper
1 tablespoon Worcestershire sauce
1 baguette
3 cups gruyere cheese
6 tablespoons fresh parmesan cheese
Instructions
Slice onions 1/4″ thick. Cook onions stirring occasionally over low heat in melted butter (with sugar if using) until golden, about 30-45 minutes.
Add wine, beef broth, bay leaf, thyme, black pepper and Worcestershire sauce. Bring to a boil, reduce heat and simmer for 1 hour. Remove bay leaf and thyme and discard.
Meanwhile, slice bread and brush with olive oil. Broil 2 minutes per side or until golden.
Ladle soup into ceramic bowls. Add 2 slices of bread in each bowl. Divide cheeses over bowls and broil until golden and bubbly.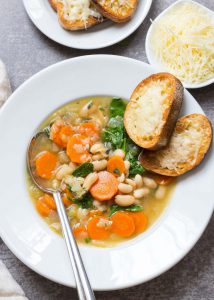 Italy: Tuscan Bean Soup
Ingredients
2 tablespoons extra-virgin olive oil
2 ounces deli-sliced hot capicola or coppa ham, chopped
1/2 red onion, chopped
5 cloves garlic (4 minced, 1 whole)
2 carrots, halved lengthwise and thinly sliced
2 stalks celery, thinly sliced
1 15-ounce can no-salt-added cannellini beans
1 15-ounce can no-salt-added petite diced tomatoes
2 tablespoons grated parmesan cheese
1 small piece parmesan rind
Kosher salt and freshly ground pepper
4 thick slices whole-grain bread
1 small head escarole, chopped
Instructions
Heat 1 tablespoon olive oil in a large heavy-bottomed pot over medium-high heat. Add the capicola, red onion and minced garlic. Cook, stirring, until the onion softens, about 2 minutes. Add the carrots and celery. Cook, stirring, until slightly softened, about 5 minutes. Add the beans, tomatoes, 2 cups water, the parmesan rind, 1/2 teaspoon salt and a few grinds of pepper. Bring to a simmer, then cover and cook until the vegetables are tender, 15 to 20 minutes. Remove the parmesan rind.
Meanwhile, lightly toast the bread; rub both sides with the whole garlic clove and sprinkle with grated parmesan. Stir the escarole into the soup and cook, stirring occasionally, until wilted, about 5 minutes. Top each serving of soup with a piece of toast. Drizzle with the remaining 1 tablespoon olive oil.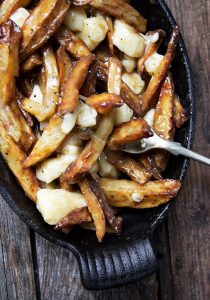 Canada: Poutine
Ingredients
4 pounds russet potatoes cut into 1/4 inch matchsticks
2 beers
4 tablespoons unsalted butter
1/4 cup flour use a gluten free flour blend if needed
1 shallot finely minced
1 clove garlic minced or grated
3 1/2 cups low sodium beef stock
1/2 cup stout beer or more beef stock
2 tablespoons ketchup
1 tablespoon balsamic vinegar
2 teaspoons worcestershire sauce
Salt and pepper to taste
Canola oil for frying
3 cups cheddar cheese curds
Instructions
Place the cut potatoes in a large bowl, cover with beer (or cold water), and refrigerate for 3 minutes to 2 hours, the longer the better.
Meanwhile, make the gravy. Heat the butter in a large saucepan over medium-high heat. Add flour, and cook, stirring, until smooth, about 2 minutes. Add the shallot and garlic, and cook, until soft, about 2 minutes. Add the beef stock, ketchup, stout beer, balsamic vinegar, worcestershire, and a pinch of salt and pepper, and bring to a boil; cook, stirring, until thickened, about 6 minutes. Keep over the lowest setting while you fry the potatoes. You may need to add more beef stock to thin if the gravy gets too thick.
Pour the canola into a 6-qt. Dutch oven, filling it about 3 inches up the sides. Heat over medium heat until a deep-fry thermometer reads 375 degrees F. Drain potatoes, and dry thoroughly with paper towels. Working in small batches, add potatoes and fry, tossing occasionally, until tender and slightly crisp, about 4 minutes. Remove from the oil and drain on paper towels. Increase the temperature to high, and heat oil until thermometer reads 425 degrees F. Working in small batches, return potatoes to oil, and fry, tossing occasionally, until crisp and golden brown, about 2-4 minutes. Transfer fries to paper towels to drain. Sprinkle the fries with salt.
Immediately divide the fries among serving bowls. Divide the cheese curds over the fries. Now make sure that your gravy is piping hot and pour the gravy over each serving of cheese fries.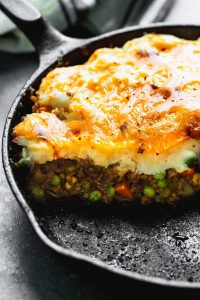 England: Shepherd's Pie
Ingredients
For Potatoes
1 1/2 lb. potatoes, peeled
Kosher salt
4 tbsp. melted butter
1/4 cup milk
1/4 cup sour cream
Freshly ground black pepper
For Beef Mixture
1 tbsp. extra-virgin olive oil
1 large onion, chopped
2 carrots, peeled and chopped
2 cloves garlic, minced
1 tsp. fresh thyme
1 1/2 lb. ground beef
1 cup frozen peas
1 cup frozen corn
2 tbsp. all-purpose flour
2/3 cup low-sodium chicken broth
1 tbsp. freshly chopped parsley, for garnish
Instructions
Preheat oven to 400°. Make mashed potatoes: In a large pot, cover potatoes with water and add a generous pinch of salt. Bring to a boil and cook until totally soft, 16 to 18 minutes. Drain and return to pot.
Use a potato masher to mash potatoes until smooth. Add melted butter, milk, and sour cream. Mash together until fully incorporated, then season with salt and pepper. Set aside.
Make beef mixture: In a large, ovenproof skillet over medium heat, heat oil. Add onion, carrots, garlic, and thyme and cook until fragrant and softened, 5 minutes. Add ground beef and cook until no longer pink, 5 minutes more. Drain fat.
Stir in frozen peas and corn and cook until warmed through, 3 minutes more. Season with salt and pepper.
Sprinkle meat with flour and stir to evenly distribute. Cook 1 minute more and add chicken broth. Bring to a simmer and let mixture thicken slightly, 5 minutes.
Top beef mixture with an even layer of mashed potatoes and bake until there is very little liquid visible and mashed potatoes are golden, about 20 minutes. Broil if desired. Garnish with parsley before serving.