In 2012, Eslam Abouali suffered a debilitating car accident, as a result of which he got paralyzed. Nevertheless, he is now the top-ranked Para-swimmer across the Arab and African countries. In addition, he is internationally ranked fifth in the 100m Breaststroke at the 2017 World Para Swimming Championship in Mexico. He has also been qualified for the World Para Swimming Championship which will take place in London this month.
How did you turn your tragedy into success?
At a certain point in time, I figured out that it is all about me and depends on me. It's my responsibility to lead an enjoyable and successful life. So, I decided to embrace my situation, accept the challenge and move on.
What was your major inspiration?
Although I was determined, some people had doubts that I could make it, seeing me disabled and underprivileged. At the beginning just to prove them wrong, I progressed and became way stronger and I got quickly stronger.With the passing of time, I became wiser and more mature, maybe the reason behind it was that I was growing older, I realized that it is not about how others see or think about me, it is about how I see myself, so I decided to be better for myself.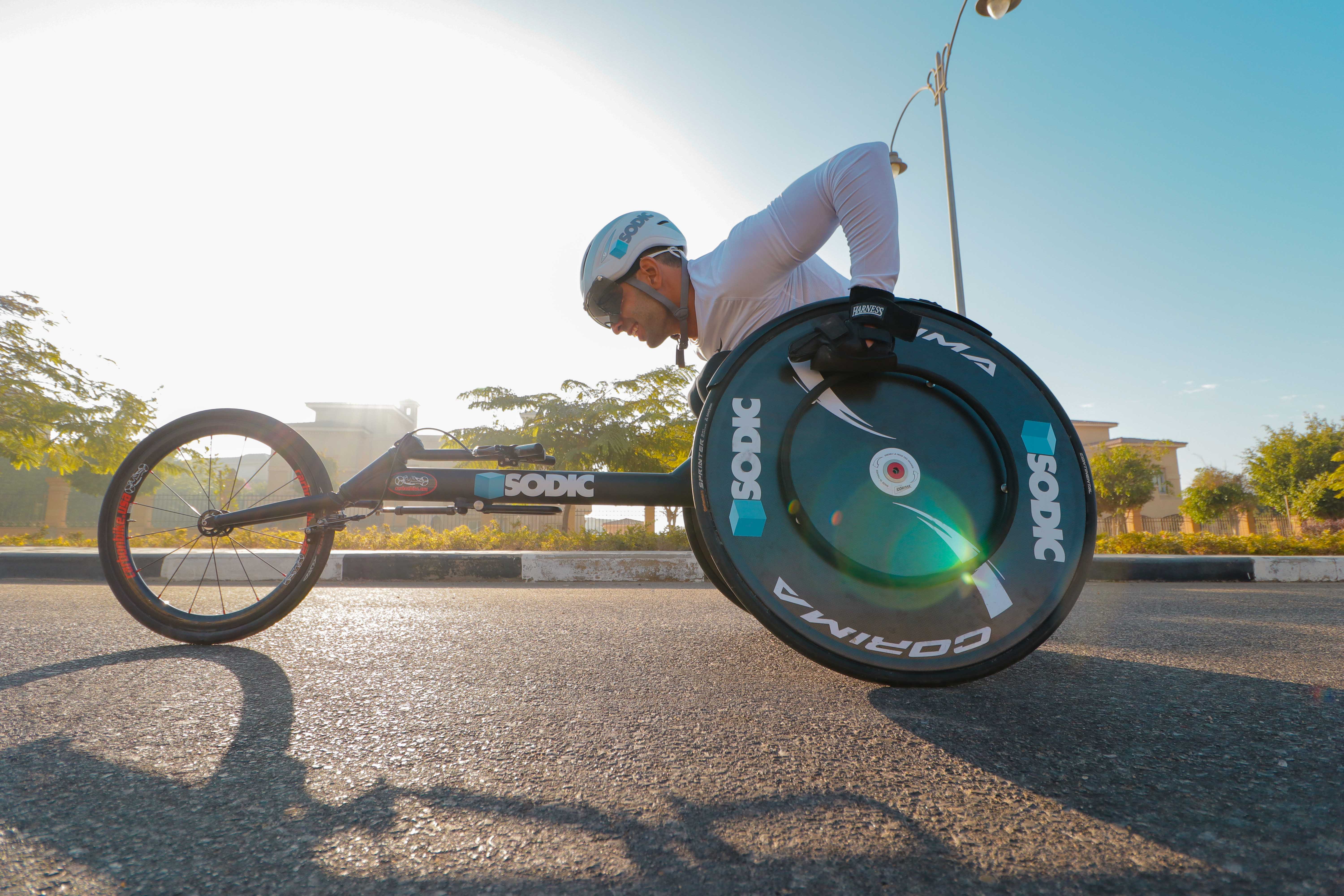 Why did you choose swimming and triathlon specifically?
I am obsessed with sports since I was a child and I used to play a lot of sports, such as basketball, rowing, swimming, volleyball, etc. After the accident, and while I was on the beach with one of my friends, he cracked a joke that was not funny, 'Eslam, I will drop you and drown you in the sea.' Since then I decided to learn swimming, I took the matter very serious till I managed to be the fastest swimmer for seven consecutive years across Egypt, the African continent, the Arab countries and ranked fifth in the 100 Breaststroke at the 2017 World Para Swimming Champinships in Mexico. As for triathlon, a couple of friends asked me, 'why don't you do triathlons and Ironman races?'I thought it's impossible to practice three different sports, in one race, for such a long distance: swimming for 2km, cycling for 90km and running for 21km. So, I talked with the triathlon events' organizers here in Egypt, asking them to include me in their agenda as the first para-triathlete, unfortunately they did not accept. Being determined, I travelled to compete abroad. In December 2018 in Bahrain,Guess What! I won over around 250 abled athletes from different countries. As forcrossfit, while I was in the US, I noticed that people like me practicing crossfit on their wheelchair, so I joined them. When I arrived to Egypt, I decided to go on with my crossfit training. I contacted the organizers of the biggest crossfit events in Egypt. Also, in Egypt, I talked with ELFIT to include disabled persons in their competitions. They were very supportive and we established the SuperAdaptive category persons in my situation. Guess What! I won the first place in 2017 and topped the 2018's athletes with international athletes participating.
Are you satisfied with the attention given to the para-athletes, whether nationally or internationally?
At the local level, not yet, they are taking positive steps. However, I can see better future to the advantage of disable people to show their different abilities. Internationally, yes of course, I was a witness to what it was like in Europe and the US. Let's hope for an equal inclusion to occur one day in Egypt!
What were your achievements that meant more to you in the world of sports?
My major achievement was convincing the The Ministry of Sports and Youth Affairs to recreate the Para Swimming National Team whose status was inactive since 2002.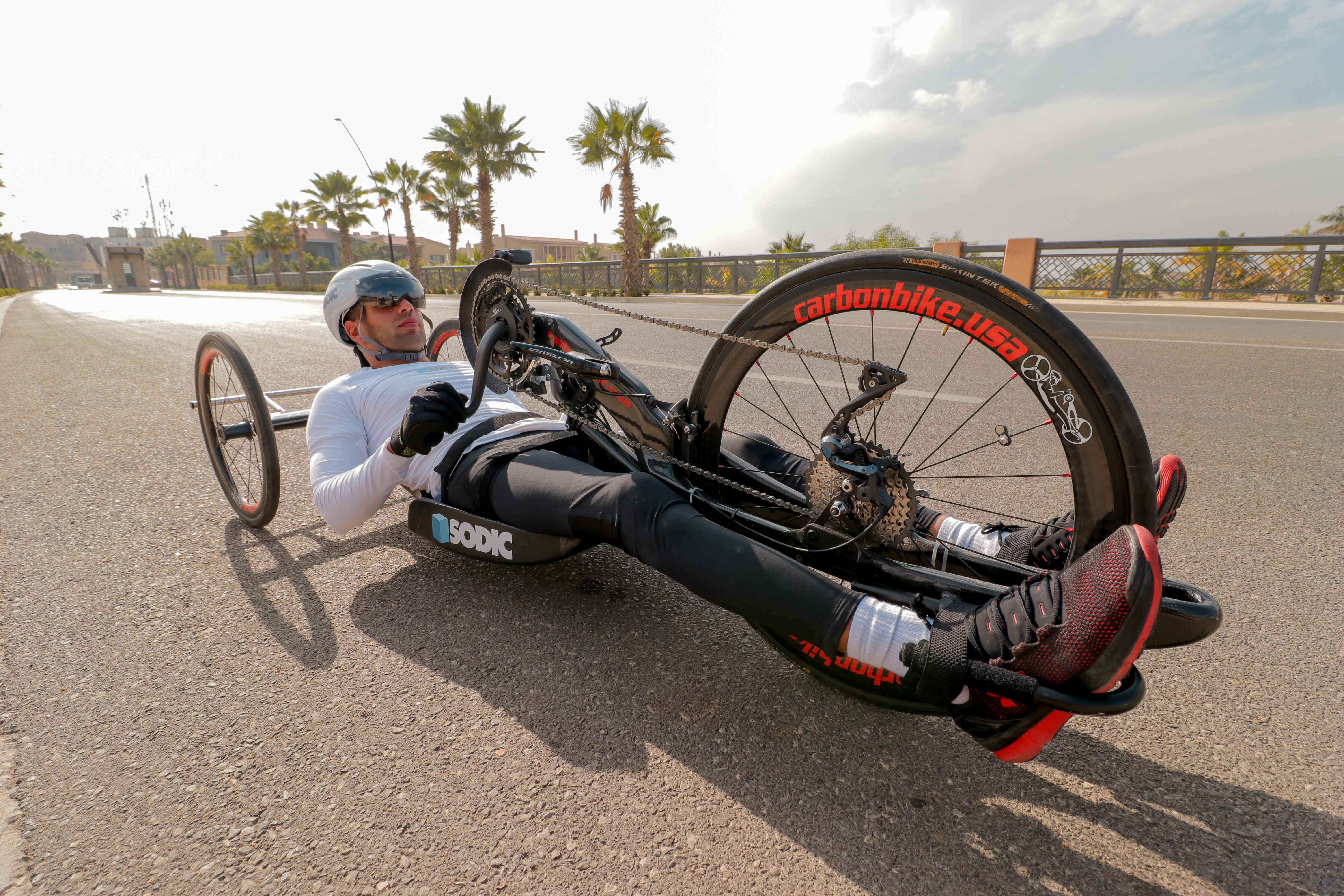 How are you preparing for the upcoming World Championship that will take place in September?
Well, I train so hard, twice day. Actually, I am working with a team on developing my performance in all aspects, such as swimming, fitness, yoga, etc.
Would you give some examples of the victories you achieved throughout your journey?
I won the British Para Swimming World Series in the UK in 2018. I finished second last year in the British Para Swimming World Series in the UK. I finished third in the International Para Swimming Championship in Madrid in 2015 and fifth in the World Para Swimming Championships in Mexico in 2017.