Aya Abdelrazik was crowned Miss Egypt Universe 2019/2020 under the supervision of Mrs Hoda Aboud, National director of Miss Egypt Universe. Aya is a 23-year-old medical student at Ain Shams University. She also studies acting and has appeared in some TV series. Aya has participated in many charitable events and aspires for being a vital catalyst for change in Egypt.
How did you participate in Miss Egypt Pageant in the first place?
I saw the online application and applied. Afterwards, I received a call to attend the interview, and voila!
How can you take advantage of your title as Miss Egypt Universe to support women in the Egyptian community?
The title of Miss Egypt can indeed be very empowering in terms of advocating feminist causes and affecting positive changes in the world. The title offers you a wide range of advantages, such as the opportunity of voicing your opinions, initiating substantial feminist moves, and getting closer to women in your society to know their main problems.
What are your upcoming plans regarding international beauty pageants?
Due to coronavirus, nothing is clear now. However, what I know for certain is that I'm getting ready to participate in the next edition of Miss universe. The positive thing that came out of the pandemic is the plenty of time we currently have to get ready for the international pageant.
You are a medical student, yet despite your serious studies, you are not confined to the conventional nerdy life. How do you manage to keep up with the two binary opposites of being a nerd and having considerable social skills?
Medical students are always stereotyped as nerds who lack social skills, yet this is not the case at all. We always try to acquire the best time-management skills to juggle our medical life and whatever hobbies we are passionate about. Many colleagues of mine have exceptional artistic talents and are very successful doctors simultaneously.
What was your impression of El Gouna Film Festival after opting in GFF2020?
GFF is, in my opinion, the best Egyptian international film festival. I really enjoyed its great hospitality, vibes, and everything.
What can you tell our readers regarding your acting studies and talent?
Acting is one of my favourite indulgences that I always aspire to maintain. You have to be talented in the first place, and then you start refining your talent by watching movies, doing a lot of castings, and attending workshops…etc.
Do beauty pageants mainly lean on outward fairness as most people think? Or are there other considerations?
Personality is the key aspect for pageant judges. Yes, girls have to look presentable and ladylike, but they also have to be well-educated, socially intelligent, and well-mannered.
What was the question that the Beauty Pageant Committee gave you? And what was your answer?
My question was: If you have the chance to live your life once again what would you change? I said nothing because we have to go through numerous hard situations to be who we are. Therefore, we have to appreciate our tough moments and mistakes because these are the ones that shape our personalities. I also said that if I hadn't faced life hardships, I wouldn't have been standing in front of the renowned head committee.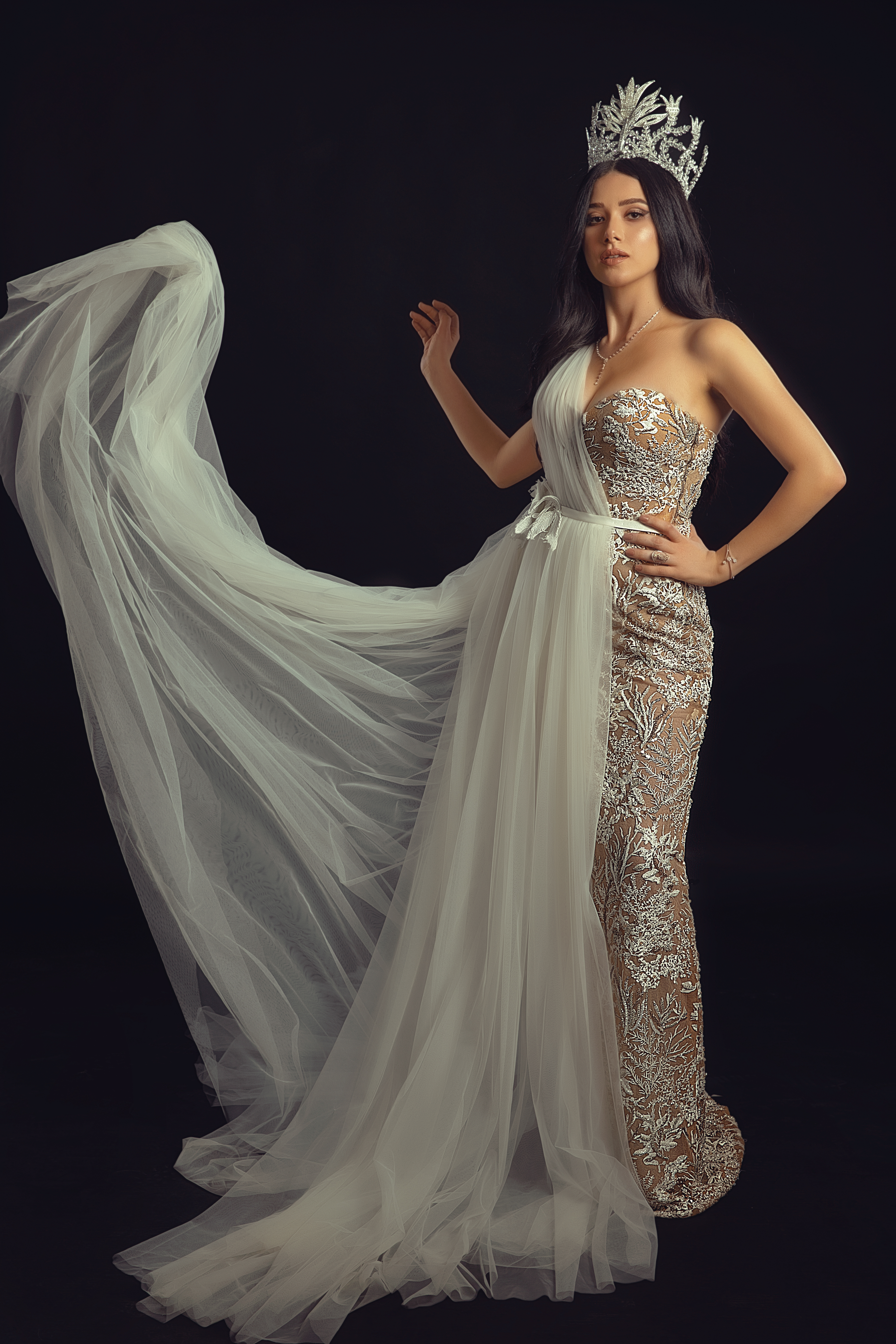 What are your plans for the upcoming charitable missions you wish to embark on?
As I said before, I dream of having a positive influence on people through everything I do. We have many ideas for charity, but currently, we are studying what urgent missions we have to carry out and what methodologies we have to implement.
What was the hardest situation you encountered in the pageant?
I was told by my previous designer at the pageant that I was overweight and not a fit for the international standards of Miss Universe Pageant although my weight at the time was identical to my weight now. So, despite being told that I was never going to make it to the crown, I managed to achieve my dream after comprehensive hard work.
What did Miss Egypt experience teach you about yourself and the world?
Miss Egypt experience made me discover how responsible I am; it is indeed a beautiful experience that I'm so glad for having been through.
What was your family's reaction when you told them you would like to join the pageant?
Guess what? I didn't tell my family about the pageant until I applied, passed the interviews, and did all preparations for the final night. This is not a good idea of course, and I don't encourage girls to do so. My family was very supportive as they encouraged me to proceed with the rest of the experience. They also came to the final night to support me.
What is your daily routine to maintain your shape and health?
The most important thing is to pay attention to your body and not to over-exercise or go through a crash diet. I exercise 2-3 times per week, and I count my calories every day. Sometimes, I include junk food and sweets in my diet but in reasonable portions.
Q & A
What advice would you like to tell our female readers specifically?
Nothing is more beautiful than a girl who is trying her best to be herself. I advise girls to stop endeavouring to fit into our societal mores: Just follow your dreams and listen to your intrinsic intuition, and everything will fall into place. Know that as a woman, you are a leader by default, and that you can achieve whatever you put your mind into.
Can a girl who underwent a cosmetic surgery participate in a beauty pageant?
Yes, but again she has to be confident and comfortable with how she looks. Surgeries also shouldn't inflict major changes, so the girl maintains her identity.
Did you have any funny moments in the pageant?
The whole experience with my co-participants was super friendly and funny.
Who is your favourite female celebrity? 
Internationally, I would say Jennifer Lawrence, and locally, I would say the Egyptian megastar, Yousra.