In the words of LL Cool J, "Don't call it a comeback": The critically acclaimed actor tarek has just turned up again with a whole new take on life and his career. With TwoDotsEG being the sole mastermind behind his new transformative attidude, they also strive to give him the necessary boost he needs to cement his name as one of Egypt's finest. Insight talks to rising star.
Why did you shift your career from engineering to Media work?
It didn't happen all of a sudden. I started my acting career firstly as an amateur in school and college. I used to help my friends making a short movie or something. I used to take acting courses that I found interesting. I worked as an anchor while I was still an engineer. I started working in a company as an engineer after graduation, and unexpectedly, there was a vacancy for a tv-presenter in a documentary about the company I was working in. I explained some stuff in that documentary, and when it was sent to the channel, I got a call to work as an anchor. I continued to work as an engineer and an anchor concurrently. My decision to leave all this to join The Higher Institute of dramatic Arts as a student came after three or four years of work. I just found that I was not fulfilling my potentials. My busy life as an engineer and a tv-anchor was squandering every acting opportunity that came to me. I was aspiring to be an actor, but I couldn't accept the roles that were offered to me and leave my company and my program. So, I decided to resign from the company and the channel to do what I love the most.
You have been a reporter, a TV presenter and an actor. Which of these careers have you truly enjoyed the most and why?
I would definitely say acting. When I began working as a tv-presenter, I firstly regarded this as a kind of performance. I thought tv-presenting can be categorized as a performing art. Still, acting is my cup of tea. Be it the preparation for a role or the embodiment of a character, the whole acting process fascinates me. Whatever the results may be, I always have a whale of a time!
Tell us more about your comedy role in "Saat Reda", how did you find it? Has that been a successful step in your career?
This movie wasn't so successful while it was out in cinemas. However, when people saw it on Tv, it achieved an overhead acclaim. It was a step that I deeply loved. I'm so wary when it comes to Cinema; I always try to be careful while picking my cinematic roles. "Saat Reda" was the first cinematic experience for me; I currently have two movies that I'm still working on. The experience of being on a comedy movie was scary to me because all of the movie cast, except me, were comedians. My experience in Comedy at the time only pertained to short, limited performances. The most difficult part was that my role in the movie had to encompass four characters, who were all cops, but from different eras. It was a challenge to play each one in a different way so that you maintain the comedy along with characterization variety. Personally, I value this fruitful experience very much, for it allowed me to challenge myself and change my color. I hope people like it as well.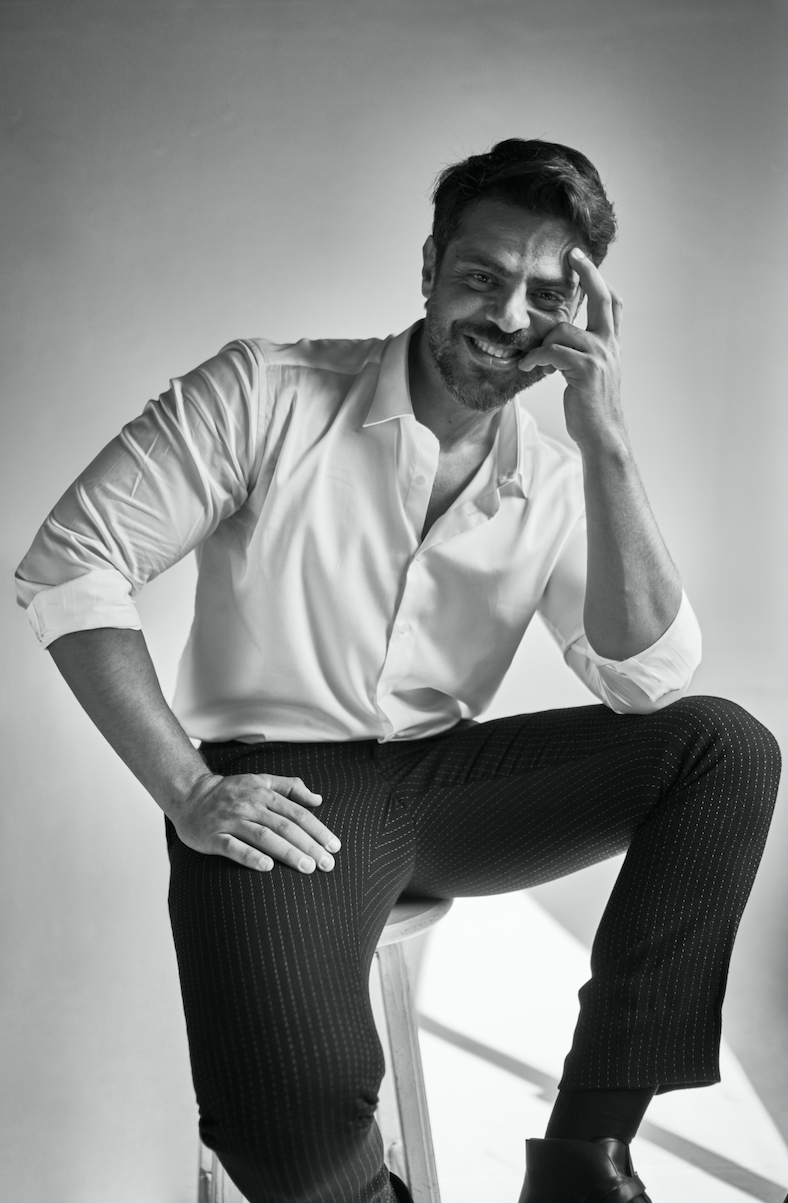 Exclusively for Insight, tell us what is next for Tarek Sabry?
I'm shooting a movie called "Haflet 9", Starring Ghada Abdelrazek, Tarek Lotfy, Ahmed Wafik, and many other actors. It is an Action/ Suspense movie. We have only five or six days to finish shooting as we had a pause due to Covid 19. This will be the first project for me after all the previous events. I play a police-officer once again, but in a new way. The movie itself feels new and different; it tackles psychological topics that hopefully people will like. I'm also working on an action movie called "barcode 615" starring Mohamed Ezz and Samia Taraboulsi. There are other scripts I'm still reading, but nothing is confirmed yet.
Tell us more about your first experience as a stage director in "El Khadam Al Akhras" Play.
It was an interesting experience. I was directing this play as a postgraduate project for my Directing diploma at The Higher Institute of dramatic Arts. I loved the play so much, it was written by Harold Pinter, a remarkable playwright who wrote many plays that were adapted to movies. It was a wonderful experience to see how the world of directing works. It also gav me free reign to apply the approach I preferred. As an actor, your viewpoint differs from that of the director sometimes, yet you have to abide by what your director sees. It was the freedom of it that gave me so much pleasure although it was a big responsibility. I enjoyed how I could create lively scenes out of mute papers, garbing them into flesh and blood.
Tell us a bit about your childhood, where did you grow up?
I was born in KSA but I came to Egypt when I was 2 and grew up in Cairo.
Who inspires you? 
Not a person to be honest, I feel like you shouldn't take your inspiration from someone. There might be inspirational stories that I can look up to, but I think inspiration and motivation should come from within.
What's your biggest screw up in the kitchen?
I screw up a lot. Once I burnt sausages, they were literally on fire!
What is the craziest thing one of your teachers has ever done? 
One teacher used to chase us running over the desks. He fell a lot though.
What pet would you love to have?
A dog, a German shepherd, GSD are my favorite breed.
"I feel like you shouldn't take your inspiration from someone… inspiration and motivation should come from within".