As the temperature drops and the leaves start to turn, we can't help but want to curl up with a big, warm bowl of goodness. We've got all your fall favourites hot and ready to satisfy any comfort food cravings. We also didn't forget to include some thanksgiving side recipes for you to do on thanksgiving dinner.
Slow Cooker Saucy Thai Butternut Squash Curry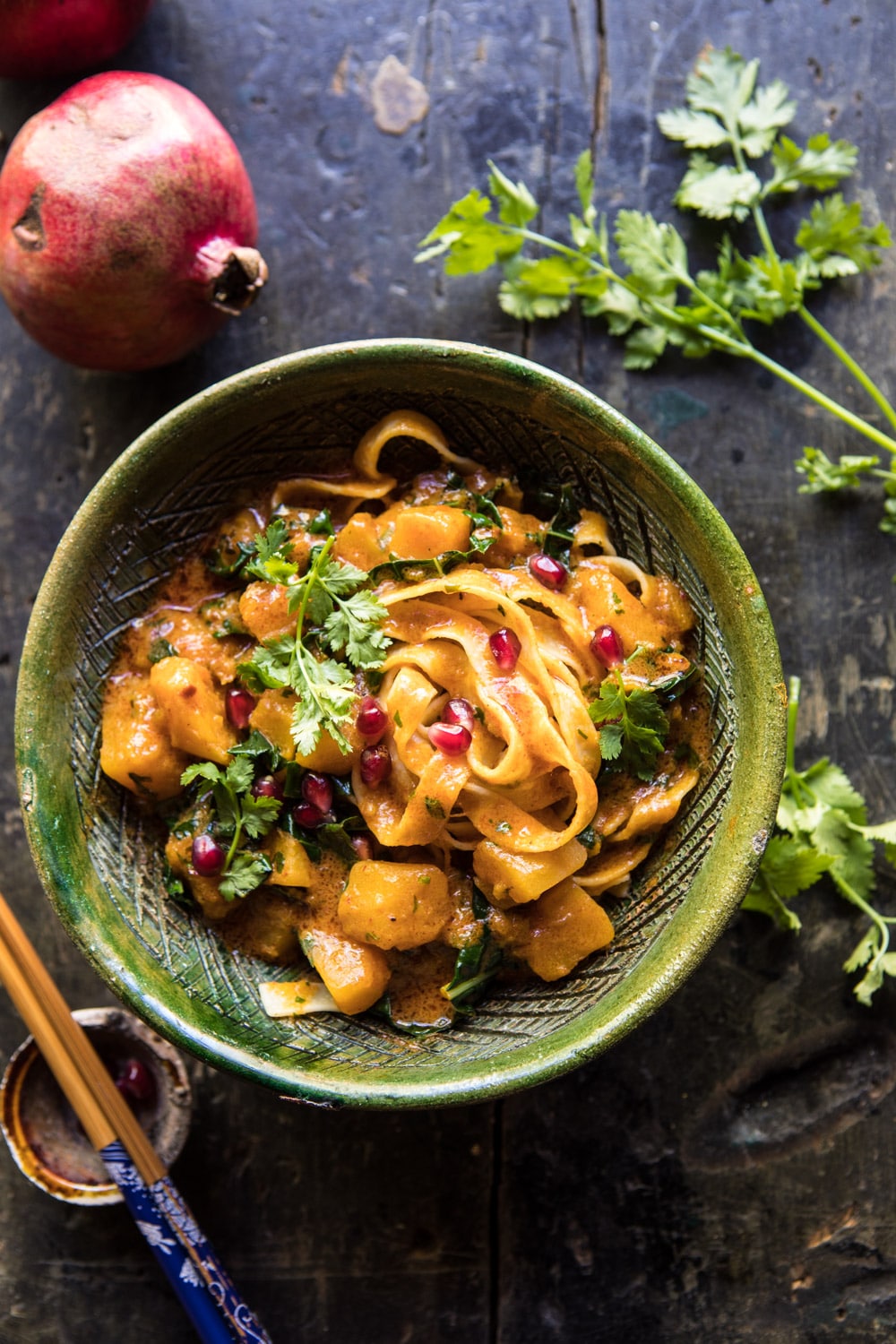 Ingredients
1/3 cup Thai Red curry paste
2 cans coconut milk
1-2 cups low sodium veggie broth
1 tablespoon fish sauce
1 tablespoon creamy peanut butter
4 cups cubed butternut squash
1 stick cinnamon
1 inch fresh ginger, grated
Juice from 1 lime
2 cups shredded kale
1 pound wide egg noodles
1/4 cup fresh cilantro, or basil, roughly chopped
1 pomegranate, arils for serving
Instructions
In the bowl of your slow cooker, combine together the curry paste, coconut milk, one cup broth, fish sauce and peanut butter. Add the butternut squash, cinnamon, ginger and lime juice. Season lightly with salt and pepper. Cover and cook on low for 4-5 hours or on high for 2-3 hours.
Stir the kale into the curry and cook 5 minutes until wilted. Stir in the cilantro (or basil). If the curry is too thick, add broth to make it thinner.
Meanwhile, bring a large pot of salted water to a boil. Boil the noodles according to package directions.
To serve, divide the noodles among bowls and spoon the curry overtop. Top with pomegranate arils and cilantro.
Baked Sweet Potato Parmesan Tater Tots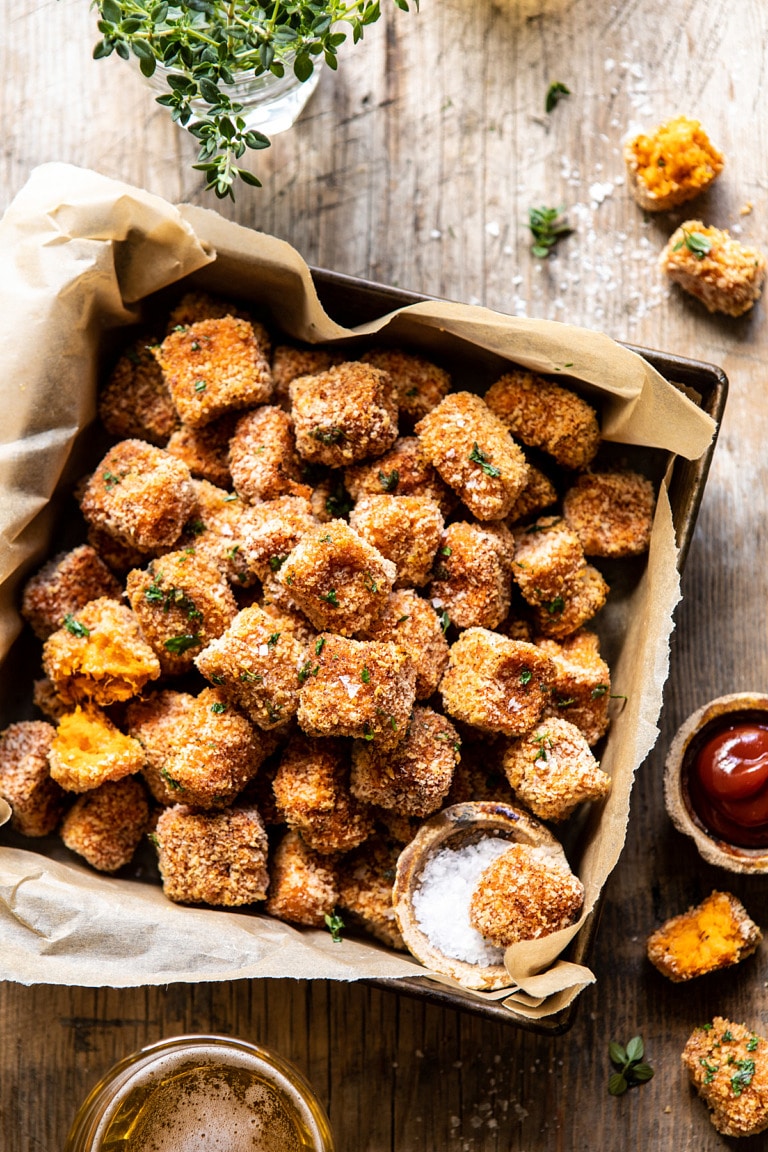 Ingredients
4 medium sweet potatoes
1 cup grated parmesan cheese
Kosher salt and black pepper
1 clove garlic, grated
2 cups panko bread crumbs
2 teaspoons chipotle or regular chili powder
Extra virgin olive oil, for brushing
4 tablespoons salted butter
2 tablespoons fresh thyme leaves
1 tablespoon chopped fresh parsley
2 teaspoons chopped fresh sage
Instructions
Preheat the oven to 425 degrees F. Prick the sweet potatoes all over with a fork. Bake directly on the rack until tender, 50-60 minutes. Allow to cool.
Once cool use your hands to peel away the sweet potatoes skin. It should just easily slip off. Place the potatoes in a medium-size bowl and mash well. Stir in the parmesan cheese, garlic and a pinch each of salt and pepper.
Combine the panko and chili powder in a shallow bowl. Line a baking sheet with parchment paper.
Scoop about 1 tablespoon of the sweet potato out of the bowl, roll into a cylinder and place on the prepared baking sheet. Repeat with the remaining sweet potato mix. The sweet potato mixture will be wet, don't stress, the shape does not need to be perfect. Roll the sweet potato cylinders in the crumbs to coat and place back on to the baking sheet. Lightly brush/mist each tot with olive oil. Transfer to the oven and bake for 15 minutes, flip and bake another 10-15 minutes or until golden and crisp.
Meanwhile, melt the butter in a small skillet over medium heat. Add the herbs and cook 30 seconds, until fragrant. Drizzle the butter over the tots. Serve the tots warm, with ketchup and additional herbs, if desired.
Broccoli Cheddar and Zucchini Soup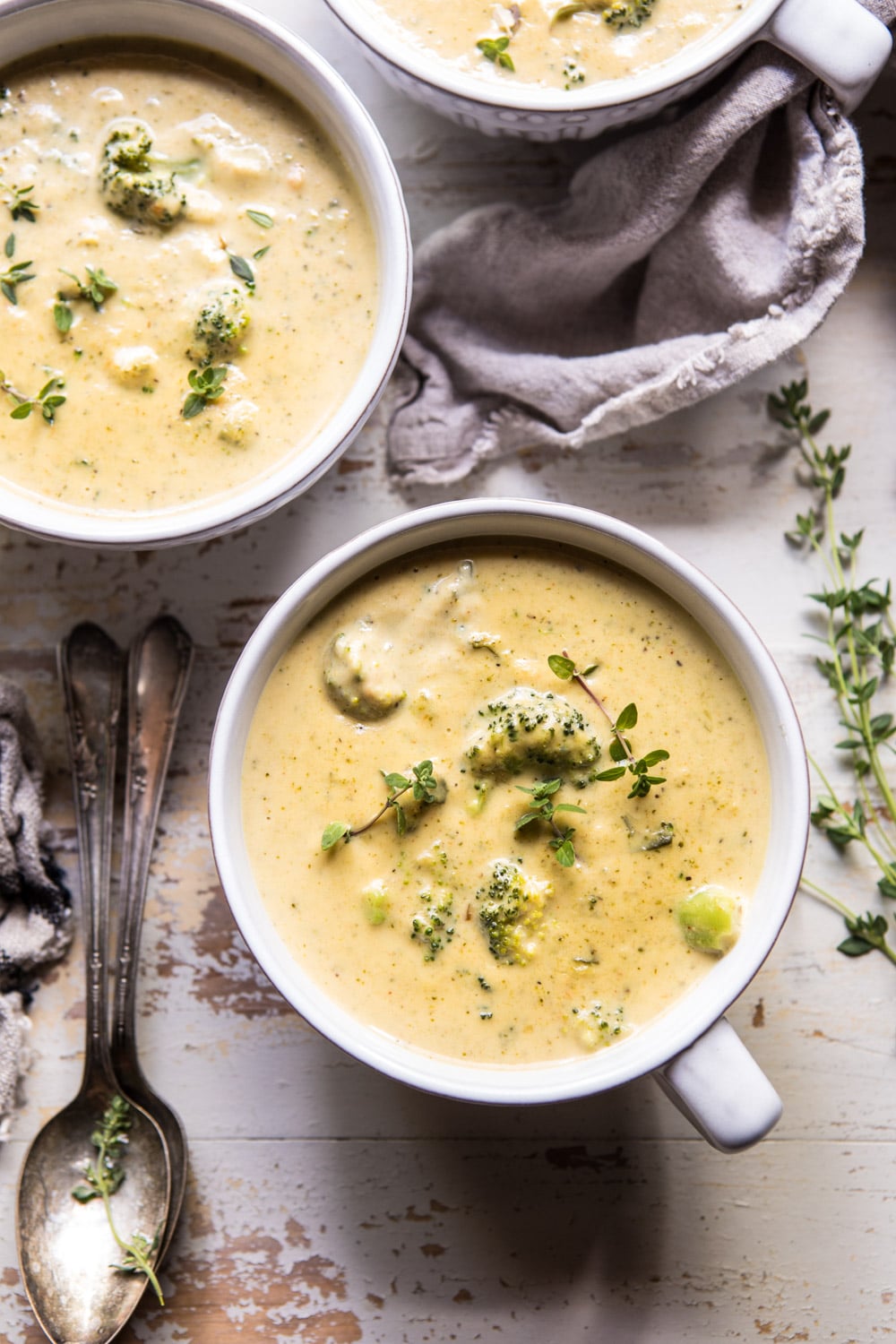 Ingredients
2 tablespoons extra virgin olive oil
3 tablespoons butter
1 small yellow onion, chopped
1 carrot, chopped
2 medium zucchini, chopped
2 tablespoons fresh thyme leaves, plus more for serving
1/4 teaspoon freshly grated nutmeg
1/4 teaspoon cayenne, or more to taste
Kosher salt and pepper
3 cups low sodium veggie or chicken broth
4 cups broccoli florets
2 bay leaves
1 cup whole milk
2-3 cups shredded sharp cheddar cheese
Instructions
In a large soup pot, melt together the butter and olive oil. Add the onion, cook for 5 minutes or until fragrant. Add the carrots, zucchini, thyme, nutmeg, cayenne and a large pinch each of salt and pepper, cook for another 5 minutes. Pour in the broth. Add the broccoli and bay leaves. Cover and cook for 12-15 minutes, until the broccoli is tender.
Carefully remove the bay leaves and discard. Transfer the soup to a blender and pulse until chunky smooth but not totally puréed. Return to the pot.
Stir in the milk and cheese and cook over medium-low heat for 5 minutes or until the cheese has melted.
Ladle the soup into bowls and top with fresh thyme.
Honey-Squash Dinner Rolls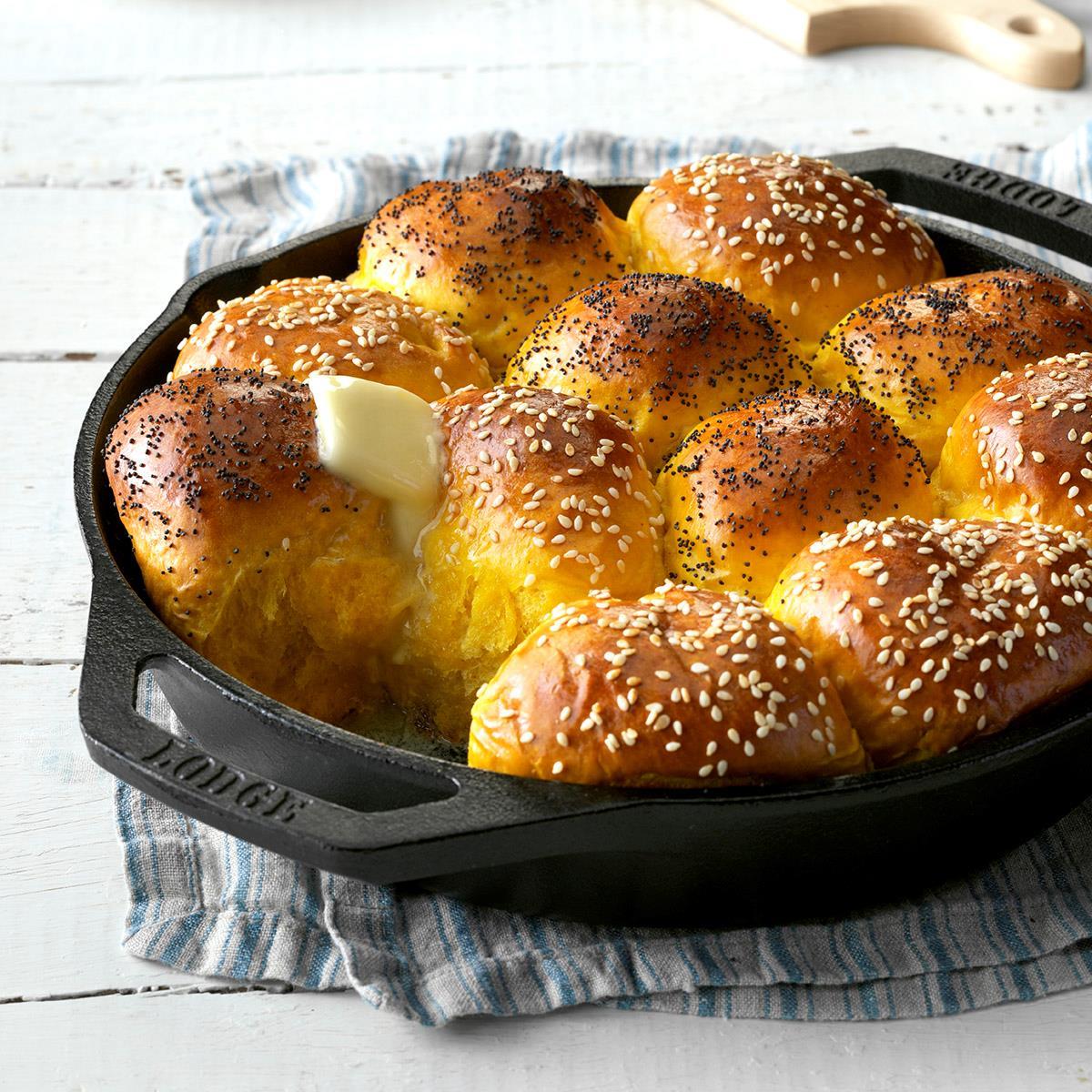 Ingredients
2 packages active dry yeast
2 teaspoons salt
1/4 teaspoon ground nutmeg
6 to 6-1/2 cups all-purpose flour
1-1/4 cups milk
1/2 cup butter, cubed
1/2 cup honey
1-1/3 cups frozen mashed winter squash, thawed
1 large egg, room temperature, lightly beaten
Poppy seeds, salted pumpkin seeds or pepitas, or sesame seeds
Instructions
In a large bowl, mix yeast, salt, nutmeg and 3 cups flour. In a small saucepan, heat milk, butter and honey to 120°-130°. Add to dry ingredients; beat on medium speed 2 minutes. Add squash; beat on high 2 minutes. Stir in enough remaining flour to form a soft dough. The dough will be sticky.
Turn dough onto a floured surface; knead until smooth and elastic, 6-8 minutes. Place in a greased bowl, turning once to grease the top. Cover and let rise in a warm place until doubled, about 1 hour.
Punch down dough. Turn onto a lightly floured surface; divide and shape into 24 balls. Divide between 2 greased 9-in. cast-iron skillets or round baking pans. Cover with kitchen towels; let rise in a warm place until doubled, about 45 minutes.
Preheat oven to 375°. Brush tops with beaten egg; sprinkle with seeds. Bake until dark golden brown, 20-25 minutes. Cover loosely with foil during the last 5-7 minutes if needed to prevent overbrowning. Remove from pans to wire racks; serve warm.
Spiced Pumpkin Maple Latte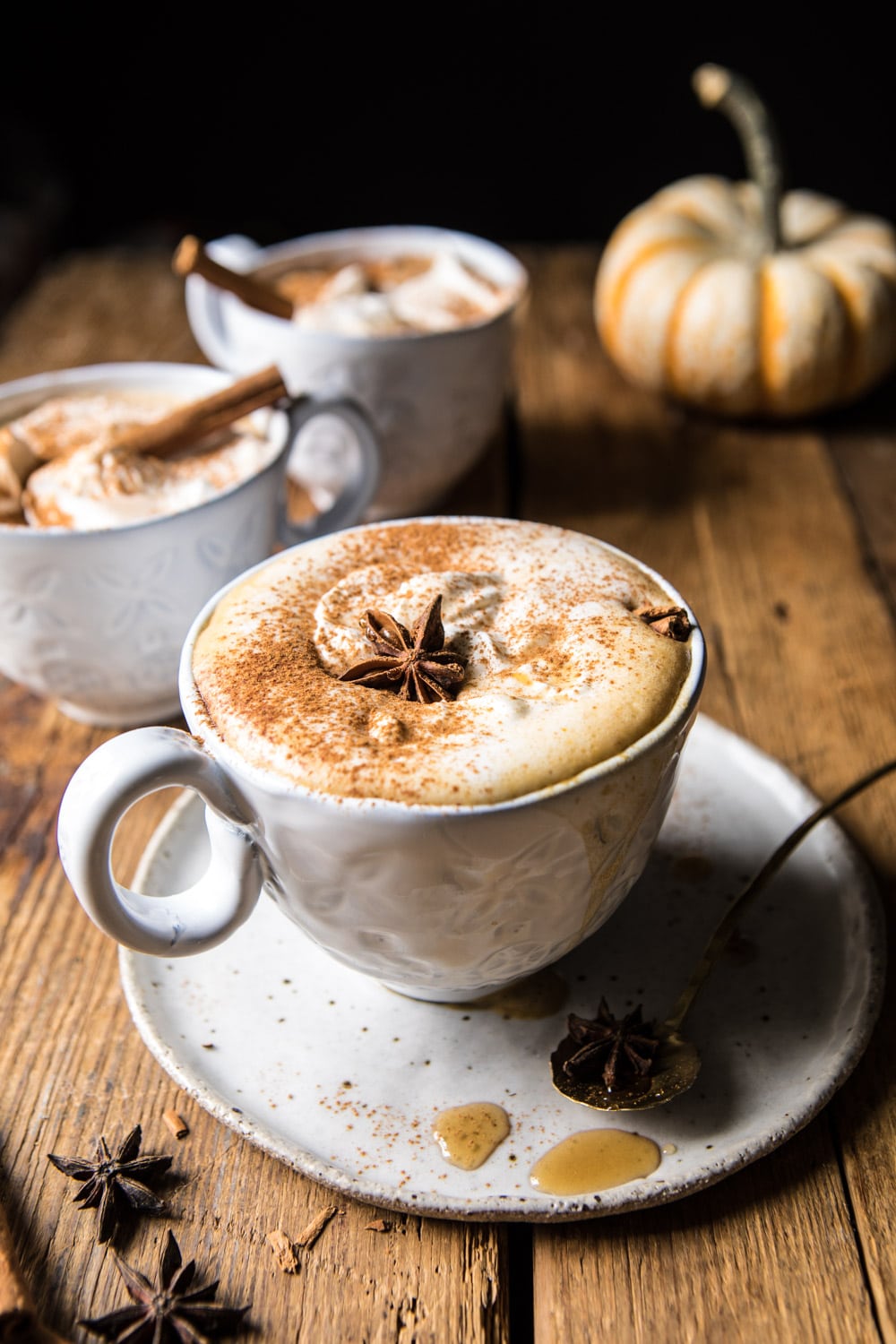 Ingredients
Latte
1 1/2 cups of full fat milk
1/4 cup spiced pumpkin butter
1/2 teaspoon vanilla extract
1/3-1/2 cup brewed black coffee
Cinnamon, for serving
Maple Cream
1/2 cup heavy whipping cream or coconut cream
1 tablespoon real maple syrup
Instructions
Combine the milk, pumpkin butter and vanilla in a medium pot and bring to a simmer, heating the mixture until it is steaming. When the mixture is steaming hot, remove it from the heat. Using a small whisk or a fork, whisk until frothy.
By using an electric mixer, whip the cream until soft peaks form. Add the maple syrup and whip once more until combined and fluffy.
Pour the hot coffee between 2 mugs and then pour over the frothed pumpkin milk. Top with whipped maple cream and a sprinkle of cinnamon or cinnamon sugar.
No-Bake Cranberry Cheesecake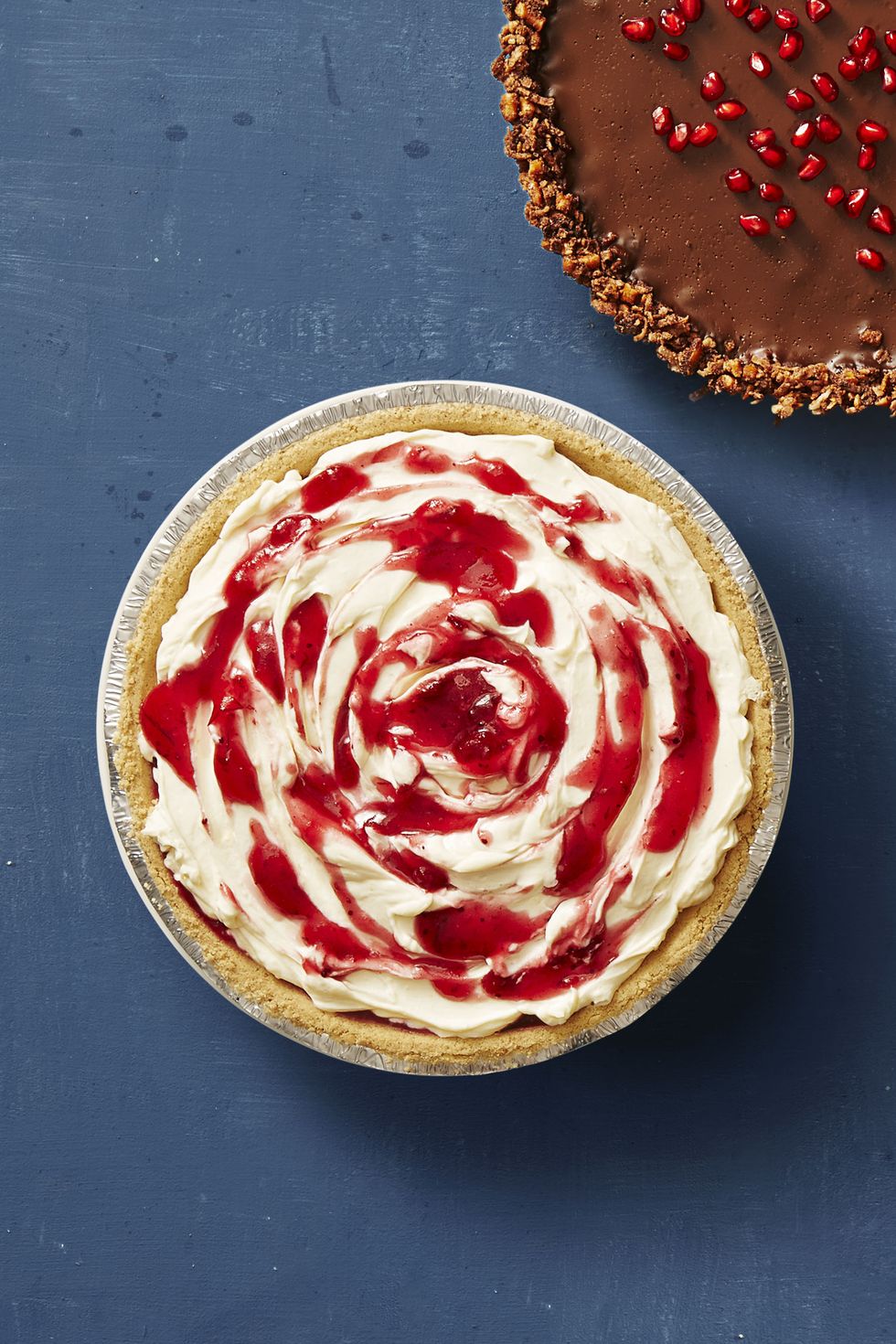 Ingredients
1/2 cup whole-berry cranberry sauce or preserves
1 tsp powdered gelatin
3/4 cup heavy cream, cold
12 oz. cream cheese, softened
4 oz. fresh goat cheese, softened
1/3 cup sugar
2 tsp vanilla extract
1/2 tsp grated lemon zest
1/8 tsp salt
1 ready-to-eat graham cracker crust
Instructions
In blender or food processor, puree cranberry sauce until almost smooth; set aside. Place 2 tablespoons cold water in small microwave-safe bowl; sprinkle gelatin overwater. Let stand 5 minutes.
With mixer on high, beat cream until stiff peaks form. In separate bowl, beat cream cheese, goat cheese, sugar, vanilla, lemon zest and salt until smooth. Microwave gelatin 15 to 20 seconds or just until runny. Gradually beat into cheese mixture; gently fold in whipped cream.
Spread half of cranberry sauce on bottom of crust. Spread cheese mixture on top in even layer. Dollop remaining cranberry sauce all over top. Drag tip of paring knife through cranberry sauce to create swirl pattern. Refrigerate, uncovered, at least 3 hours or up to overnight.