Photos by: Khaled Fadda
Styling by: Abier Ansary
Hair & makeup by: Ashour
Interview by: Soha Elshafey
After another huge success in her Eid movie 'Casablanca,' Ghada Adel continues to shine on the silver screen. The renowned star is packing more surprises for her fans with her upcoming role in the awaited movie 'Welad Rizk 2' (Sons of Rizk 2) and her role in the TV series 'Mamlaket Eblees' (Kingdom of Satan).  The stunning actress talks about her life, her career and how she manages to remain on top of her career despite being a mother of four boys and a girl.
What are your priorities in life?
My priorities are my children and then my work.
How do you face the problems that come your way ( personal or at work)?
I've gotten used to facing problems. I have children and I have been working for a long time now. I can handle problems in a calm manner now. I feel that by being calm and thinking probably, everything will pass. In the past, I used to see everything as a big deal, but now, I believe that any problem has a solution or a way to solve it. I have become wiser now.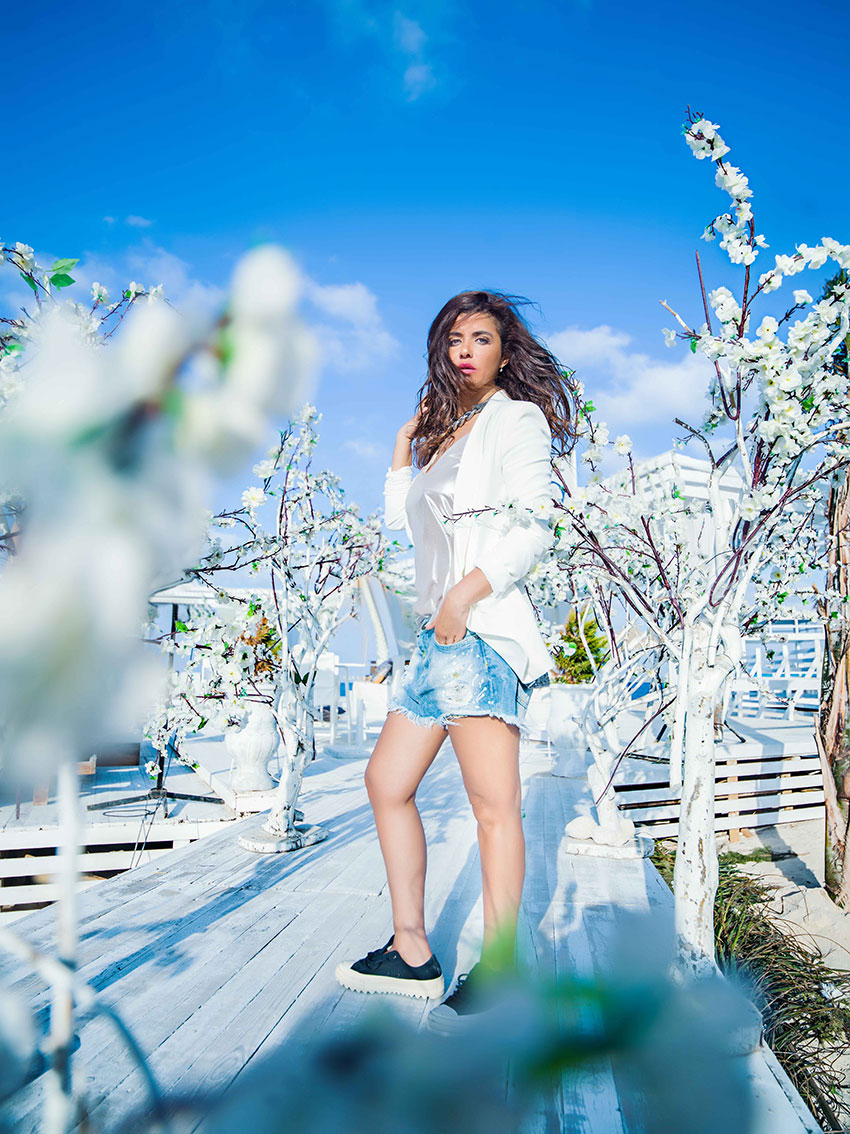 Who is your role model? And why?
In my line of work, the person that I love the most and to me she is the most successful person in her work is Youssra. She is my role model. Of course, you can have foreigners as your role model, but at the end of the day, I feel that my role model has to be someone Egyptian. And actually, I don't know how to name someone as my role model because I don't follow the same steps and the same road they take, but if I wish to become like someone in my work, I would like to be like Youssra.
How do you balance between being a star and being a mother? And does being a mother ever affect you work?
I have taken a decision lately that my vacation time is something sacred; it has become a priority to me just like my children and my work. I found out that when I pressure and stress myself, I cannot deal with problems well or give my children the attention they need or even take care of my work. That's why my vacation time has become something sacred. I don't have any projects right now. I finished my latest project, TV series 'Mamlaket Eblees' which will air next October, before summer. I haven't taken any decision to join anything else. Even when something is offered to me, I tell them that I will go on vacation first to have fun, chill, relax and hang out and spend time with my children. When I return, after the summer, I'll think about new projects.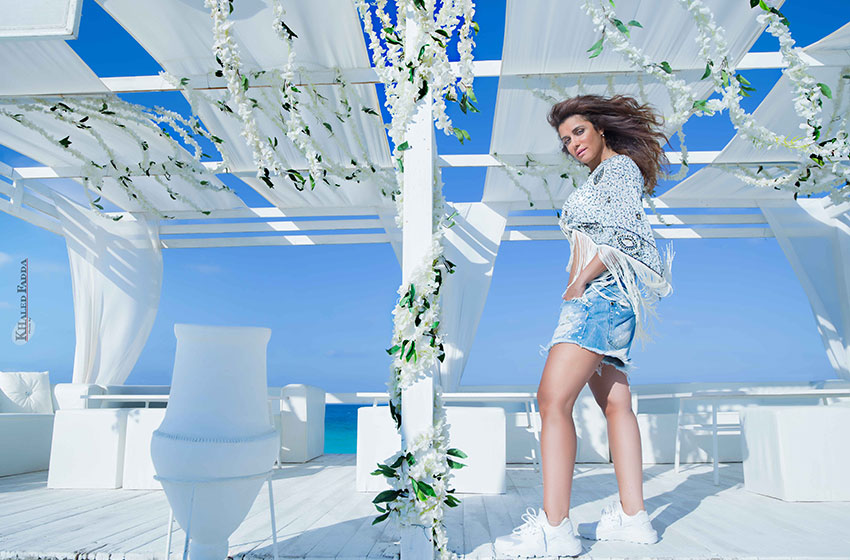 What is the most difficult thing you ever had to do for a role?
I don't see them as difficult things now, i see them as challenges or a learning experience. For example, if a role requires an action scene, or that I learn a difficult action move or ride a motorcycle on the street, these are all building blocks in my career. Another example, in 'Mamlaket Eblees,' I I played two phases; a before and after. I tried to change my look as much as possible, for instance, I lost some weight, so it gives the impression that I was very thin when I was young. They aren't that difficult. Maybe I didn't get a role that requires something very difficult, but I really enjoy it when my role requires something from me like getting fat, becoming thinner, dying my hair red or training for a difficult action move. I love challenges.
Would you shave your head completely if a role required you to do so?
If the role requires me to shave my head completely and the idea is worth it and is tackling an issue more important than the decision of whether I shave my head or not, then yes, of course, I can do that.
How do you stay fit?
Lately, I've been taking care of my body. I move a lot anyway and lately I've come to love exercising. For the past five years, I enjoy going to the gym and exercising. I don't know how to follow a diet. For a while, I followed Safwan, but only for a month or two. They send you meals to your house for breakfast, lunch and dinner. I did that at the time when I wanted to lose weight for the flash back character in 'Mamlaket Eblees' when she was young with 10 to 15 years age difference. However, in general, I like to take care of what I eat instead of dieting. I hate diets. I like to eat everything with limits. I try to eat more healthy food. If there is a fattening meal, I take quarter or half the portion instead of all of it. I exercise more than I diet, but I take care of what I eat more than exercising.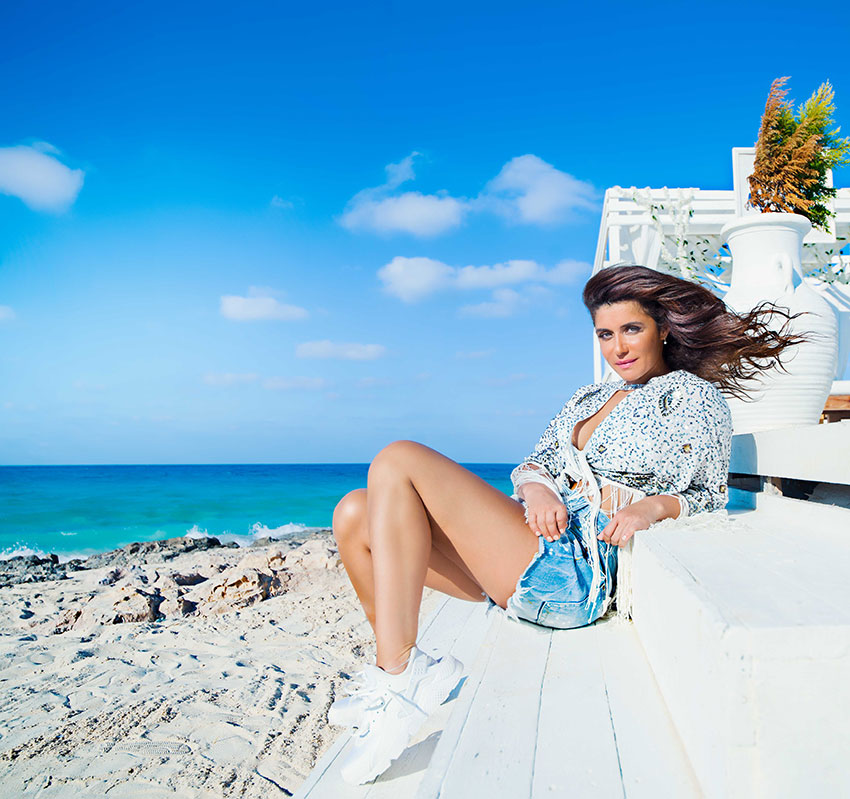 Which dish or food would you break your diet for?
I can break my diet all the time if there are one of these three things: pasta, molukheyah with rice and chicken… or chocolate. I'm addicted to chocolate. I eat chocolate every day!
What do you like to do in your spare time?
I like to travel, go to the sea, listen to music and take care of my children.
What is your favourite movie that you never get bored of?
There are a lot of movies that I love watching, but in my own movies, I love watching 'Mallaki Iskandariya' and 'Fi Shaket Masr El Gedeeda'. Whenever they are on, I have to watch them. Usually, I don't like watching my own movies except once, but 'Mallaki Iskandariya,' 'Fi Shaket Masr El Gedeeda,' 'Ibn El-Qunsul' and 'Ahwak,' I watch them a lot. I separate the fact that I'm acting in them; I love them as movies.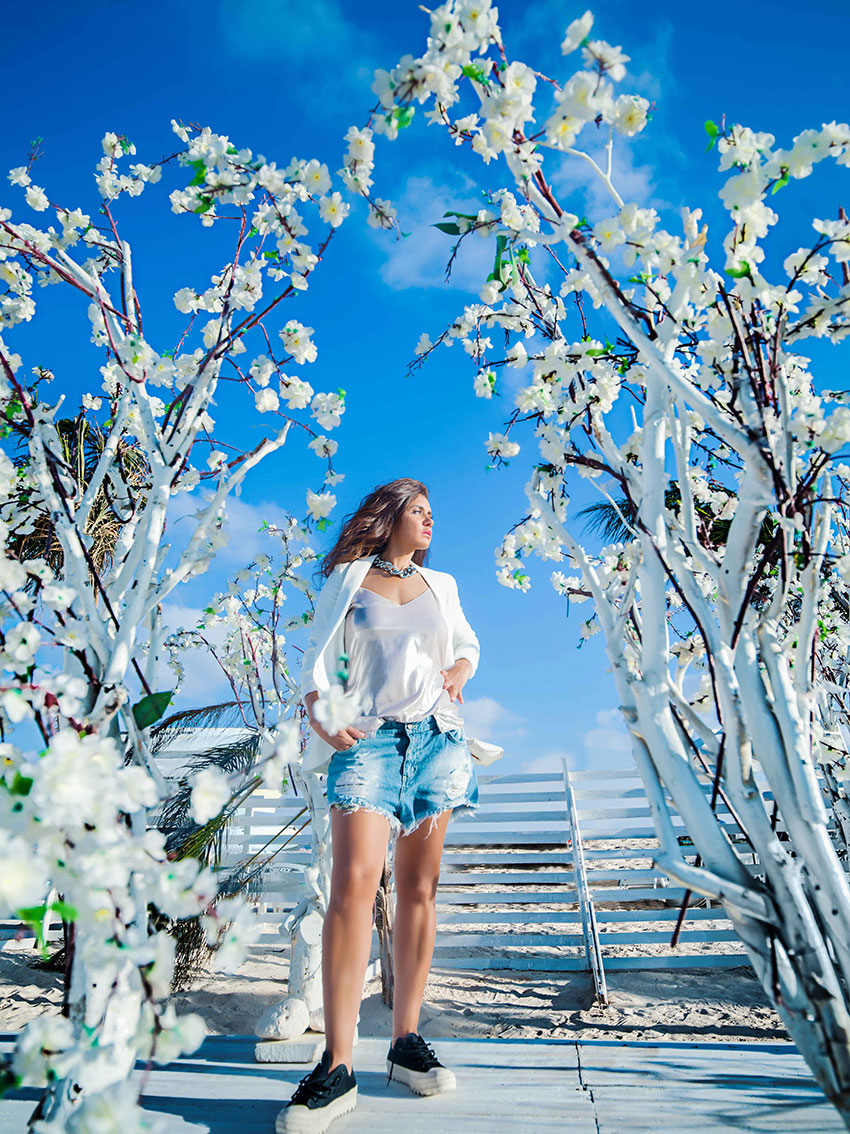 What is a secret hobby of yours that nobody knows about?
A hobby that nobody knows about, and something else that I'm addicted to, is playing Candy Crush on my phone. Actually, my close friends do know!
What is your favourite restaurant or cuisine?
I don't have a favourite restaurant, but my favourite cuisine when I travel is Italian. I love the Italian cuisine very much because of the pasta, of course, and pizza!
What is one thing that you cannot leave your home without?
My phone! I cannot leave the house without it. We cannot live now without our phones in our hands, it's like we were born in contact with the whole world in every moment, but actually, now you cannot live without it. To me, forgetting my phone is a disaster!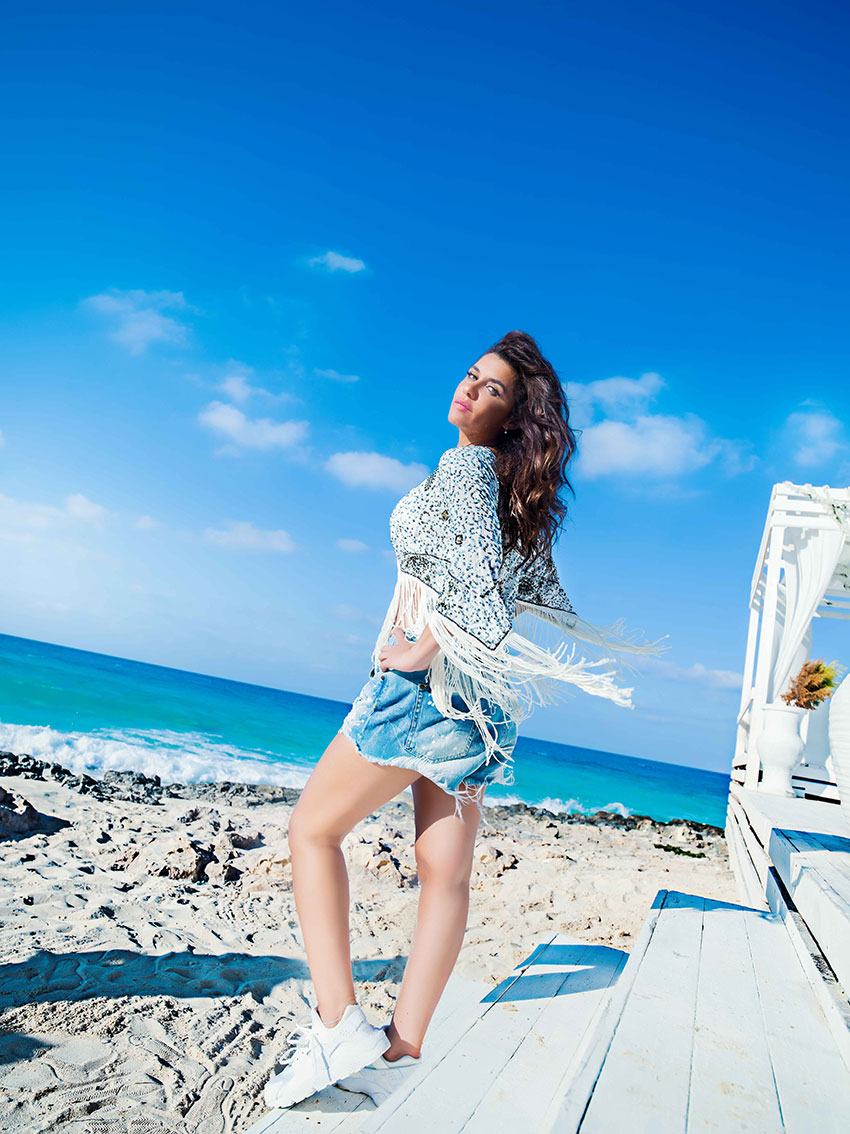 What is the most important step in your daily routine?
I have to play a round of Candy Crush before getting out of bed in the morning, just like drinking tea with milk. I cannot live without a cup of tea and playing a game of Candy Crush in the morning!
What is your favourite fashion style?
They call me 'Jeans Woman.' My favourite style to wear is jeans, whether it's a skirt, shorts or pants. It's always jeans! I love jeans very much! But nowadays, I changed my style a little bit; I wear more dresses, but I always go back to jeans!
What is your favourite thing to buy to lift your spirit when you're feeling down?
When I'm feeling down, I always go shopping! I buy anything: clothes, shoes, bags, necklaces or earrings. After shopping, I feel better immediately. I'm sure all of us are like that. My daughter calls me a shopaholic!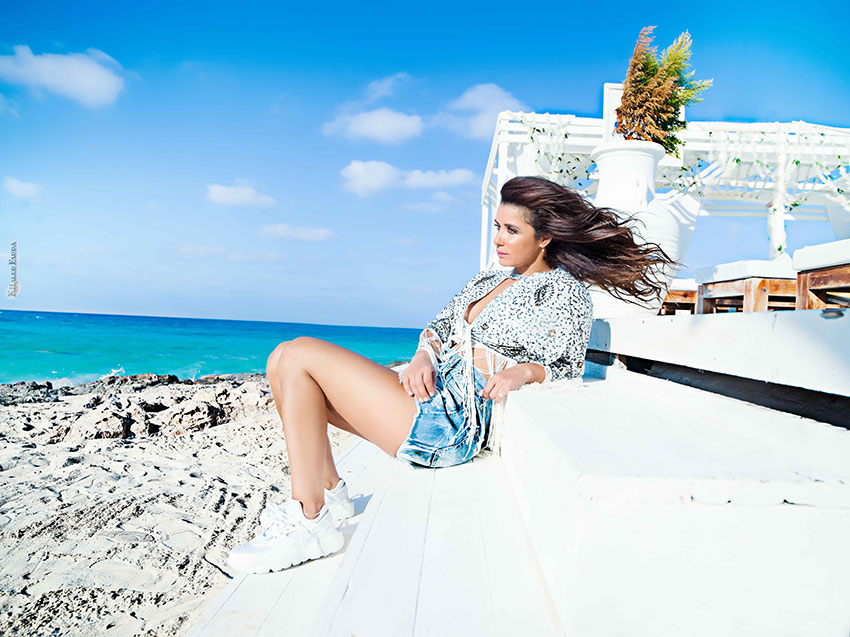 Have you ever thought about doing plastic surgery?
I thought about getting a nose job, but I got scared. Every once in a while, I think about going through with it, but I get scared and change my mind because a lot of people suffered from problems after the surgery like a problem with respiration. Getting my nose done is the only thing that comes to my mind every once in a while, but people are used to me with my big nose.
Are you an emotional or a practical person?
I am an emotional personal. I deal with everything with my heart and my feelings. I'm not a practical person at all.
How are you and your ex-husband still friends?
How can we not be? We have known each other for 25 years. I know Magdy before we even got married. We spent years together and we have a lot of memories and five children. He is a very honourable person. He loves his kids and he loves me and I love him very much. We are friends because we have to be friends. What's between us is much bigger than that.
If you meet the right person, might you get married again or go into a new romantic relationship?
I don't think that I will get married again. There are a lot of things in my life, my children and my work, that will keep me busy. I won't have the time to have another life with another husband.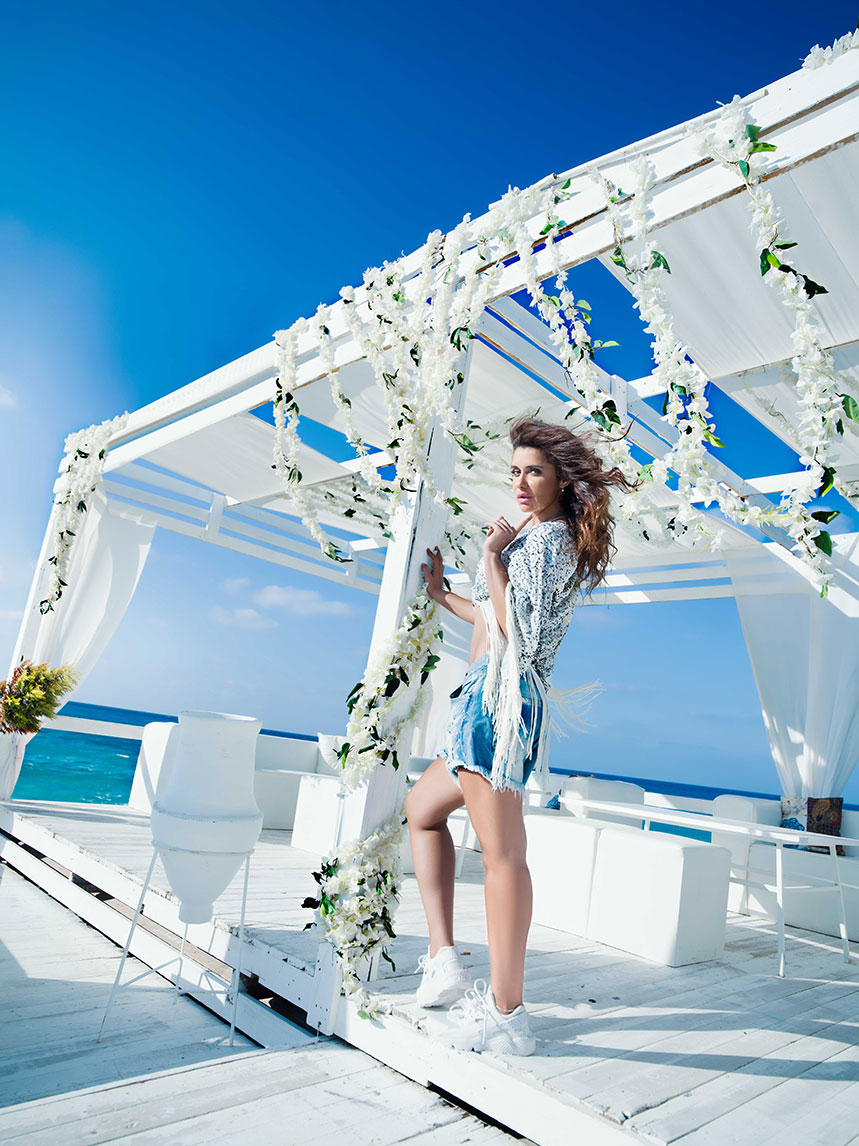 Have you ever done botox or filler?
Of course, we all do botox and filler. I'm not going to deny it.
Do you think you can live without a romantic relationship?
It's hard to live without a romantic relationship, of course, but I do not think romance exists anymore! If I find it, of course, I won't live without it!
Where do you like to travel?
I like travelling to El Gouna and Greece. I adore Greece. I love travelling to both of them actually; whenever I have a vacation, I go to either El Gouna or Greece.
What is the thing that annoys or provokes you the most?
The thing that annoys me is when someone makes fun of my intelligence. I hate it when someone tries to take advantage of the fact that I'm shy or kind. The thing that provokes me the most is when someone underestimate me!
Why are you not active on social media?
It's true. I am not active on social media. I never got used to it and only joined it because my children forced me to do so. I am not that person at all. It was never my goal to be famous; be known or have many followers. I never thought that way. I love my work and it pleases me when people love my work as well. I don't know to express that except by the success of a job I've done; I don't measure this by being active on social media and the number of comments. I feel that these new technologies make us disrespectful to others in a frightening way.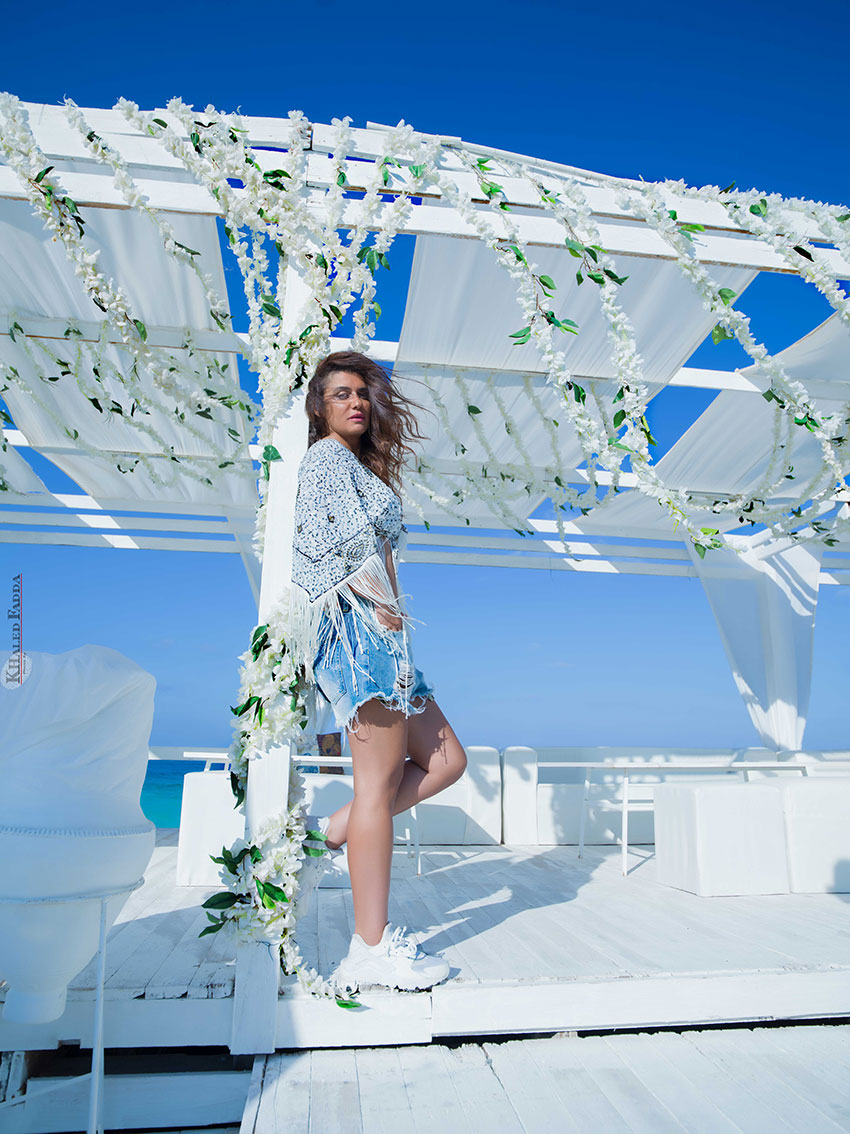 What is the one thing you are most proud of?
The thing I am the proudest of is that I have been able to balance between my work and my children and that I wasn't engrossed in one of them over the other. I'm happy with my life right now and that my children are around me and are older; they are like friends to me now. They love my work and what I do. At least, till now, I am able to balance between both of them.