The Adroit Salma Khalil on Founding Her 'MyWay Craft Studio'
While many may attempt to go the extra mile to undergo career shifts in the venture of pursuing their lifelong passion, only a few glitteringly stand out as Salma Khalil did when she established her scrapping book studio, which is impressively the first of its kind in Egypt. Aspiring endlessly to achieve more goals, Salma acquired a skill in scrapping matchless first-rate notebooks and set an independent role model for her kids and the ambitious youth. Here's Khalil on her exquisite talent and how she founded 'MyWay' craft studio.
Tell us about yourself and how you founded 'MyWay Craft Studio.'
I'm a 35-year-old architect and a mother of two kids. I have always had a passion for architecture with a dream to become a 3D miniature designer, where I get heavily involved in the designs I'm working on instead of spending my days as a CAD monkey.
In the absence of a proper architectural models industry, I turned to various types of notebooks, coloured pens, brushes, and sprays as I began to pursue my passion for stationery. One day, I just sat on my desk and brought a craft box, wrapping papers, notebooks and a set of pencils, before designing notebooks, mixing and matching these tools to embellish my pages from scratch, and that's how it all started.
What sparked your passion for book scrapping?
I do take much pleasure in cutting, outlining shapes and matching stickers with paper colours. It's a very well organized and accurate process, which extremely appeals to a neat-freak like me. It's a kind of self-expression, or a way of self-healing that scrapes away painful memories and helps me chill out and cope with hardships.
Why the name 'MyWay'?
Because this is "my way" of turning something I am passionate about into a career, and to hold a balance in life by doing something euphoric and meaningful.
Book scrapping always demands creativity and new ideas. How do you manage that?
I like to work early in the morning because it helps me get more things done, make better decisions and energize my brain and soul. I unplug from distractions, which increasingly happens in such a digital world. I'm keen on reading and learning from the experience of others; the deeper I get in people's life experiences, the more inspiration I find. It also helps to practice mindfulness in its many forms to improve my self-awareness, and I find it helpful to ask friends and trust-worthy people in my domain about their opinions since their unique individuality introduces me to distinctive styles.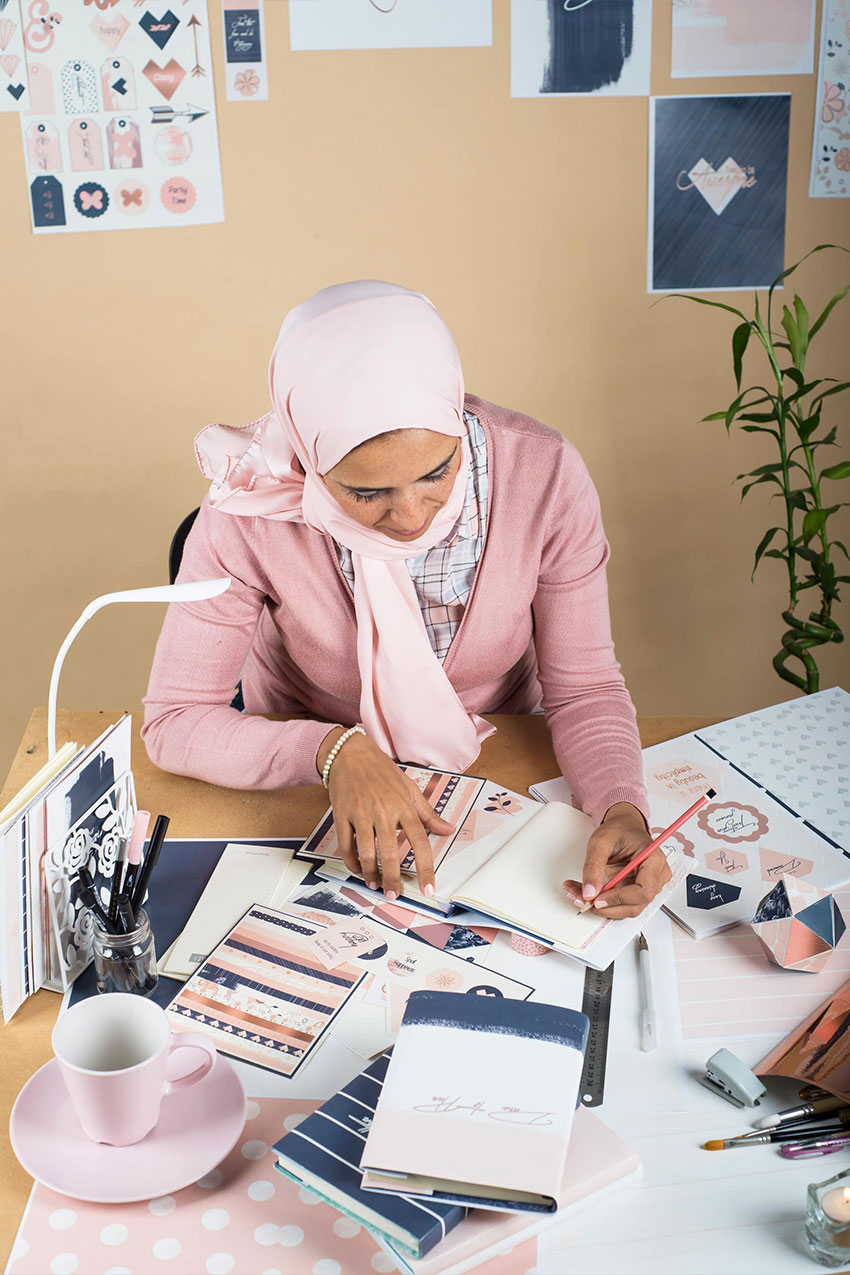 How does it feel to be the first book scrapping studio in Egypt?
To make such a breakthrough, and as a woman, gives me mixed feelings. In a way, it generates more challenges to overcome, blesses me with better experience, and demands stick to high-quality products that meet customers' expectations.
Where would you like to see 'MyWay Craft Studio' five years from now?
I would love to open a store, where I can display my collections and see my customers' reactions face-to-face. I would like to specify a little place to establish workshops as well. I look forward to achieving such exciting goals.
Does it take you long to design and plan a collection?
Crystallising ideas into shapes is quite a long and arduous process, but it is absolutely appreciated! I get inspired by every detail around me, even from photos I stumble upon on social media. I quickly jot ideas down in my notebook, think from different perspectives, and then start to mix them all together and design the theme; from colour pantone and illustrations, to fonts and some DIY activities. Although the whole process of producing a scraped notebook requires hours of hard work, it's all worth it when I finally see the end result displayed and make an announcement of releasing a new collection.
How do you deal with clients who request custom-made products?
I discuss their requirements and do my best to satisfy their request, utilizing my tools and equipments to their satisfaction.
Are you interested in any other kind of art?
I'm interested in creating miniature dollhouses and pop-up books.
A word for our readers…
Don't give up on your dream and leave no attempt to realise it. Always embrace failing or making mistakes and learn from them. Believe in yourself, even if people don't really believe in your abilities or your work. Negativity always comes out of ignorance and lack of understanding. If you really believe in what you do, you should never give up, so work hard and work smart!