7 Best Heart-Warming & Healthy Soups Recipes
There's no better way to warm up on a chilly day other than with a big bowl of heart-warming soup. These fall soups come together with ease and make the most of what's in season; pick from fun roasted vegetable recipes or easy creamy recipes. Here are the best 7 healthy soup recipes that will get you all cozy from the inside out and are perfect for the chilly fall nights.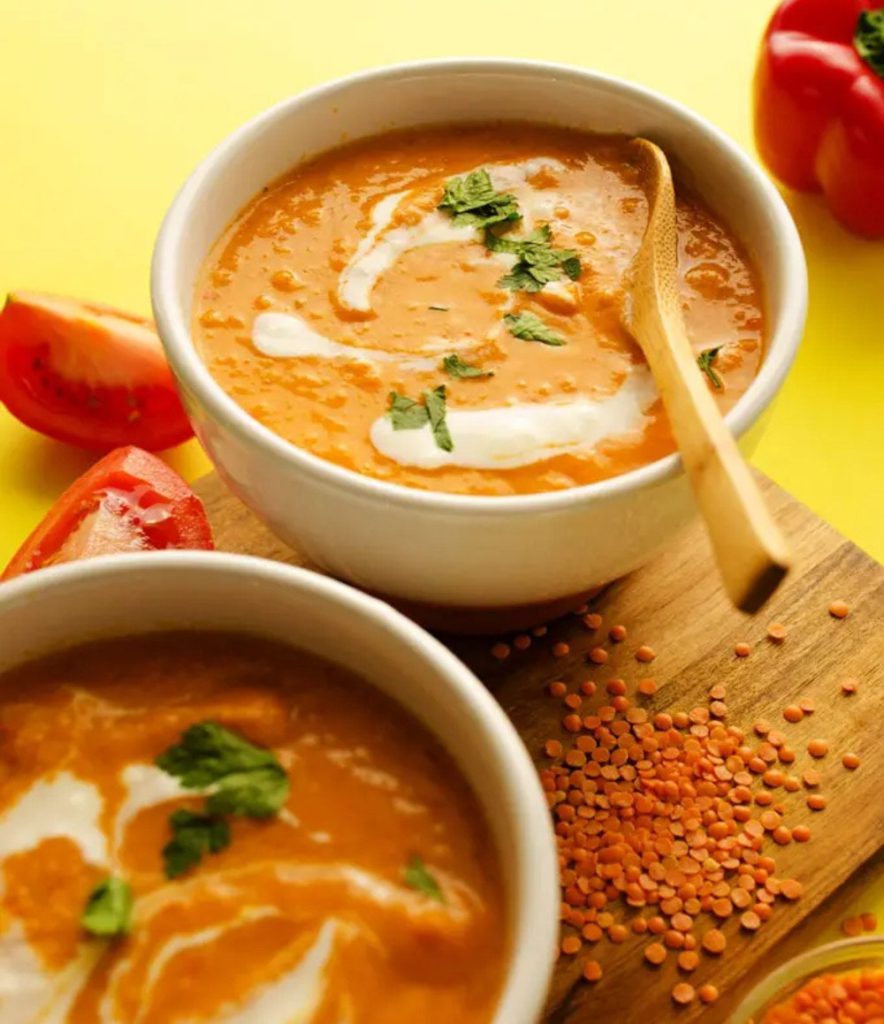 Roasted Red Pepper Soup with Lentils 
Roasting the vegetables instead of simmering them allows them to brown and caramelize giving the final product way more flavour. This Roasted Red Pepper Soup draws inspiration from the delicious Spanish pepper sauce, romesco. It is so easy and simple and you can get it ready under 15 minutes.
Ingredients
Soup
2 tbsp olive oil
1 clove garlic minced
5 cups warm vegetable broth
1 cup dried red lentils
Romesco
2 roasted red peppers
3 roma tomatoes roughly chopped
2 tbsp olive oil
¼ cup almond butter
1 tbsp lemon juice
½ tsp salt
½ tsp smoked paprika
¼ tsp pepper
Instructions
1. Add 2 tbsp of oil to a large pot over medium heat. Add garlic and cook for a few minutes, until it begins to turn golden. Add warmed vegetable broth and lentils. Bring to a boil and cook for 20 minutes, or until lentils are soft.
2. Meanwhile, add all romesco ingredients to a blender or food processor. Blitz until smooth.
3. Whisk romesco sauce into the lentil broth. Season with salt, pepper, and paprika. Serve warm topped with sour cream or plain Greek yogurt.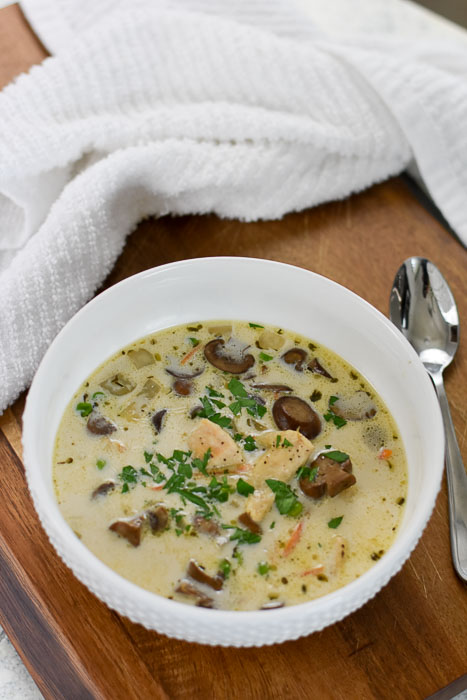 Creamy Chicken Mushroom Soup
Creamy, comforting chicken & mushroom soup can be on your dinner table in just 30 minutes. It is so delicious you'll want to lick the bowl afterwards.
Ingredients
2 tbsp olive oil
1 ½ pounds boneless skinless chicken
breast cut into one-inch chunks
Sea salt to taste
Black pepper to taste
3 tbsp butter
½ tsp dried thyme
4 cloves garlic minced or chopped
½ onion diced
1 cup matchstick carrots
8 ounces baby bella mushrooms sliced
4 cups chicken broth
1 cup heavy cream at room temperature
1 cup frozen peas
Instructions
1. In a large pot, heat olive oil over medium-high flame. Season chicken breast with sea salt and black pepper. Add chicken to pot and cook until golden brown and cooked through then remove from pot.
2. While chicken cooks, dice onion, mince garlic, and set aside.
3. Reduce heat to medium and add butter to pot to melt. Add in thyme, garlic, onion, carrots, mushrooms, and a little more sea salt and black pepper; stirring and cooking until tender, about six minutes. Garlic should be fragrant and onions should start to turn translucent.
4. Add chicken back to the pot then stir in chicken broth, frozen peas, and heavy cream. Increase heat to medium-high and cover pot.
5. Cook until heated through and bubbly, about 15 minutes. Remove from flame and serve hot.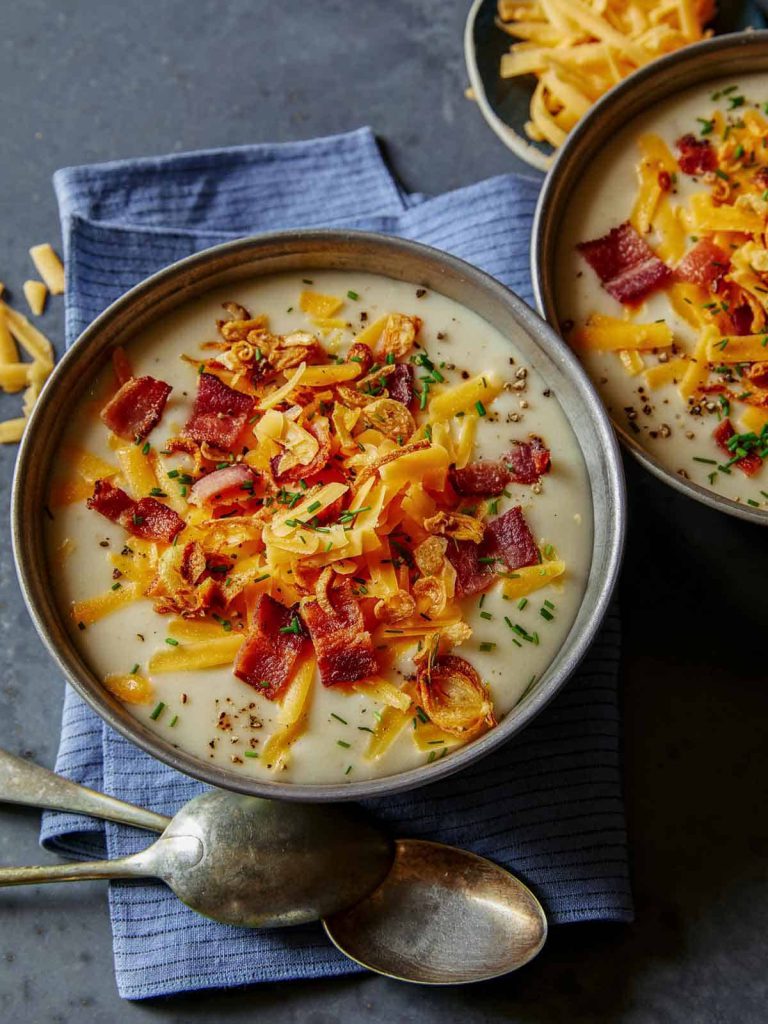 Loaded Baked Potato Soup
Imagine turning a loaded baked potato dinner into a cozy and delicious soup! This is exactly what you would get from this recipe. This soup is perfect for chilly nights and also makes the perfect ahead soup for busy nights that you can just warm up and top with your favourite baked potato toppings!
Ingredients
Soup
4 russet potatoes (about 1 1/2 pounds),
scrubbed clean
5 tablespoons unsalted butter, cubed
1 small diced shallot
¼ cup all-purpose flour
3 cups milk
1 cup chicken stock
(can use vegetable stock)
½ cup sour cream
Salt and pepper to taste
Garnishes
2 cups shredded cheddar cheese
4 strips crispy cooked bacon crumbled
1 tablespoon sliced chives
1/2 cup crispy onions or shallots, optional
Instructions
1. Preheat oven to 350˚F. Prick potatoes all over with a fork and place directly onto centre oven rack, 2 inches apart. Bake potatoes until fork tender, from 60 to 75 minutes.
2. Remove potatoes from oven and cool until no longer steaming. Peel potatoes and dice.
3. Place a large pot over medium heat and melt butter. Add shallots and sauté for 2 to 3 minutes. Season with salt and pepper.
4. Add flour and continue to cook for 3 to 4 minutes.
5. Stir in milk and stock until no lumps remain and continue to simmer until mixture thickens enough to coat the back of a wooden spoon. Stir in potatoes, season with salt and pepper and simmer for 5 to 6 minutes.
6. Pour soup into a blender, blend soup until smooth, about 2 minutes.
7. Pour soup back into pot and stir in sour cream and adjust seasonings.
8. Ladle soup into bowls and top with a bunch of shredded cheese, crumbled bacon, sliced chives, and crispy shallots or onions, if using. Finish with more cracked black pepper and serve.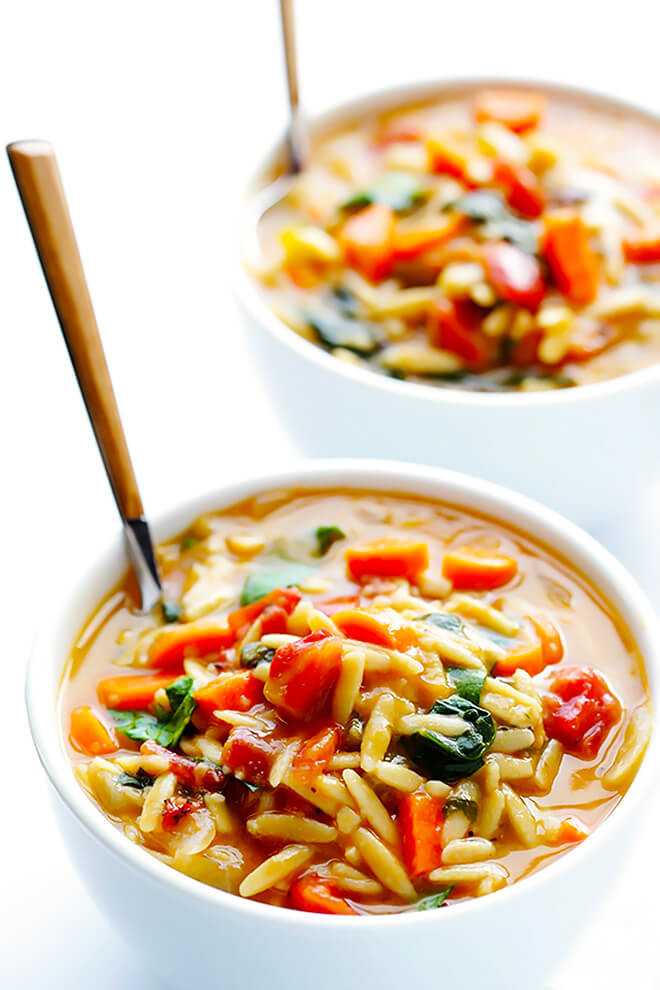 Italian Orzo Spinach Soup
Can't decide if you're in the mood for rice or pasta? Orzo is like the best of both worlds, and an excellent addition to this fresh, veggie-filled soup.
Ingredients
2 tbsp olive oil
1 small white onion, peeled and diced
1 cup diced carrots
1 cup diced celery
3 cloves garlic, peeled and minced
6 cups chicken or vegetable stock
1 can fire-roasted diced tomatoes
1 1/2 cups whole wheat orzo pasta
1/2 tsp dried thyme
1/4 tsp dried oregano
1/4 tsp dried rosemary
4 cups loosely-packed spinach
Salt and black pepper
Instructions
1. Heat oil in a large stock pot over medium-high heat. Add onion and sauté for 4 minutes, until soft. Add carrots, celery and garlic and sauté for an additional 3 minutes. Add chicken stock, tomatoes, orzo (pasta), thyme, oregano, rosemary and stir to combine. Bring soup to a simmer, stirring occasionally. Reduce heat to medium-low and simmer for 10 minutes, stirring occasionally, until the pasta is al dente.
2. Stir in the spinach and cook for 1-2 minutes until it is bright green and wilted. Taste, and season with salt and black pepper as needed.
3. Serve warm, garnished with your desired toppings, like freshly-grated Parmesan cheese or crushed red pepper flakes.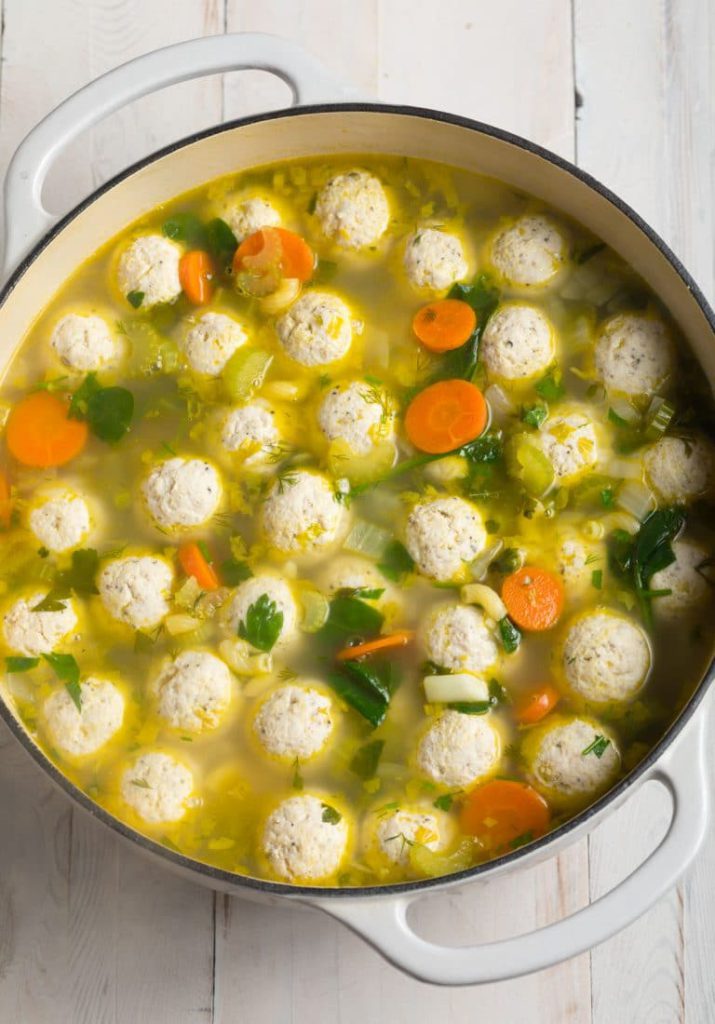 Italian Wedding Soup
Let's just say you don't need to be at an Italian wedding to enjoy this soup. Eat it anytime the weather stinks, or you just want to eat meatballs in broth.
Ingredients
For the meatballs
2 pounds ground turkey sausage,
or chicken sausage
1 cup gluten free bread crumbs
1 large egg
5 tbsp milk
For the soup
1 tbsp olive oil
1 onion, peeled and chopped
3 cloves garlic, minced
1 cup sliced carrots
1 cup sliced celery
3 tbsp fresh chopped dill
2 tbsp fresh chopped parsley
12 cups chicken broth
1 ½ cups gluten free pasta (use any small shape)
1 cup fresh baby spinach, packed
1 tbsp lemon juice
¼ – ½ tsp crushed red pepper
½ cup shaved parmesan cheese
Instructions
1. For the meatballs, in a large bowl mix the ground turkey sausage, gluten free bread crumbs, egg, and milk. Mix by hand until the mixture is very smooth.
2. Place a large 6-8 quart soup pot over medium heat. Add the oil, chopped onion, garlic, carrots, and celery to the pot. Sauté for 5 minutes, to soften the vegetables.
3. Add the dill, parsley, and chicken broth. Bring to a simmer.
4. While the soup is heating, roll the meat into small tight 1 inch balls. Once the soup starts to simmer, add in the meatballs, 3-5 at a time, stirring so they don't stick to the bottom.
5. After all the meatballs are in the soup, simmer an additional 5 minutes. Then stir in the gluten free pasta, spinach, lemon juice, and crushed red pepper. Simmer the pasta 6-8 minutes, or according to the package instructions.
6. Taste, salt and pepper as needed. Serve warm with a sprinkling of parmesan cheese.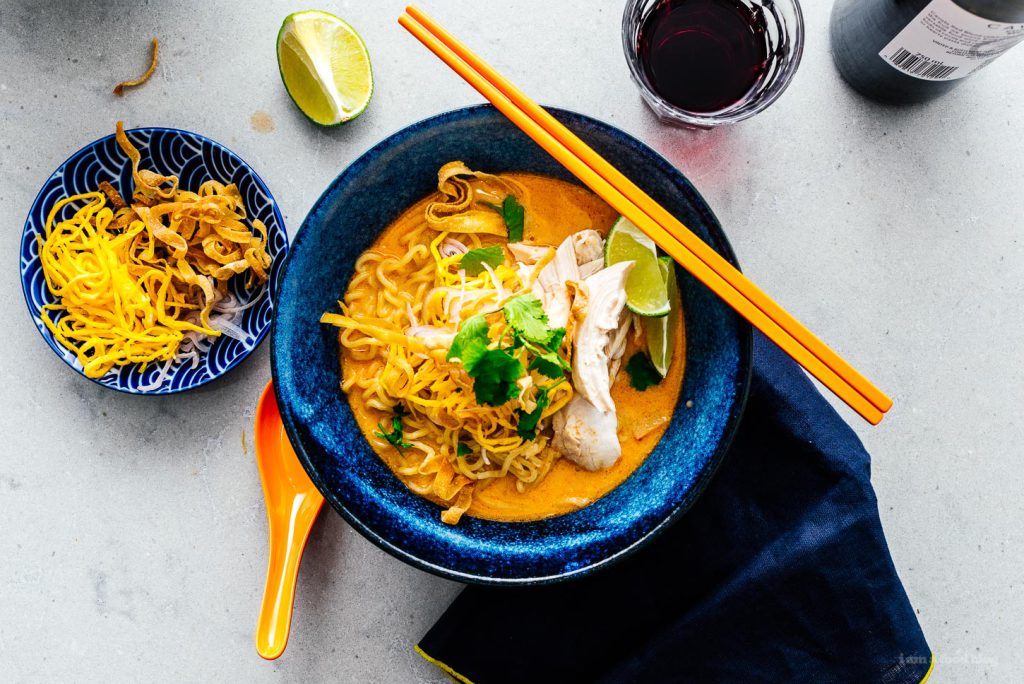 Khao Soi
This Thai-style coconut curry chicken and noodles tastes complex, but is super easy to make. You can whip the whole thing up in just 15 minutes.
Ingredients
2 cups chicken broth no sodium preferred
14 oz coconut milk 1 can
1-2 tbsp Thai red curry paste
1/2 inch ginger thinly sliced
2 cloves garlic crushed
1 large chicken breast or 2 small ones
1 tbsp fish sauce or to taste
1 tbsp sugar or to taste, brown sugar preferred
2 portions egg noodles or ramen noodles
Optional Toppings
1/2 shallot sliced
2 lime wedges
1/4 cup cilantro chopped
1 batch egg ribbons
1/2 cup crispy wonton strips
Instructions
1. In the Instant Pot insert, add the chicken stock, coconut milk, red curry paste, garlic, ginger, and chicken breast. Cook on high pressure for 5 minutes.
2. While the Instant Pot is doing its thing, slice the shallots, cut the lime, and wash the cilantro. If you're using any extra toppings, prep them now. Cook and drain your noodles and divide them between two deep bowls.
3. When the Instant Pot is done, quick release the pressure. Carefully remove the chicken and shred. Add the chicken to the bowls with the noodles.
4. Stir the fish sauce and brown sugar into the soup. Taste the soup and adjust the seasoning with fish sauce, sugar, and curry paste if needed, then divide evenly between the two bowls. Finish with lime and cilantro and enjoy.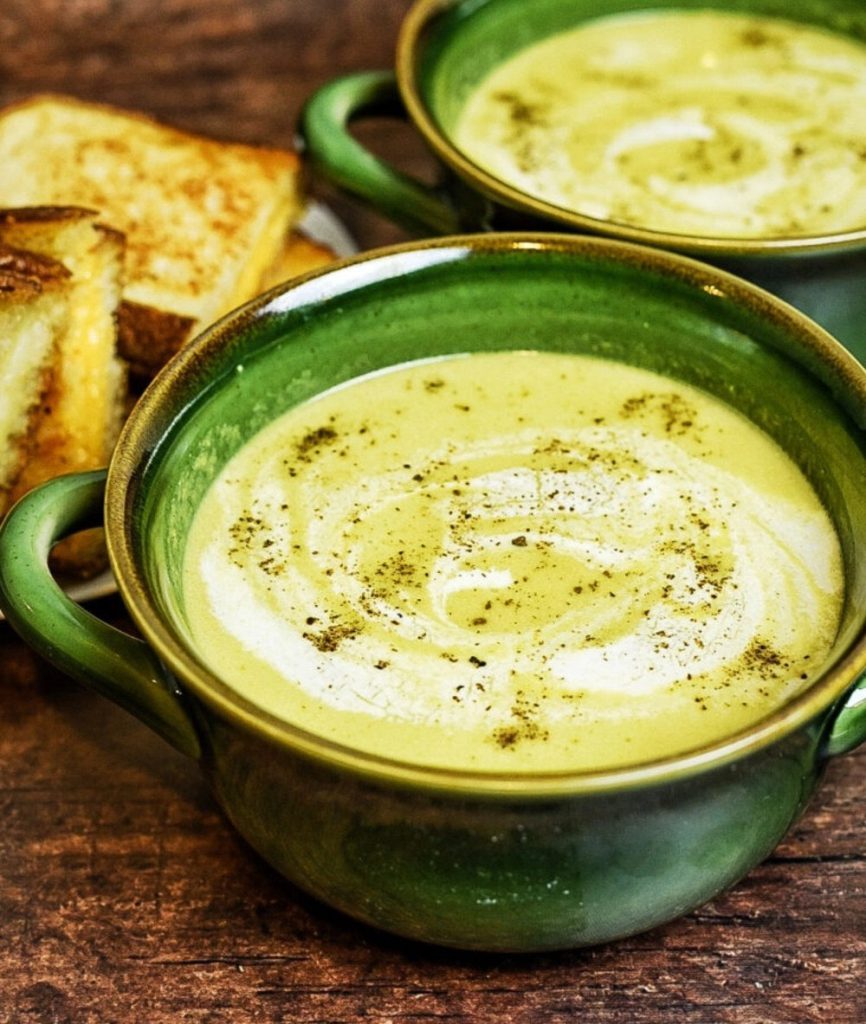 Black Truffle Asparagus Soup
Combining the earthy and nutty flavours of black truffle with fresh asparagus results in this creamy Truffled Cream of Asparagus Soup that serves as the perfect appetizer or even a meal in itself.
Ingredients
1 lb. Asparagus Spears
1 cup Sweet Onions, diced
3 tbsp Butter
2 tbsp Minced Garlic
3 cups Chicken Stock
1/2 cup Heavy Whipping Cream
1/3 cup Creme Fraiche
1 tbsp Black Truffle Oil
1 tsp Himalayan Salt
1 tsp Black Pepper
1 tsp Black Truffle Sea Salt
Instructions
1. Add butter to a large pot on medium heat. Add onions, salt, pepper, and minced garlic.
2. Chop asparagus spears into 1-inch pieces and add to the pot. Cook for 5 minutes. Add chicken stock to the pot and bring to medium-high heat. Cook for 15 minutes. Remove pot from the stove and allow to cool for 5 minutes.
3. Add all ingredients from the pot into a blender and blend until smooth. Pour blended ingredients from the blender into a fine-mesh strainer. Make sure you have a bowl underneath to catch the liquid. Once strained, add liquid back to a pot at medium heat.
4. Place Creme Fraiche in a small bowl and whip using a hand blender for 1 to 2 minutes until smooth.
5. Add Creme Fraiche, heavy whipping cream, and black truffle sea salt and cook for 10 minutes. Add black truffle oil to the pot before serving.
6. Optional: When ready to serve, sprinkle on a pinch of black truffle sea salt or black pepper and a drizzle of black truffle oil.