The Birth of an Artist
Reham El Adl is an Egyptian painter who conducted her first exhibition under the name 'FIESTA' in August 2020. Many public figures attended Reham's exhibition and admired Reham's talent of displaying the consistency of her colorful schemes, which stem from her artistic vision. Reham has recently participated in 'Feminine' exhibition held on March 7, exploring femininity through photography, painting, and sculpture.
When did you start painting?
I started focusing on painting 2 years ago after I resigned from Hill+Knowlton Strategies where I was the General Manager for the last 8 years. The plan was for me to resign and open my own PR agency. But God works in mysterious ways as they say.
Was there a specific person or situation that motivated you?
I got married to Karim Boutros Ghali 3 years ago and was madly inspired by his mother, world renowned abstract painter, Britt Boutros Ghali. Our home is filled with her large and magical paintings that exude this amazing energy. I could stand for hours just looking at every painting, always discovering something new. In all honesty, I wanted to try painting given how much I was moved emotionally and spiritually by Britt's paintings.  But I  was totally intimidated knowing who my mother in law was. What could I possibly paint next to this huge artist?  But my husband Karim tried for a year to get me to paint and I refused out of intimidation. He got me the canvas, the paint and the brushes and I parked them in the closet. One day before I finished my last days at Hill+Knowlton, Karim took me by the hand to Britt's studio to paint with her.   I was nervous because I didn't want to disturb Britt given she works hard every day religiously and who was I to waste her precious and genius time? And that's how it all began. Britt took me under her wings and showed me all about abstract painting for 3 months, every day in her studio. I set up my own art studio at home and dedicated my time fully to painting. I started selling paintings after my fourth painting ever that I did fully on my own and that was a sign for me to continue. To this day, Britt is my main art inspiration and mentor. She discovered a talent in me and fostered it in a way that I probably wouldn't have been able to pick up in art school this quickly. Also because we adore each other as mother and daughter in law, it helped a lot in my mentorship with her.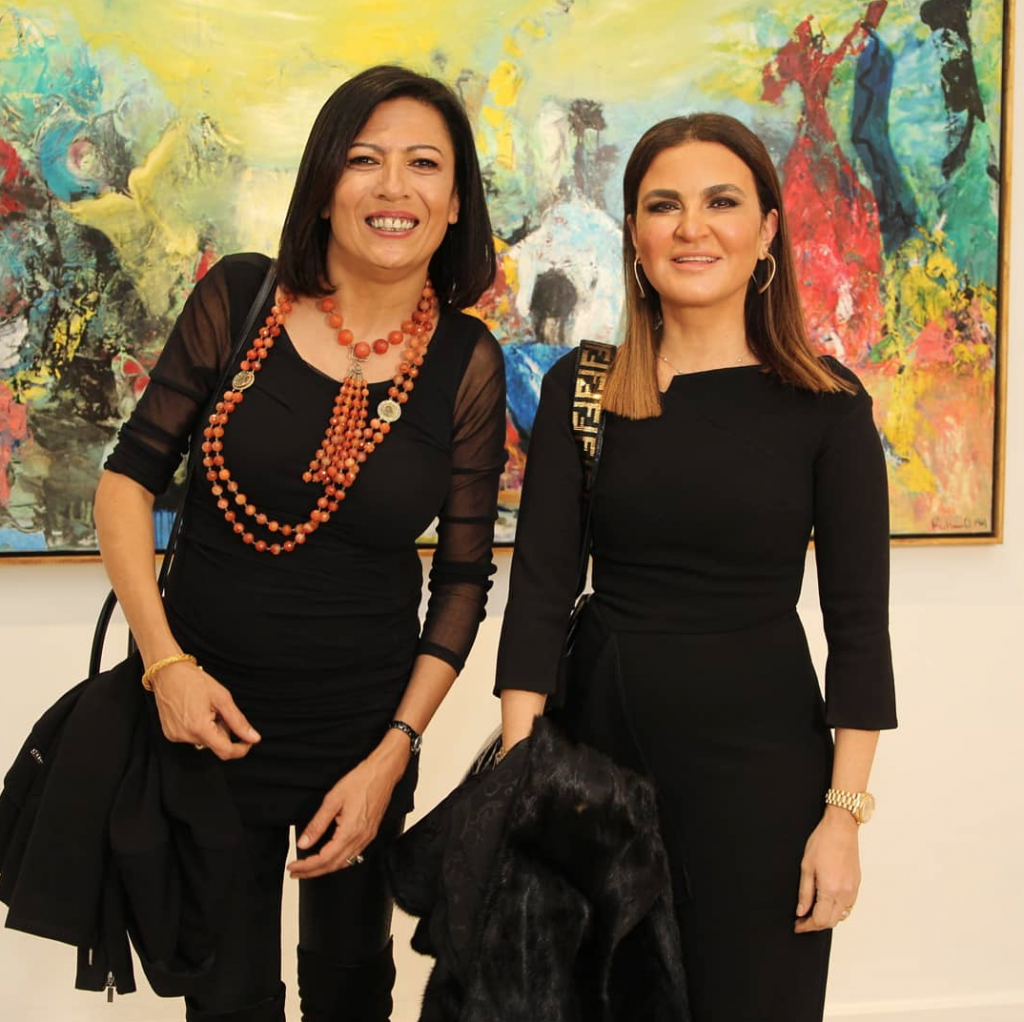 Did your studies / career hinder your passion for art?
my previous career actually helped me a lot in improving so fast as a painter. The discipline I have gained from 18 years of experience in PR agencies in San Francisco, Dubai and Cairo has most definitely helped. I take painting now like it's my job. I give it my 150% because I know that talent is not good enough without hard work and discipline. Also, I'm much more confident and a risk taker because of my previous life in PR and the corporate world. So I channel this courage and embrace the unknown in painting..
Do you have other hobbies?
My other hobbies are travelling, spending time in nature and the outdoors, preparing the best lunch and dinner parties and working on myself emotionally and spiritually.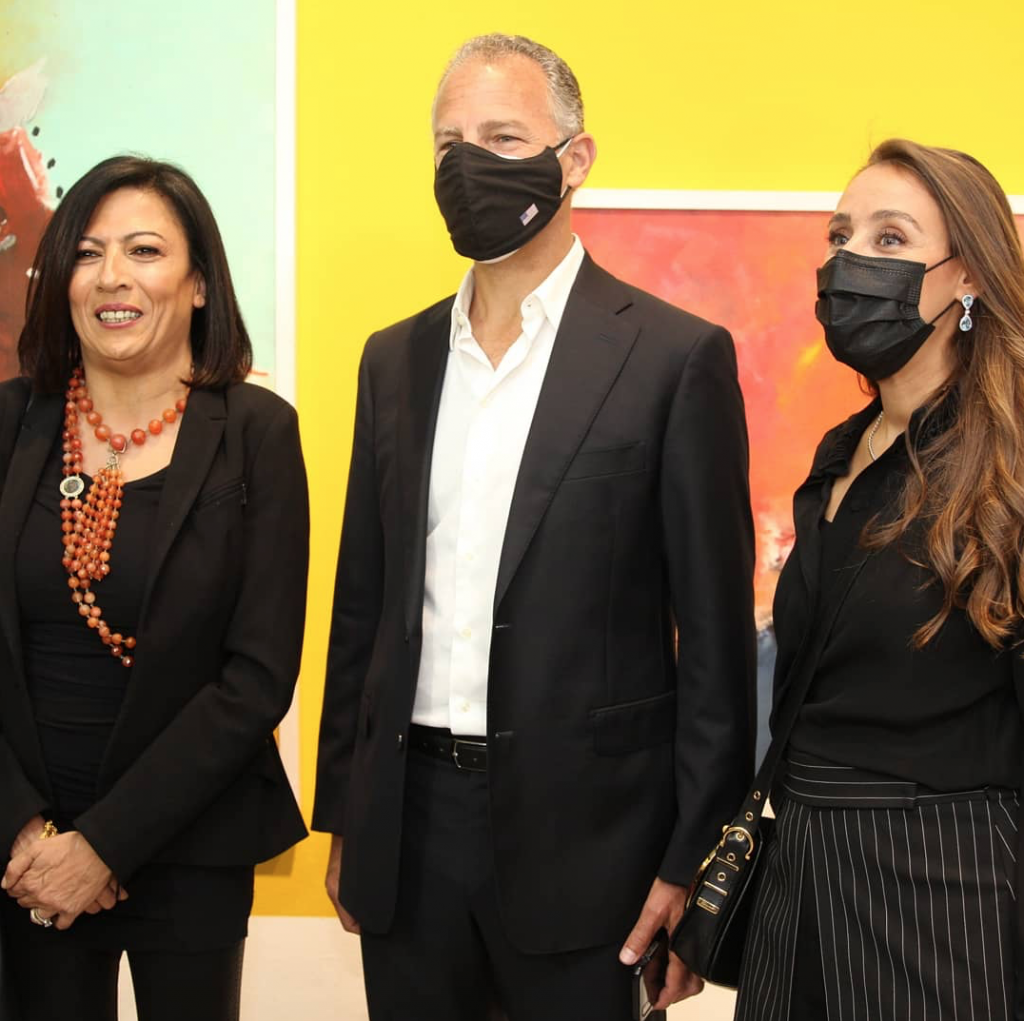 Do you listen to music while painting? What genre?
I like listening to different types of inspiring music.. my favorite is Estas Tonne. He is one of the best classical guitar players in the world.. a musical genius. His music is very spiritual and meditative. Takes you to another dimension. In the mornings, I like listening to classical piano or chello.. afternoons, i varry from blues, jazz, ethnic, world music.. music definitely sets the mood for me when I'm painting. I love it.
Which painters are your favourite? Why?
my favourite painter is my mother in law, Britt Boutros Ghali. Her art moves me in a way that I haven't fully felt with other painters. She is my true inspiration.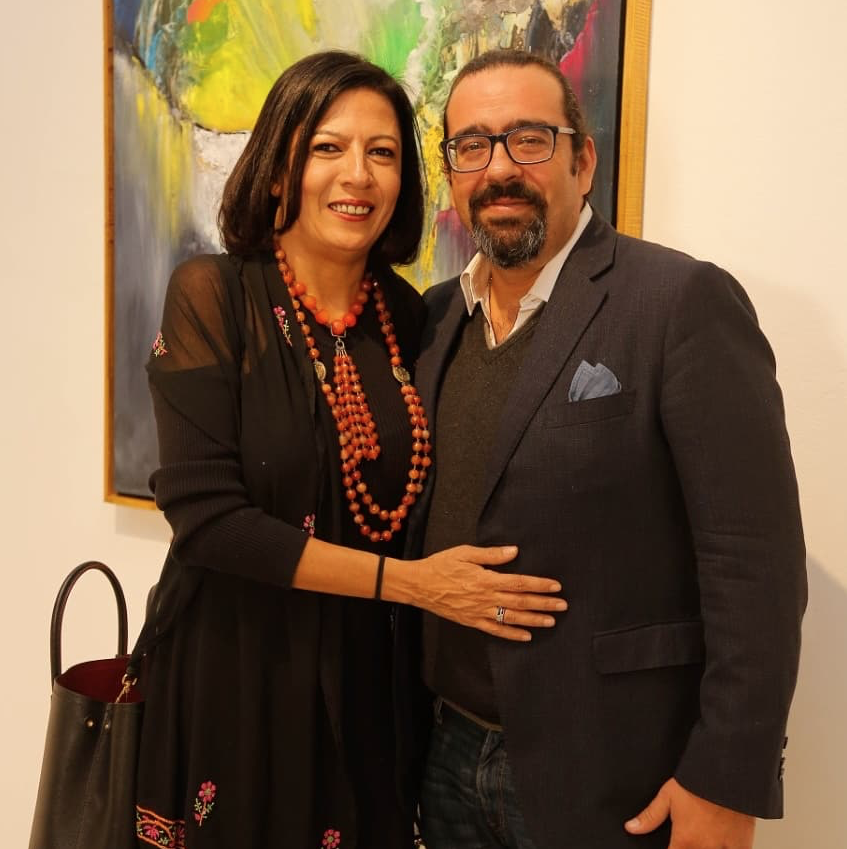 Are you influenced by any painting era or artist? Who?
considering I have only been painting for the last 2 years only, I'm mainly influenced by my art mentor and inspiration, Britt Boutros Ghali. I love her style of abstract art, her choice of colours, how bold and energetic they are. Britt always tells me that my energy is very much close to hers in general. So it makes sense that this translates into the beautiful relationship that we have as mother and daughter in law and also as teacher and student.
Tell us about your new exhibition.
The exhibition I'm currently participating in is called M'uanath and it's organized by Art D'Egypte. It celebrates international women's day over a period of one month. It was overall a big success and I'm so happy to have sold the majority of my paintings on the first 2 days of the exhibition.  I'm now looking forward to exhibiting in Austria and Italy this summer in June and July. I have been contacted by this gallery in Florence who are interested in exhibiting my work in various European countries this summer which I'm so excited about. This is a testament that hard work and passion pay off. To making dreams come true.