Fame doesn't come easy, Amr Wahba worked hard and built and embraced his talent in acting. He is taking steps up the ladder of becoming one of Egypt's most important comedians. Meet the talented Amr Wahba.
Your first acting role in cinemas was in "El Kowayesen." What did you learn from working with director Ahmed El Gendy?
It was a pleasure working with Ahmed Fahmi and Ahmed El Gendy. El Gendy's history in comedies is really inspiring. He was really keen to always give me advice and I was very grateful about every positive comment he said about me. 
You're doing great as a comedian; why didn't you start your career earlier?
 If I could have started from first grade I would have. I am originally from Port Said, and my studies aren't art-related, so I wasn't expecting to find it easy to work in this field. My journey began with writing for big comedy shows and videos on social media; that's how people began to hear about me. 
Will we see you on the big screen anytime soon?
Unfortunately, there are no new projects now.
What is the hardest part about being a comedian? And why?
It would definitely be the expectations from the audience. I mean if you don't meet their expectations in every role you perform, you will face a lot of criticism because they always wait for more, especially from comedians.
Which actor/actress do you wish to work with one day? 
I have always wanted to work with Amir Karara, Ahmed Fahmi, and Donia Samir Ghanem. And now that I got this chance, I wish to work with Ahmed Mekky, Shico, and Hisham Maged.
Did you expect the success of your role in "Badal El Hadoota Talata" TV series this Ramadan?
I didn't expect the success of my role because I don't like to have high expectations, but I expected the success of the series because it was really good. I believe that Donia Samir Ghanem is very talented and has a huge audience, so it was expected that the series would be a hit.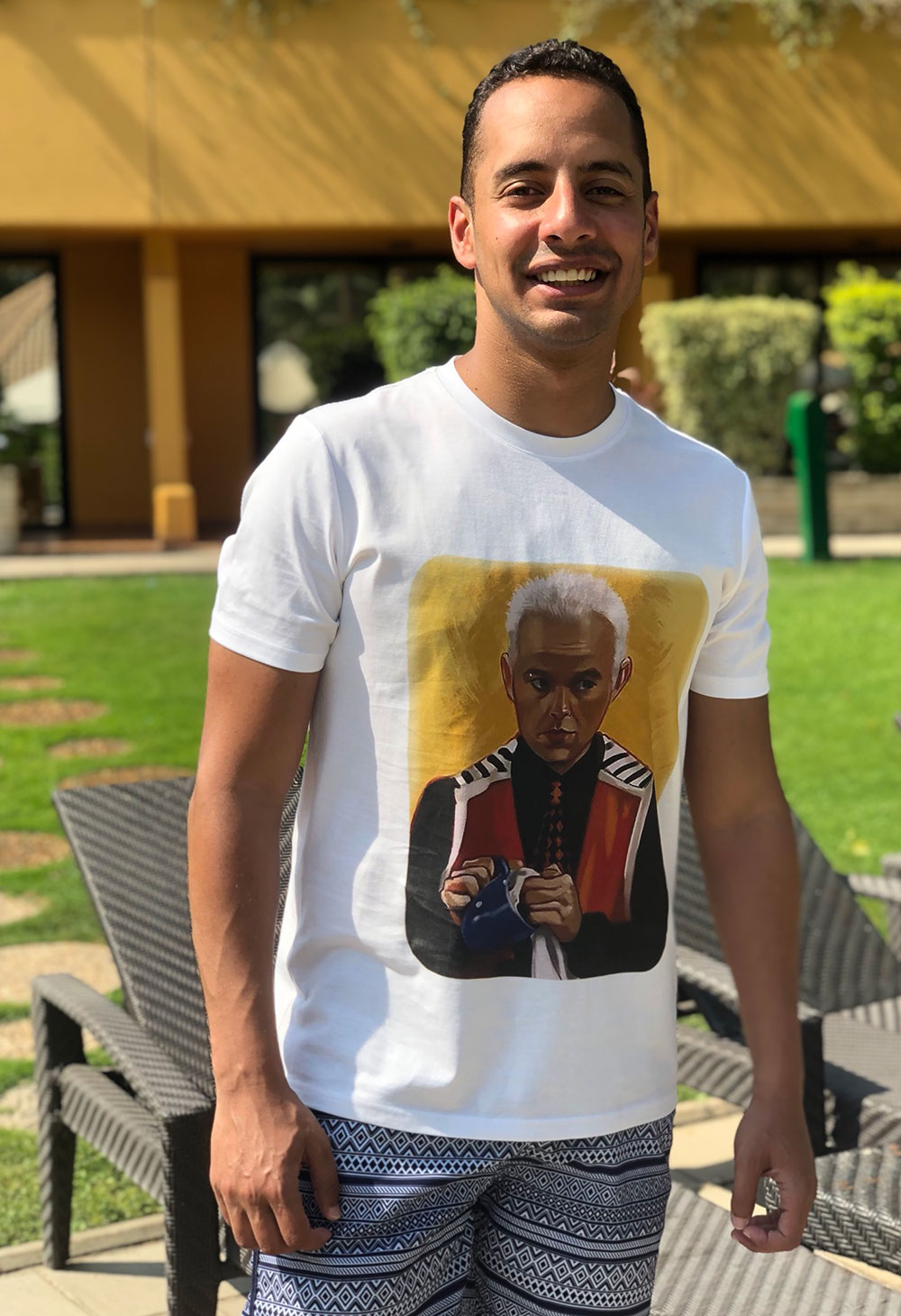 How were you chosen to be a part of "Badal El Hadoota Talata?"
Khaled El Halafawi, the producer of the series, had initially offered me a role in the last story of the series (it has three parts), but for some reason the actor who was meant to be in the first story did not continue the series. As a result, El Halafawi, and Donia Samir Ghanem recommended me for the role.
Which of the roles that you played is closest to your heart? And why?
Yehia in 'Badal El Hadota Talata,' but I love each and every role I played; Mostafa in 'Kalabsh' and Yehia in 'El Kowayesen' were both special roles.
How do you evaluate yourself as a comedian these days?
I can't evaluate myself as a comedian. I think I still have to work more and more. I exert a lot of effort in what I do and I have a lot of energy for what is coming ahead of me.
Which comedian inspires you the most?
Will Smith.
How did you work on yourself in your past roles? 
I attended a lot of workshops. Plus, I observe other people's characters, take notes, and draw the character I am about to perform in my imagination.  
Fun Questions:
Who is your favourite comedian?
Will Smith.
Who is your celebrity crush?
Jennifer Aniston.
Which TV show do you like more, Friends or How I met your mother?
Friends.