Despite her disappearance from the world of cinema, the singing field won an exceptional talent. The gorgeous and multi-talented Somaya ElKhashab talks more about her life, career, and upcoming projects in an exclusive chat with us.
1-Did you expect the success of "Alby Ya Nas" song?
Actually, no! The song was originally my idea and when I told the composer, Hisham Sadek, about it, he started writing it immediately. The result was amazing and I got a very positive feedback from my fans.
2-How do you balance between the music industry and the acting world?
It's very difficult to balance between them because both of them need effort and time. That's why I released just one album seven years ago. Then, I got busy in making films and series, so I can't do both at the same time. 
3-Who is your inspiration as a singer?
Me. I inspire myself. Since I was a child, I loved singing and my dad always encouraged me. Singing was the goal I came to Egypt to achieve. And I can't never forget those who encouraged me to sing; Salah El Sharnouby, Ammar El Sherai, Abdel Rahman El Abnoudy and, of course, the famous composer Helmy Bakr who foresaw that I will be one of the singers that will restore the authenticity of Arabic singing. 
4-After your huge weight loss, how do you stay fit and in good shape?
My three golden tips are; No dinner, drinking a lot of water, and sports.
5-Away from the spotlights, how do you spend your time?
Reading, watching movies, listening to music, travelling to my family in Alexandria, and visiting charities.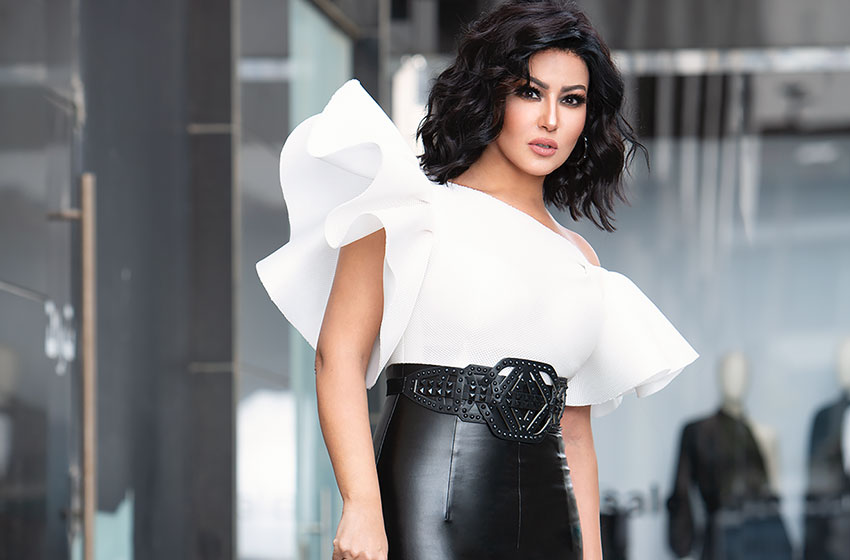 6-Which role you performed is the closest to your heart and why?
For TV series, "Raya & Sekina" because it was very successful. And also "El Hakika wel Sarab" because it carries a very important message about the relationship between "Nabila," my role, and her mother-in-law. I also received many awards for this role.
In cinema, "Hena Maysara," "Kheyana Mashroaa," "El Rayes Omar Harb," "Yoom El Karama" and many more.
7-what are your upcoming projects?
A new video clip will be released very soon.
8-It's been a long a time since we saw you on the silver screen; don't you miss it?
Yes. I miss cinema. I am now having my own workshop to develop new ideas for cinema and TV. I am not in a hurry to come back as I care more about the quality not the quantity, so I hope I can do a good thing soon.
9-Will we see you in Ramadan 2019?
No, but I am preparing for a project that will be out soon but not in Ramadan.
10-What is your comment about the circumstances that Khaled Youssef is undergoing now? 
I don't have a specific comment about the Khaled Youssef issue in particular. But, generally, I am against attacking anyone and what is happening nowadays is very unethical.
11-Do you believe in the power of social media and how it helps you to get in touch with your fans?
At the beginning, I was not active on social media but my fans encouraged me to be more active. Their love and loyalty make me super happy and give me positive energy to work more and to be in touch with them through the social media. I can't thank them enough. This is a huge blessing to me.
12-What is your comment about the negative feedback you got after your concert in Iraq?
The concert was very good. I was asked to sing but I was very sick, so I stumbled a bit while singing. Then, some sick people started to share mockery videos about it, but I don't care. I believe any singer can experience the same situation while singing live.
13-How do you face difficulties and rumours that you are exposed to as a celebrity?
I don't care abut rumours. I believe that any successful person must have enemies. I am a very clear person and I will always tell the truth. I am focusing on my work and on my family, so there is no time to give any attention to any rumours.
14-Do you consider your husband Ahmed Saad is one of the top singers in Egypt?
Defiantly, yes! Not because he is my husband but because I really believe he has got an amazing voice. And I hope he cares and focuses more on his career.
15-Will we hear you and Ahmed Saad in a duet any time soon?
We did "Bel Halal Ya Mealem." It was very success and exceeded 40 million viewers on Youtube. And we are now preparing for a romantic duet.
16-Do you have any exclusive news for us?
Yes. I am releasing a new song named "Betestawa," lyrics by Hisham Sadek, arranged by Mohamed Abbas and composed by me. The video clip renounces the violence against women and it is directed by Gameel El Moghazy. The video clip will be featuring my nephews, Seif and Sandra El Khashab. I hope it will touch people and that the message will reach everybody.
Photo session: Emad Kassem
Stylist: Ehab El Adly
Hair stylist: Mahmoud Ammer
Makeup artist: Amin
Fashion Designer: Sherif Nasr