It Is the National Onion Rings Day…Yummy!
Today, 22 June, marks the National Onion Rings Day, this delicious appetizer that passionately consumed worldwide. Nevertheless, its origins are still ambiguous.
It is said that onion rings were invented in 1469; after the French King "Louis XI" requested the invention of a new food snack. The king did not like the onion ring and had the inventor executed.
Later, in John Mollard's 1802 cookbook The Art of Cookery Made Easy and Refined, there was a recipe called Fried Onions with Parmesan Cheese, according to which, onions to be cut into 1/2 inch rings. These slices to be then dipped into a batter of flour, cream, salt, pepper, and Parmesan cheese, then fried. Afterward, it shall be served with a sauce of melted butter and mustard.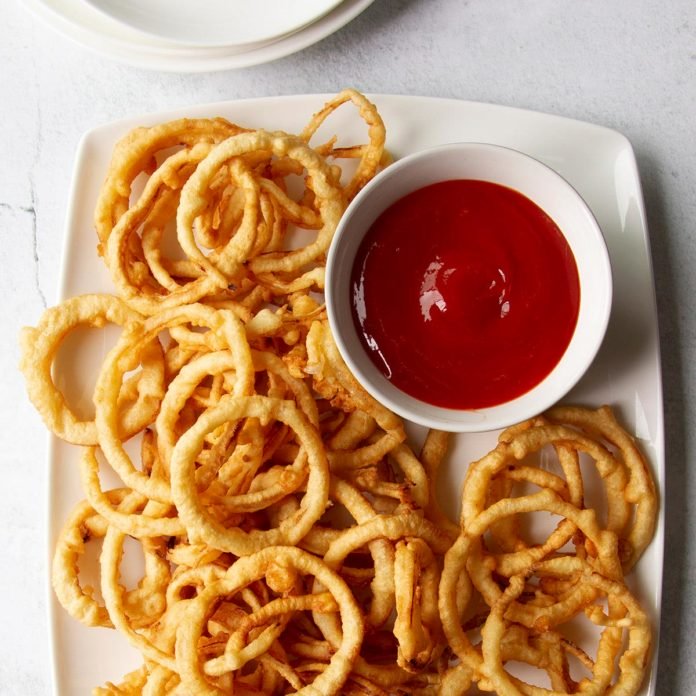 A French Fried Onions recipe may have appeared in the Middletown, NY Daily Times on 13 January 1910.
Nonetheless, the Pig Stand restaurant chain -founded in Texas (Oak Cliff) in the early 1920s- claims the onion rings' invention.
The A&W restaurant, however, is recognized for making the onion rings popular in fast-food restaurants when it introduced it in its menu in the 1960s.
Last but not least, in 1933, Crisco advertisement in The New York Times Magazine showed a recipe for deep-fried onion rings dipped in milk then dredged in flour.
Whatever the onion rings origins are, let's enjoy this tasty snack.