After an 18-yea career, full of success, World No.1 Raneem El Welily officially announced her retirement on 25 June. The victories The Enigma, Raneem's nickname, achieved during her path are countless.
World Junior Championship 
Her junior career saw significant achievements. These include The Enigma winning twice the World Junior Championship. The first time was in 2005 when the tournament was held in Herentals, Belgium. The second was in 2007, in Hong Kong.
World No.1
The Rino, also one of the champion's nickname, ensured her name goes down in the history of the sport. This came after she became World No.1, turning into the first Arab female to be so in any sport, and ending the record of Malaysian Nicol David who dominated the spot for nine years.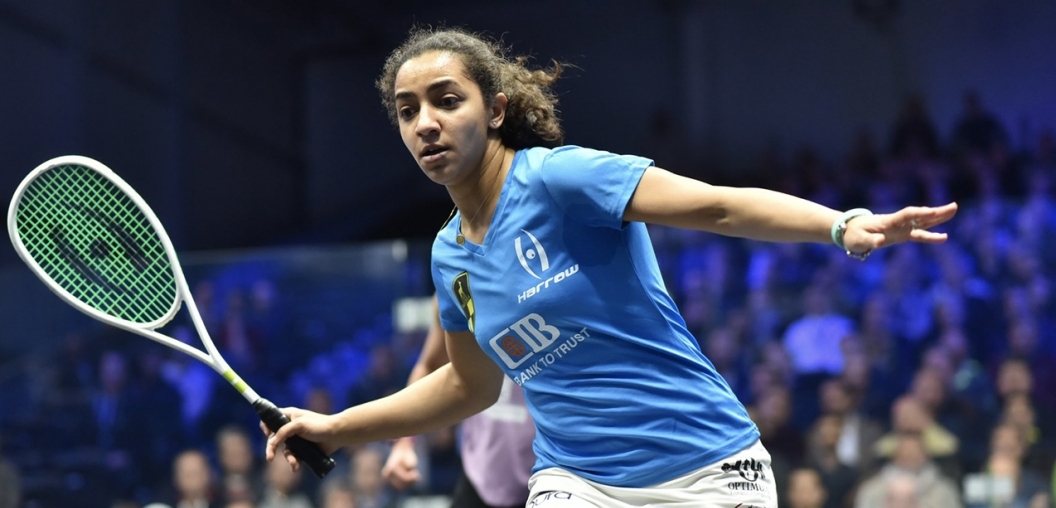 World Championship 
In 2017/2018, Raneem won the champion of the World PSA (Professional Squash Association) Championship, held in Manchester, England. The event's final match was against her compatriot Nour El Sherbini (world no.3). Although the first took the first game 3-11, the second turned the tables, winning the second 12-10, third 11-7, and fourth 11-5 games.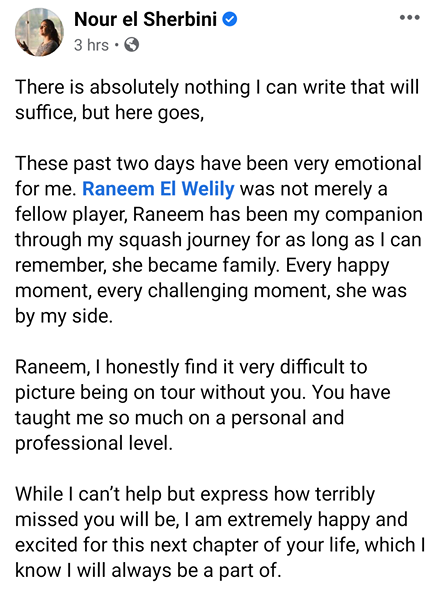 Guinness World Records
Her husband Tarek Momen, ranked fourth internationally, claimed the title of the last World Championship in Doha, Qatar. This made them the first married World Champions in any sport, and thanks to which they were recognized by Guinness World Records.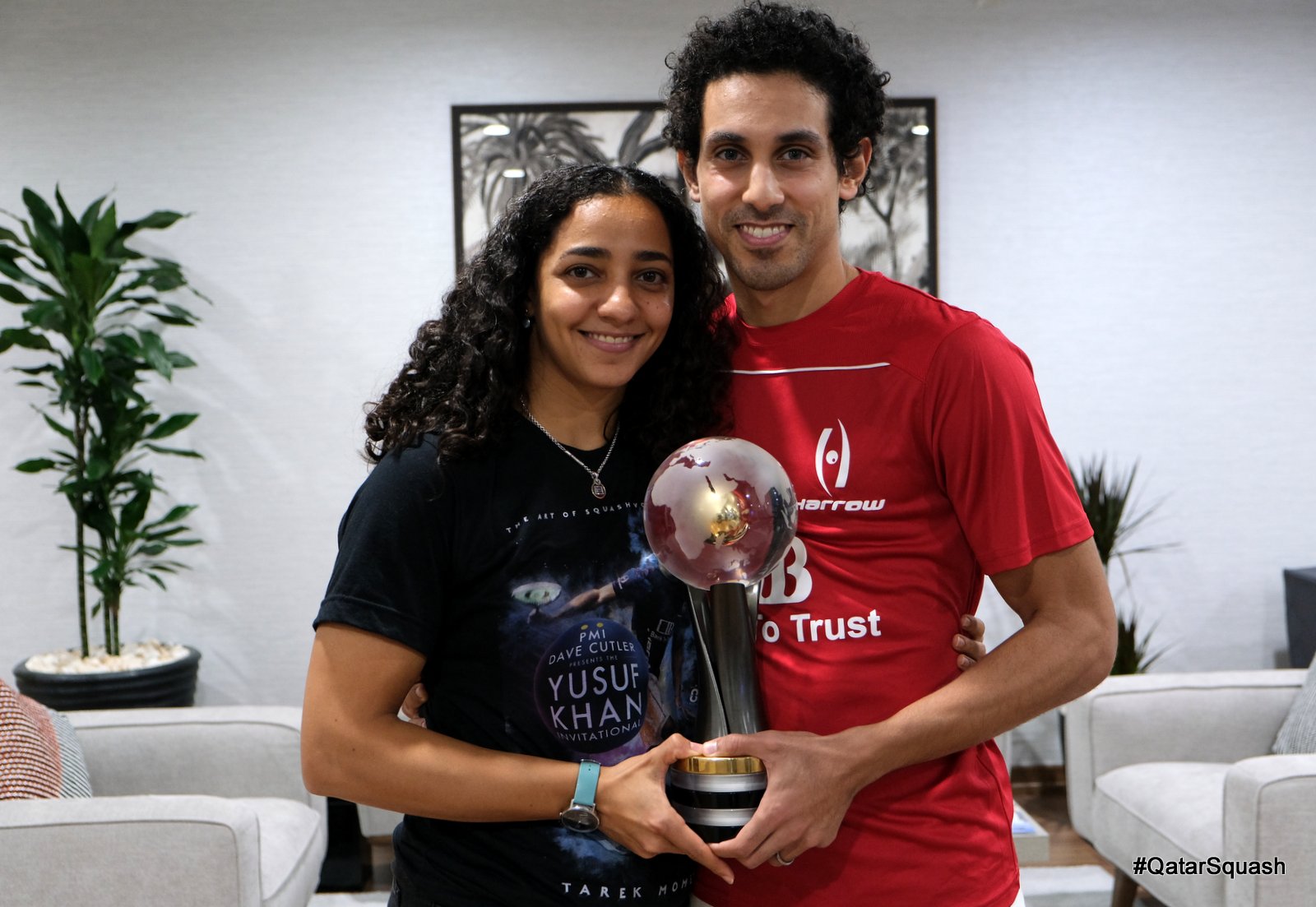 24 PSA Titles 
Throughout her sports path, The Butterfly -another nickname of hers- accumulated 24 PSA titles, including Oracle NetSuite Open 2019, CIB PSA World Tour Finals 2018/2019, El Gouna International Squash Open 2019 and 2018, DPD Open 2019, CIB Balck Ball Squash Open 2019, FS Investments U.S. Open Championships 2018, J.P. Morgan China Squash Open 2018, and AJ Bella PSA World Championships 2017.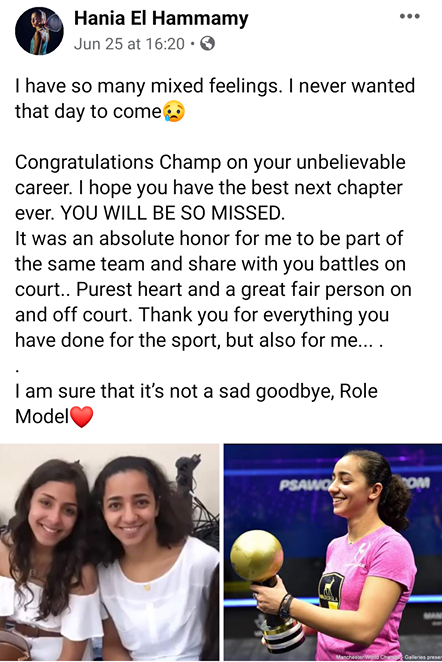 She was also the champion of Guggenheim Partners & Equitrust Windy City Open 2017, 2016, and 2015, Wadi Degla 2016, Al Ahram Open NEWGIZA 2016,  Stars on the Bund China Open 2016, Alexandria International 2015, J.P. Morgan Tournament of Champions 2015, and CIMB Malaysian Open Championships 2014.
A Beautiful Person
Aside from being an exceptional player, The Butterfly is a really nice personality and lovable character. The way with which the squash community has been reacting to the news, of her quitting playing, is assuring this fact. Her colleagues' posts are very touching, for instance.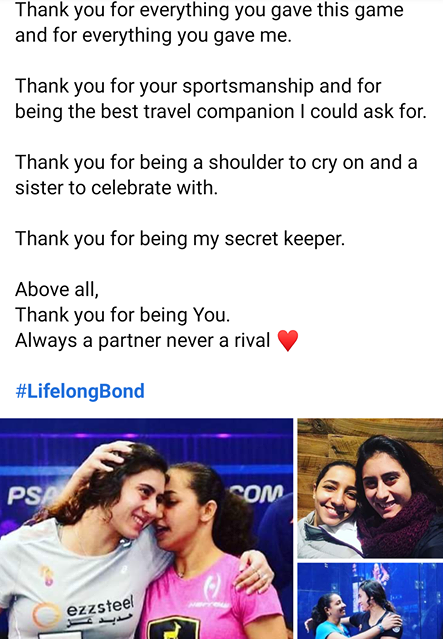 Raneem's Words 
Regarding her retirement, The Raneem mentioned on her Facebook official page: "For the past year or two, I must have written these words in my head over a thousand times. Squash has been my life for the past 25 years, but the time has come for me to say goodbye,"
"What a ride it has been. When this journey started, I never thought that it would take me this far. I have been so fortunate to have witnessed many generations play the game, to have been inspired by so many legends, and to have been a part of such a great era."
As for her future, she also expressed: "I don't know what the future holds for me career-wise, but I do know, that starting a family with Tarek is a priority for us. And whatever challenges life may throw our way, I hope that I will be ready to face them,"
"I may be saying goodbye to the competition, BUT I'm not saying goodbye to all the memories (good and bad), all the bonds and friendships I have built, all the good times I've had with my peers, and many other wonderful things that will forever live with me. This is not a sad goodbye, for today I say goodbye with two smiling hearts."
Whatever your plans are, we all wish you Raneem a life full of happiness and success!