The Pentathlon World Cup concluded its events in the beginning of March and it took place in the Egyptian capital, Cairo. In addition to the host country, players from 37 countries participated: Argentina, Austria, Belarus, Belgium, Brazil, Bulgaria, Canada, China, Czech Republic, Ecuador, Finland, France, Georgia, Germany, Great Britain, Guatemala, Hungary, Ireland, Italy, Japan, Kazakhstan, Korea, Latvia, Lithuania, Mexico, Moldova, Netherlands, Poland, Portugal, Russia, South Africa, Spain, Switzerland, Turkey, Ukraine, USA, and Uzbekistan.
The Egyptian team comprised the following players: Ahmed Osama El Guendy, Eslam Mahmoud Hamed, Yasser Mohamed Hanafy, Mohanad Tarek Shaaban, Sherif Yasser Mohamed, Aly Al Din Sherif Swelam, Sherif Nazir, Haidy Adel Morsi, Salma Ayman Abdel Maksoud, Amira Ahmed Kandil, Sondos Tarek Helmy Abu Bakr, Norin Bolis Lamei, Maya Mohamed, and Darin Yasser.
Women's Final:
Competitions were thrilling with Joanna Muir of Great Britain winning the Women's Final. Russians Uliana Batashova and Gulnaz Gubaydullina obtained the silver and bronze medals, respectively.
Expressing her happiness, Joanna commented: "I had a good fence and my swim was OK, but in the Riding my stirrup snapped halfway round and I couldn't believe it – I thought 'the one day when I fence well and I am going to come off my horse'. I was so relieved to get round. In the Laser Run there were lots of quick runners round about me and I tried to stick with them, and not kill myself too early. It could have been anyone's race. I can't believe it. It feels amazing."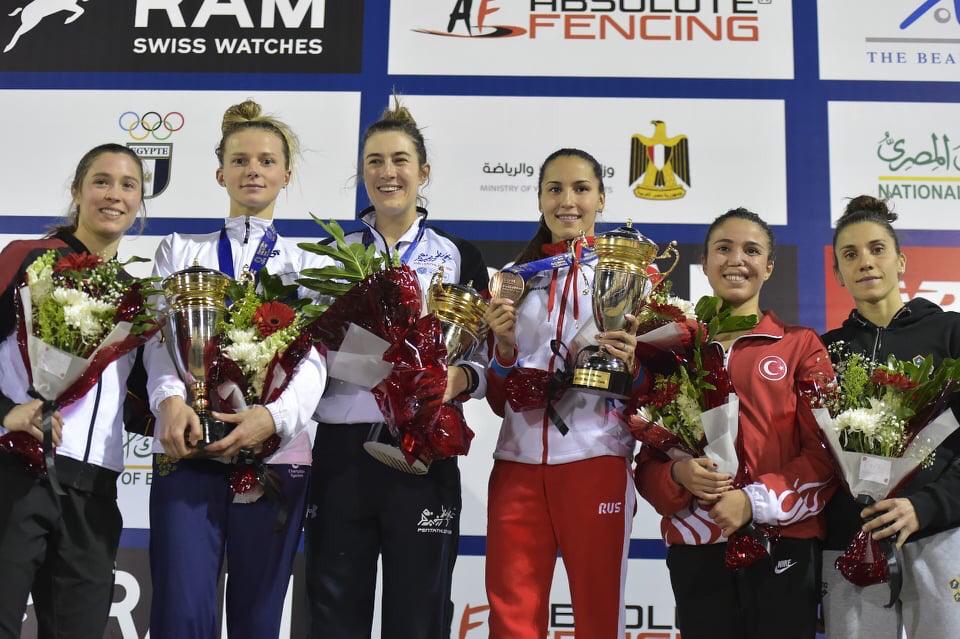 Uliana expressed: "I'm very happy, I feel perfect. It's good news for my Olympic ranking," while her fellow citizen Gulnaz said: "I'm happy. Today was a hard day but I think it wasn't bad. I don't know what my coach will say, but I think it was good!"
Men's Final:
Moving to the Men's Final, it was Hungarian Adam Marosi, who won bronze at the 2012 London Olympic Games, was the champion who claimed the World Cup's gold medal. Silver and bronze medals went for Korean Jun Woongtae and Irish Arthur Lanigan-O'Keeffe.
Regarding his victory, Adam said: "It's a brilliant end to a brilliant day. I had a hard semi-final because my Fencing was very, very bad and I tried to focus on preparing for the Fencing today, and it was amazing. I'm a little bit sad about my Riding performance, but finally I've won again and it feels great! My last World Cup victory was in 2014 in Kecskemet in my home country, and that's a very, very long to wait – six years."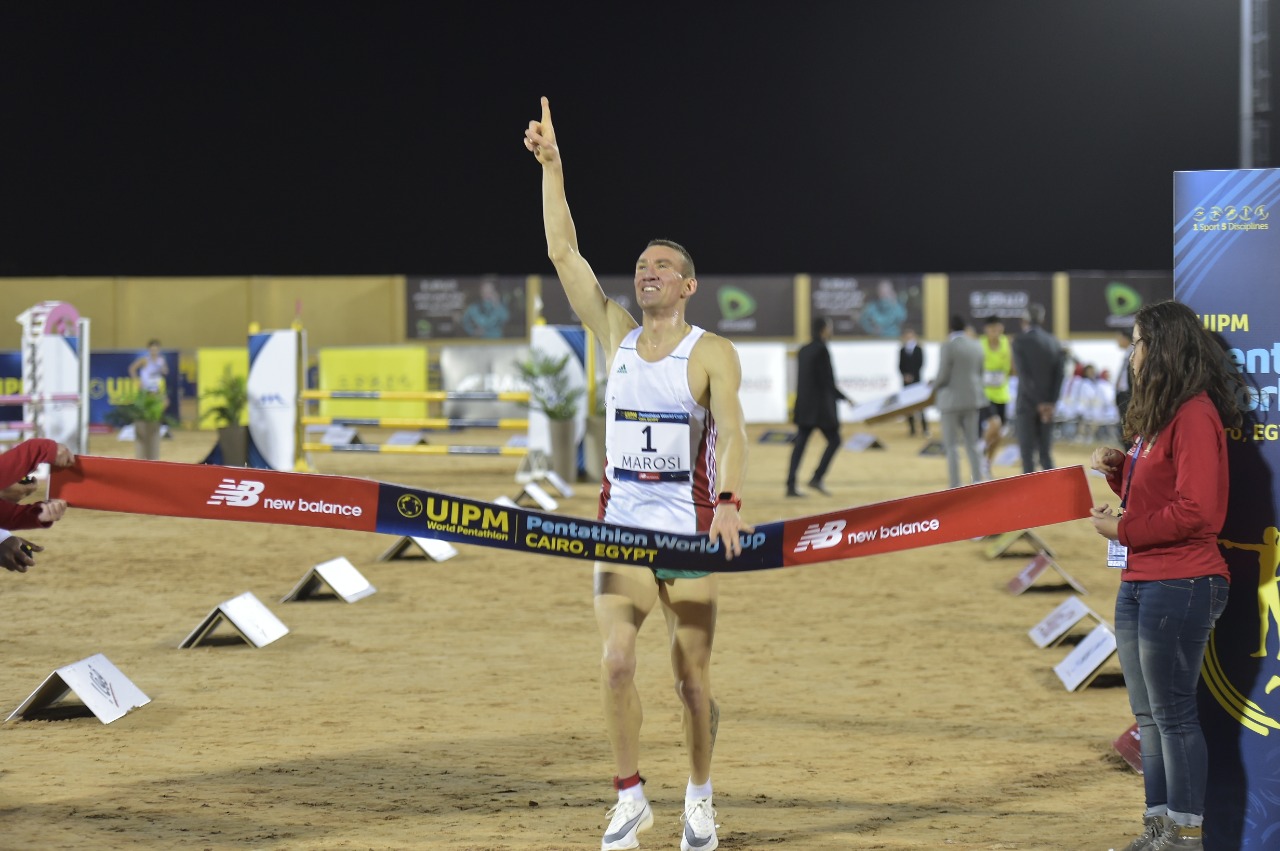 Silver medalist Jun expressed: "I performed well in Laser Run, Swimming, Riding and Fencing, and that's why I managed to get this result." Arthur added: "I am really happy with that. I put in a really big block of training over the winter and I felt really fit out there today. I hope now I can continue for the rest of the season on this trajectory. My swimming was actually about six seconds slower than usual, but that's because I really concentrated my training on running and fencing over the winter, and it paid dividends. It feels really good."
The UIPM's President Klaus Schormann:
Several distinguished personalities of the Modern Pentathlon's family were present at the World Cup, including the International Modern Pentathlon Union (UIPM)'s President Klaus Schormann who mentioned: "Having a World Cup in Africa every year is a long-time tradition and it is always hosted by the Egyptian Modern Pentathlon Federation whose experience, knowledge, and the way they are presenting the World Cups have been allowing them to win the bidding of hosting such significant tournaments.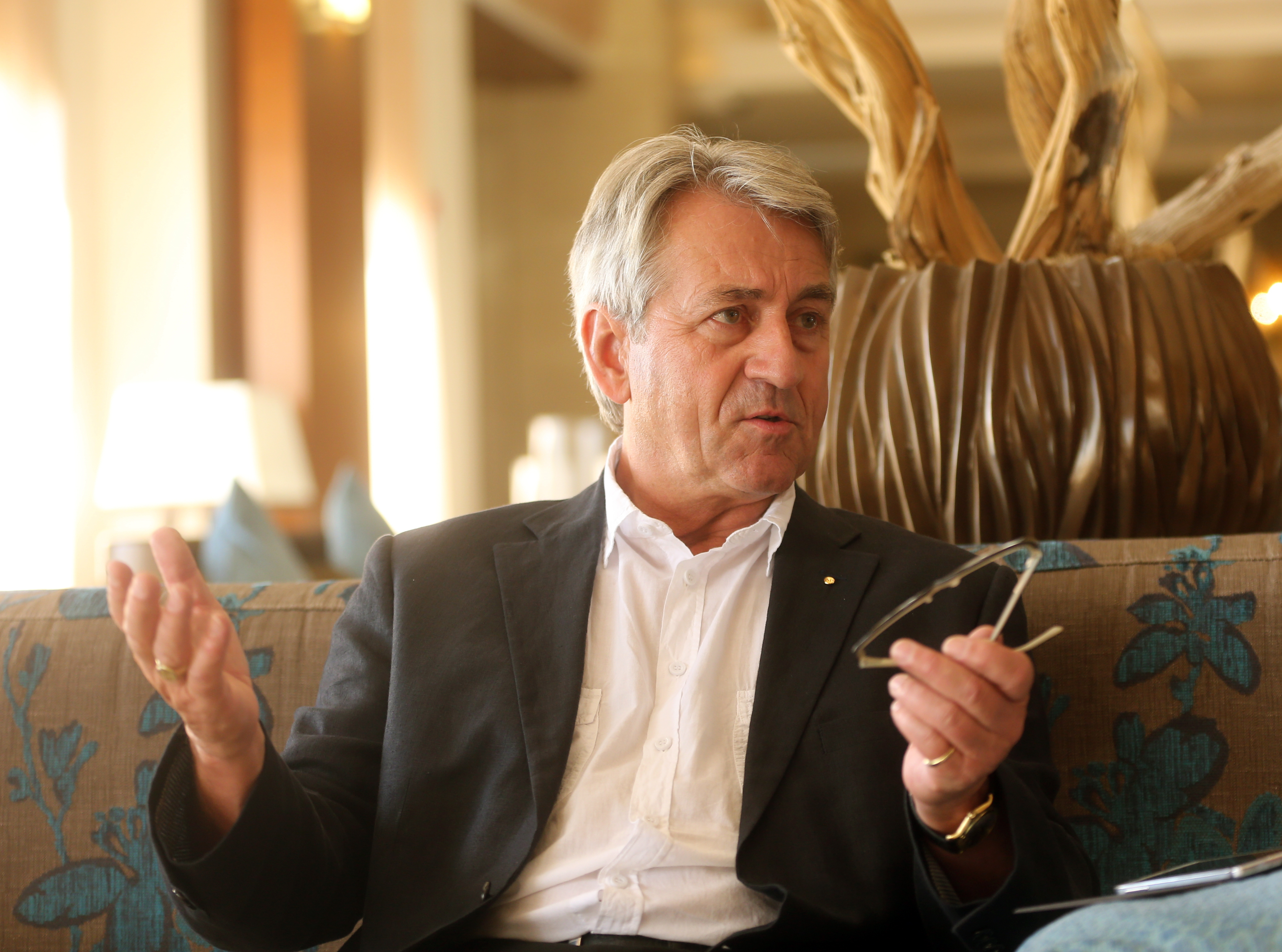 "This is the first World Cup of the current season and it is essential for the whole season, where athletes come from their winter training sessions to their first big event. Also, the importance of this tournament in Egypt lies in that it is one of the events qualifying for the 2020 Tokyo Olympic Games."