L'Oreal Paris Participated in the 9th Edition of Cairo Marathon to STANDUP against Street Harassment
In line with its mission to create a healthy and supportive environment for the community, L'Oreal Paris participated in the 9th edition of the Cairo Marathon. The annual global-to-be run since 2013 is taking place this year on May 20th in Cairo, with over 7,000 runners, in collaboration with Cairo Runners, IEvents, and under the auspices of the Ministry of Youth and Sports.
L'Oreal Paris is utilizing its participation in the event by raising awareness about important social issues such as street harassment, which heavily affects the female victims' mental health and causes serious distress, anxiety, depression, stress, and lack of motivation. L'Oreal Paris' contribution comes in line with the marathon's 9th edition's aim which is raising awareness about mental health issues such as depression.
In light of this, L'Oreal Paris is offering their Stand Up training to the runners and participants with the aim of lowering the percentage of depression caused by the phenomena of street harassment using the 5Ds method; Distract, Delegate, Document, Direct, and Delay, and altering the perception of the issue by shedding light on the root of the problem. During the Stand Up training, L'Oreal Paris and its NGO partner, Metamen, will teach the runners how to respond properly to street harassment using the 5Ds method.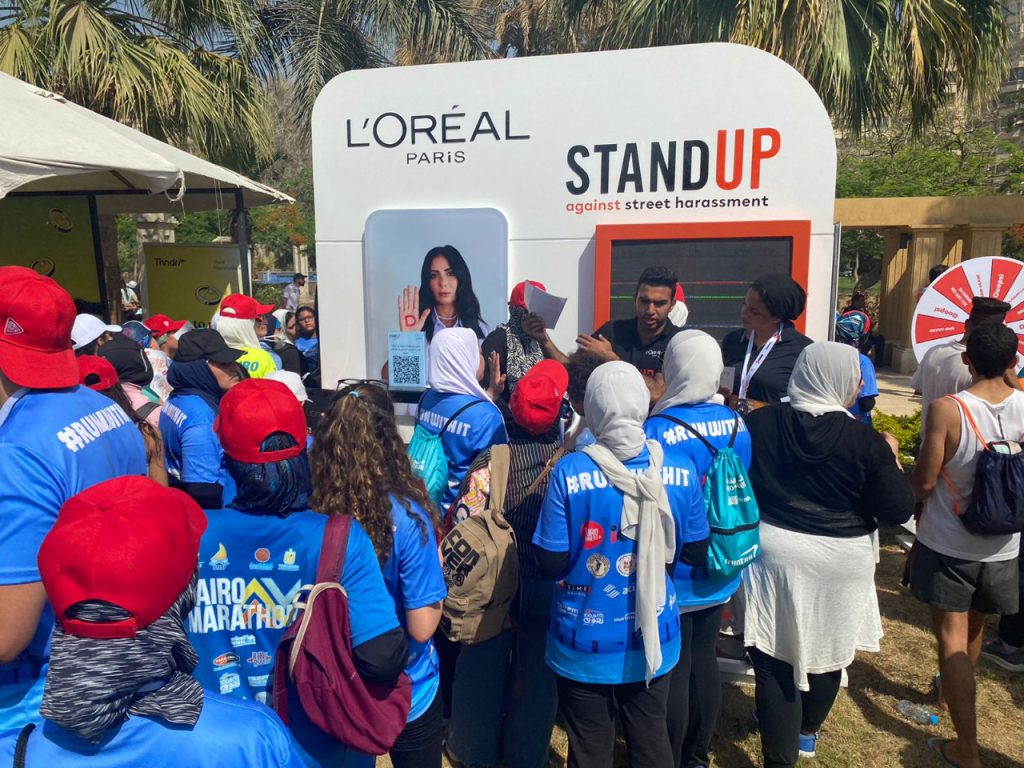 Respectively, L'Oreal Paris and Metamen team gave a speech during the event, expressing their gratitude to be part of an event that aims to support and raise awareness about a major issue that L'Oreal Paris have been working for more than 4 years now to combat its cause by standing Up against street harassment.
Nahla Mokhtar, L'Oreal Egypt's Communication and Sustainability Director, stated: "Depression is one of the most common mental illnesses worldwide, with over 264 million people of all ages suffering. Since street harassment hinders women's self-esteem, we believe that our presence at the event and our training can help us further achieve our goal of altering the perceptions of the community on the issue and combating this phenomenon."
Furthermore, Mokhtar highlighted that L'Oreal Egypt believes in the pivotal role that Egyptian women play in society, as they are committed to empowering females through many of their programs; starting with their leading program L'Oréal UNESCO for Women in Science, launched in 2018, to recognize women's achievements in the field of science and research, and their latest launch, Beauty for Better Life program, which aims to encourage women who suffer from domestic violence by giving them training on becoming hairstylists, in efforts to help them achieve financial independence.
It is worth mentioning that, L'Oreal Egypt is working on empowering the Egyptian society through different initiatives, to create equality between both genders aiming for a better and aspirational future.