Living Up to the Family Name
Βeing an actor is a general term to define, but being an actor with a huge family name is not something that could be missed. The new generation of El Shenawy family blessed us with another amazing artist, Omar El Shenawy! Omar El Shenawy is following the same great path of his grandfather, the beloved actor Kamal El Shenawy. We sat down for an in-depth talk with the one and only Omar El Shenawy to discover a new angle of the flourishing actor, his career motives, life, family, and more!
What inspired you to be an actor? And how did you start?
There was nothing that I consider as 'an inspiration' for me that made want to become an actor. It all started by coincidence when a friend of mine was enrolling in an acting workshop and told me to join. After the workshop, I was offered an audition and I got the part. So yeah, I do consider it coincidence rather than an inspiration.
Which of your works did you love the most so far? And why?
The most-loved project that I did is actually "Leh Laa- Why Not" series. I loved this project so much. I also love "Kawaeed El Talak El 45 – The 45 Rule of Divorce" and the current series that I am working on; it's called "Loon El Bahr- Color of the Sea" with Khaled El Nabawy and Aicha Ben Ahmed. I am so happy to be working on it.
Do you still work as an engineer along with acting? And which of the two careers have you truly enjoyed the most?
Unfortunately, I am not currently able to work in architecture, but I am starting to follow a different passion that I have which is paddle tennis. I opened a number of paddle tennis fields. It's a passion project for me and something that I spend my free time doing.
What kind of projects are you interested to do? Any specific genre?
The genre that I wish to work with is mainly psychological thriller. I love this genre so much and would love to work on a psychological piece, for example a character that have a certain psychological problem, maybe a certain disability, something that inspires me to do an in-depth research about the character more than the general research that I do on normal characters.
Who do you aim to work with? Why?
I wish to work on projects with Tamer Mohsen and Kamla Abou Zekry. Those two directors are from the most important directors that I wish to work with, along with Director Sherif Arafa for sure. Also Marawan Hamed. Lately, I have been aiming to work with specific directors and hopefully this comes to life.
Do you regret that you didn't start acting when Kamal El Shenawy was alive?
Yes! I do regret that I didn't start acting when my grandfather was still alive. I am sure that I would have learnt a lot from him. He would have shortened the effort and the distance. He would have given me so many advices that I may not have even discovered it on my own till now. He had 60 years of experience that would have influenced me a lot and would have loved to pick his brain throughout this journey, but unfortunately luck did not have it and it's an irreplaceable thing.
The series "El Ab El Rohi" was very popular and successful, tell us about your experience in that project.
"El Ab El Rohy- The God Father" was a very successful series. My experience in it was extremely new. Everything was new. Everything was frightening and terrifying. But, unfortunately, it wasn't the best experience because when I entered the field of acting, I got in so fast. I wasn't well-prepared for the role. That's why it wasn't the best experience for me. It was very stressful. I started to enjoy acting from the second year of practice. I felt that there was room to enjoy what I actually do. Before that it was hard and very stressful for me.
What was the biggest challenge that you faced while playing the role of Abdallah in El Ekhtyar 2? And what was your favourite scene in the series?
The character of "Abdullah" in "El Ekhtyar- The Choice" was such an interesting role. For me, rather than having a strong acting side, it was kind of an action role. All my scenes were action ones, using real weapons along with being trained by the real national security men. This was the most interesting part about it. I gained experience that I wouldn't have except through this role and project.
Are you currently working on any upcoming projects?
Currently, I am working on "Loon El Bahr- The Color of Sea" series, a 15-episode TV show for Shahid Originals. The series is considered to be the Egyptian adaptation of "The Affair" series, a TV show on Show Time. The story tackles the life of four main characters, Khaled El Nabawy, Aicha Ben Ahmed., Sally Shahine and me along with a huge cast, Salwa Mohamed Ali, Amr Salah, and Mourad Makram. The story is so humble and cool. It's about an affair between two characters and how affects everyone around them. We are working on the last few scenes of it right now. I did enjoy working on this series so much.
What did you learn from your grandfather both in acting and in life?
It wasn't something that he tried to teach me, but rather a thing that I witnessed him doing it which is to be fully satisfied about his life without giving a complain. He always felt that he has everything that he did not need more. Even when he got sick and was unable to walk; he never complained. He always said "God blessed me with a lot of thing. I am not going to complain in my remaining years of my life." This is the lesson that I have learnt from him. In regards of acting, I wasn't able to ask him about acting because I wasn't interested in acting when he was alive, so I have never asked him about anything related to the profession.
Tell us a bit about your childhood, where did you grow up?
I was born in Spain, lived there for about two years before moving to Egypt. I grow up in Cairo. I went to the Alsun School. I loved sports when I was a kid; I was a Taekwondo player at El Gezira Sporting Club. My life was mainly focused on sports, home, and studying; nothing different from any normal kid.
What are your priorities in life?
My priority in life is definitely my family. This is my number one priority. Family comes first before anything else. Then, comes good health and career.
Which lesson has been the hardest to learn?
This is an interesting one! I think I was in prep-two, I really wanted to buy a new Nike-Jordan shoes. I went to my father and asked him to buy me one, but he refused and said that they are very expensive. I kept asking and begging for the shoe and that I MUST have it. So, my mother said that she will get the shoes for me, but when my dad found out, he asked her not to buy it. He wanted me to learn that there are things in the life that don't come easily. I went behind his back and asked my grandfather to buy it for me. Funny thing that my grandfather was traveling at the time and told my father that he will buy me the shoes that I wanted, but my father asked him not to buy it! I was so upset at the time and felt extremely humiliated. I asked a lot of people to buy me the shoes but no one did. I decided at this point that I won't ask anyone for anything again. If I want something, I will work for it and I won't accept to be put in the position of asking about something. This was one of the most important lessons that I have learnt in my life that made me so independent. Even when I want something, I no longer feel like it is a necessary.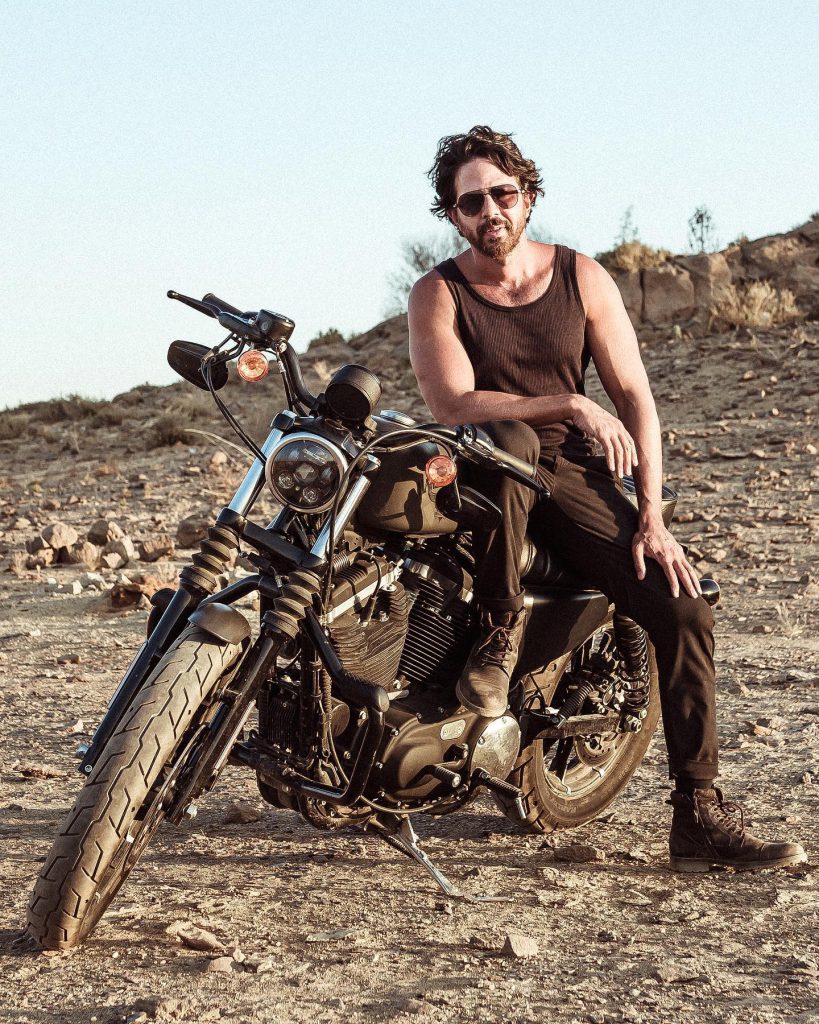 Fun Q&A
What pages do you follow on social media?
I follow A LOT OF pages on Instagram, but they are all unrelated to each other. I follow many of the meme pages, paddle tennis pages, cars, motorcycles, things related to art, mainly drawing and sketching. That's all!
Your greatest fear?
My greatest fear changes from time to time. When I was young, my greatest fear was heights, but I got over it when I became architect. I also had a strong fear of spiders, but I also overcome it too. Right now, my biggest fear in life is that my son may not be proud of me.
Your teen crush?
My teen crush! That's funny. They were so many. I had crushes on girls since I was in KG, so I can't talk about a specific one. What I can say, is that from KG to secondary school, all the girls that I did like didn't share the same feeling with me, so it was all one-sided. I got my heart broken a lot at school. But, my first real crush was in the last year of my secondary school. This girl was actually my first girlfriend.
What is on your bucket list?
I wish to pay a visit to Japan. This is one of the things on my bucket list. I wish to jump from an airplane, but I am not sure whether I have overcome my fear of heights to that extend. Also, I wish to go for a trip into space. I know this is kind of impossible, but it is one of the thing I wish to do.
Your favourite place to spend your time in?
Anywhere by the sea. Anywhere around the world where I can enjoy good weather and the view of the sea.
If you had a magic wand, what would you do next?
I would probably reset my life ten years back, actually fifteen years back and I would start see everything from my perspective now. Life would be interesting!
"I do regret that I didn't start acting when my grandfather was still alive. I would have learnt a lot from him".