The Spectacular Fashion Designer
How did you get into the fashion world?
Since I was a child, fabric, fashion, and colours were my biggest interests. I used revamp my wardrobe a lot, and I loved to add my touch to every single piece. I remember that I never wore anything without altering it. It has been my passion to design, mix, and match, and everyone close to me knew that one day I would peruse with a fashion career.
What was your biggest fear when you went out and started your own line?
At the beginning, I wasn't scared; on the contrary, I was really happy to start my brand and to show my designs to the public. Designing is about expressing oneself; it is a happy space where one can bring ideas and sketches to life. That is why my brand reflects me and my soul. However, over time, my responsibility towards the brand itself and the people who love my designs grew larger. So, I can say that I'm not afraid, yet I have a heavy responsibility.
What keeps you going when things get tough?
Ramy, Aram, and Ayana; they're my happy pill and my all-time support. Ramy is my backbone and the one who encourages me to work more and who brings out the best of me.
What is your favorite part about being a designer?
I love the fact that my job gives me much scope for creativity as being a designer is about imagining cuts, new concepts, colours, and patterns and bringing them to life. Each piece has its own characteristics, which is why creative designers should always put themselves in the shoes of their clients to render whatever suits them the most. Another favourite part is seeing women wearing my designs, confident and happy.
What was your first job out of college, and how did you land that position?
Fashion designing was my first profession right out of college as I officially started my brand while studying at the university. My designs received rave reviews. After a while, I opened my own boutique, and here I am now launching my 18th collection.
How do you want women to feel when wearing your clothes?
I want women to feel self-assured and pleased while wearing my clothes; this is the most important thing for me.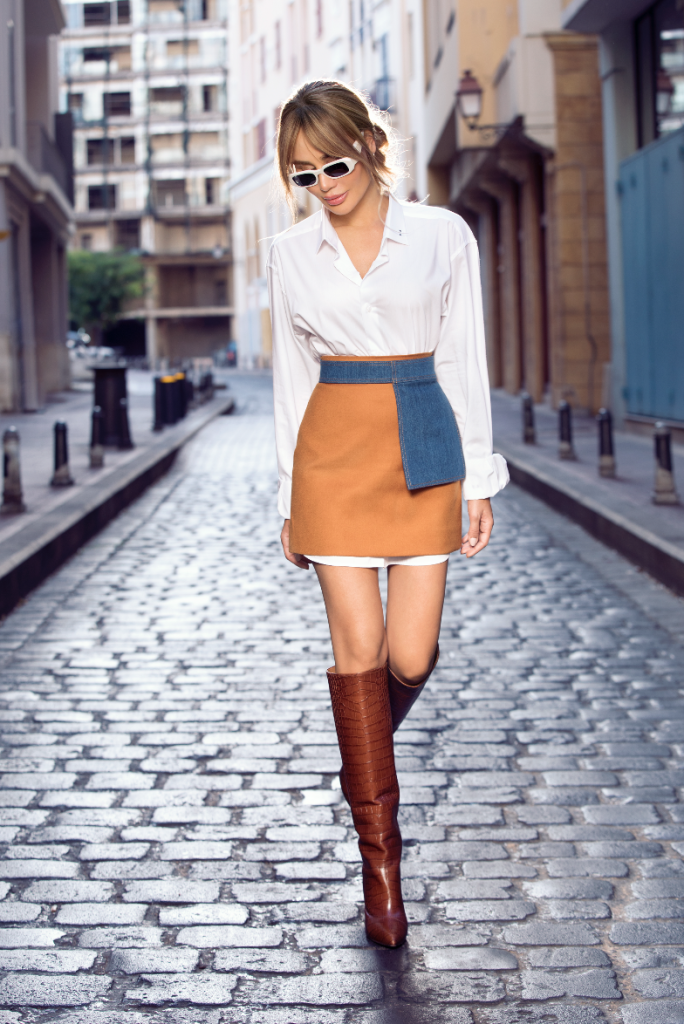 What is your dream project?
Ramy and I launched our dream project which is our NGO "Ayach Al Tofoula" that supports the education of impoverished kids. We believe happiness starts from education because knowledge is the most empowering force in the world.
Who is your inspiration?
Every single person who works conscientiously to realize his/her dreams inspires me. Ramy is a great inspiration for me too as I respect his dedication to his work. I learned from him that hard work plus determination equals success and that nothing comes easy in life: Put your heart into your work and you will eventually reap what you sow. That's my motto.
Tell us about a celebrity whose style you admire. What makes them so well-dressed?
Queen Rania for sure since she makes impeccable wardrobe choices that perfectly reflect her elegance, sophistication, and beauty. Queen Rania is very simple when it comes to her style, yet she is so classy as her outfits are always a piece of art.
What is the best compliment that you have ever received? And who gave it to you?
Well, I feel jubilant when I receive positive messages from people about my skills as a wife and a mother. I really love it when people appreciate the quality time I spend with my kids and send me random messages about Ramy and I as a couple that they love.
Do you think it helps or hinders a designer's career being married to a famous celeb like your hubby Ramy Ayach?
To be honest, it was very hard at the beginning of my career to prove myself as a designer. Everyone thought that I became a known designer just because I'm the wife of Ramy Ayach, and they thought I am just after the spotlights. But with time, people started to appreciate my work. Many stars around the world wore my designs, and the brand proved itself. This is the reward of the hard work that I've done all these years.
How challenging is it to be a dedicated mother and renowned fashion designer? How do you deal with that?
The key is time management, and as I always say, family comes first. My priority is for Ramy and the kids. I try my best to manage my time between my family, my work, and Ayach Al Tofoula. I can't deny that it is hard to have a full daily schedule, but with the help of my team, I finish my duties on time.
What is your daily routine to maintain your shape and health?
I work out as much as I can, at least three times per week. I am a very healthy person as I keep a balanced diet, and I'm always hydrated. I try to project this on my family and my kids; they are always active and working out. Even when it comes to their eating, I try my best as a mother to give them balanced daily meals.
How do you deal with media and attention when you and the kids go to places with their father? Does it get too invasive and how do you cope?
This is never a problem to us; on the contrary, I love to see love in people's eyes when they approach us. It makes me feel glad when people come and say hi, for love and appreciation are precious gifts that always brighten our day. Moreover, I never had a problem with media, and I've never received a social-media backlash because as a mother, I don't overexpose my kids to media, and I let them live their childhood as they should.
Is your daughter, Ayana, a budding fashionista?
Ayana loves fashion and has her own taste. She has her favourite colours and even her favourite hair styles. So, as the saying goes, like mother like daughter. Ayana also has her own character, and Ramy and I are glad for that.
Tell us about your fondest moments with your kids. And what do you like the most about being a mother?
The best thing about being a mother is seeing someone becoming your life's purpose and experiencing this overwhelming mother-child relationship that is so deep and overflowing. This amazing motherly love begins the instant you see your child, and it never stops running over. The happiness and the real fulfillment that motherhood gives are ineffable to describe.
Tell us how you met Ramy, and was it a romantic union or a family/ friends arranged or practical bond?
Our paths crossed thanks to our mutual friends. I remember that I was so shy the first time, but our second meeting was really different. We really clicked, and there was so much to talk about and so much in common. After that, things took their own course.
If you could change one thing about your life, what would it be and why?
To be honest, I wouldn't change anything. As humans, we are shaped by both the good and bad phases in life. Bad experiences are life lessons, and I don't regret anything.
No one in the Middle East could remain untouched by the tragic events happening in Lebanon. How do you deal with all these events and emotions?
I am just like every single person in Lebanon who got affected by this avalanche of events that we are witnessing right now. At a certain moment, I couldn't be productive in work, and I was going under considerable stress because I have lots of responsibilities towards each person working with me. But the Lebanese people are fighters and survivors; we adapt to difficult circumstances and keep pushing ourselves forward to surviy. I believe that nothing would bring us down!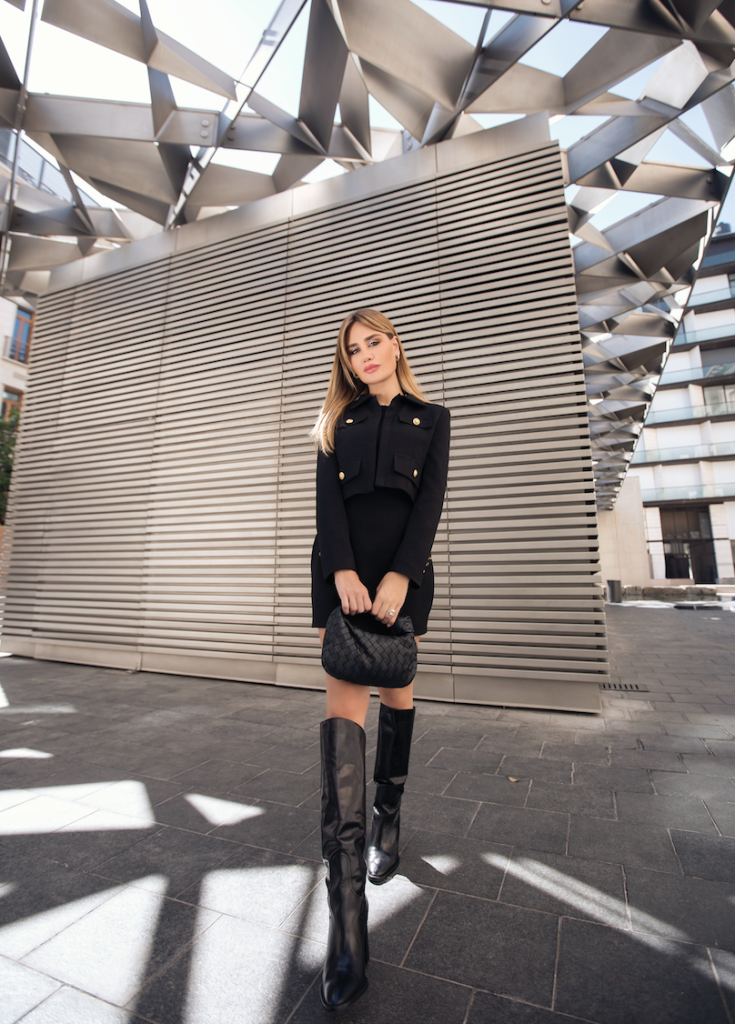 Q&A
If you weren't a fashion designer, what would you have become?
Being a fashion designer has always been my dream, and I don't see myself doing any other job.
What makes you angry?
I am a very calm person who doesn't get angry so fast. I only get stressed at work because I care about the tiniest details and want everything to be perfect.
What do you like doing in your spare time?
I read a lot during my spare time. It's a habit that grew with me since I was young, so whenever I have some free time, you will find me reading a book.
Which lesson has been the hardest to learn?
For me, the last 10 years were full of challenges and achievements, but the most important thing that I learned from work is to be determined, love what I am doing, never be afraid to speak up, and be true to myself. I also learned that I should never underestimate myself because one day, I will be proud of my hard work.
What's always in your purse?
My hairbrush, lip balm, notebook, and phone. And yes, I keep my hairbrush with me.
What would be a good theme song for your life?
Qeset Hob (Love Story) by Ramy Ayach.
Favourite quote?
"Enjoy the little things in life, for one day, you'll look back and realize they were the big things" (Kurt Vonnegut).