Dahab is an alluring destination guaranteed to give you the best summer vibes ever. This once Bedouin fishing town has morphed over the years into one of the best trilling resorts attracting visitors from all over the world. What sets Dahab apart from the rest is its seaside atmosphere that throws visitors into a state of bewilderment. Dahab is an ideal sanctuary, where you can set back and watch the tides marcing back and forth, caressing the beautiful blue shores.The casual vibes of Dahab are full of vibrancy and motion; that is why, Dahab has been renowned for its back-packer friendly atmosphere. So, if you are a diehard beachgoer, wondering about the best places to go in Dahab, check our list for the trending destinations in Dahab. 
When to stay ?
Jaz Dahabeya
Jaz Dahabeya is a luxurious, 4-star hotel that has become an appealing getaway spot for both locals and international ex-pats. Everything combines perfectly so that visitors can have a capital time; the hotel encompasses a lagoon-style pool, a sauna, and massage treatments. This year-round paradise has won a wide range of regulars, owing to its vivid gardens and lofty palm trees. The spot is bursting with activities, for it is home to windsurfing, diving, and snorkelling, among other recreational happenings.
The hotel comprises Le Palmier Restaurant, which covers all the favourites from both the Mediterranean and international cuisines. Moreover, Sea Pearl Restaurant excels at offering a variety of meals in an atmosphere as charming as beauty itself.
We recommend Jaz Dahabeya specifically for honeymooners who wish for an idyllic home to enkindle the flames of love and feel at one with beauty.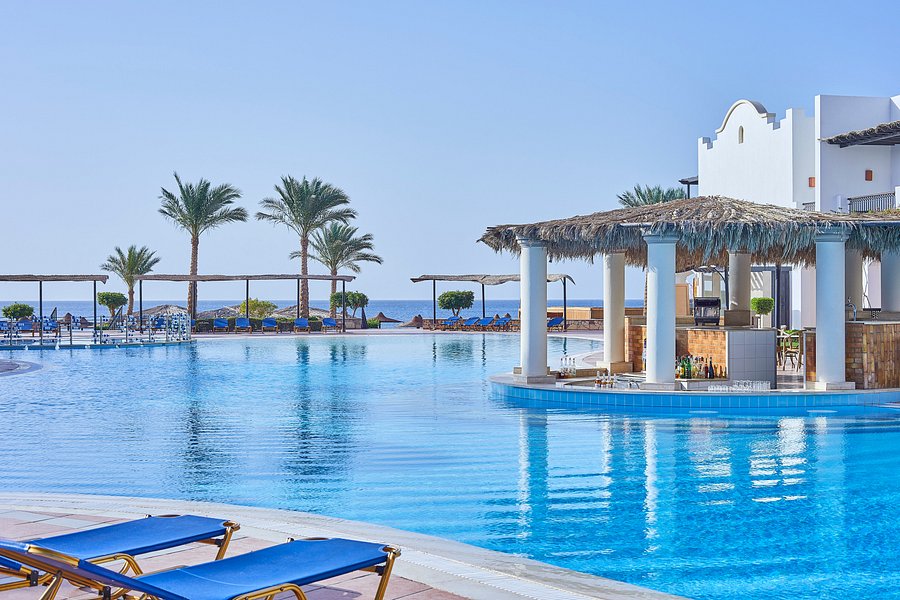 Red Sea Relax Resort
The resort is marked by its unique position that lies between the colourful beaches and modern facilities at the heart of Dahab. It boasts a comprehensive list of services for those who are hoping to have some pampering. This includes a free Gym, free WIFI, a PADI Dive Centre, a restaurant/bar, and a 100m2 pool. In short, you'll never want to leave. The resort takes pride in offering tour information, airport pickup by arrangement, and 24-hour security.
The Red Sea Relax Resort is nestled in the shadows of Sinai Mountain, overlooking a breathtaking landscape. It is celebrated for its top-notch customer service and is depicted as a "heaven on earth" by reviewers. It offers a complete array of rooms, including ocean-view, non-smoking, and family rooms.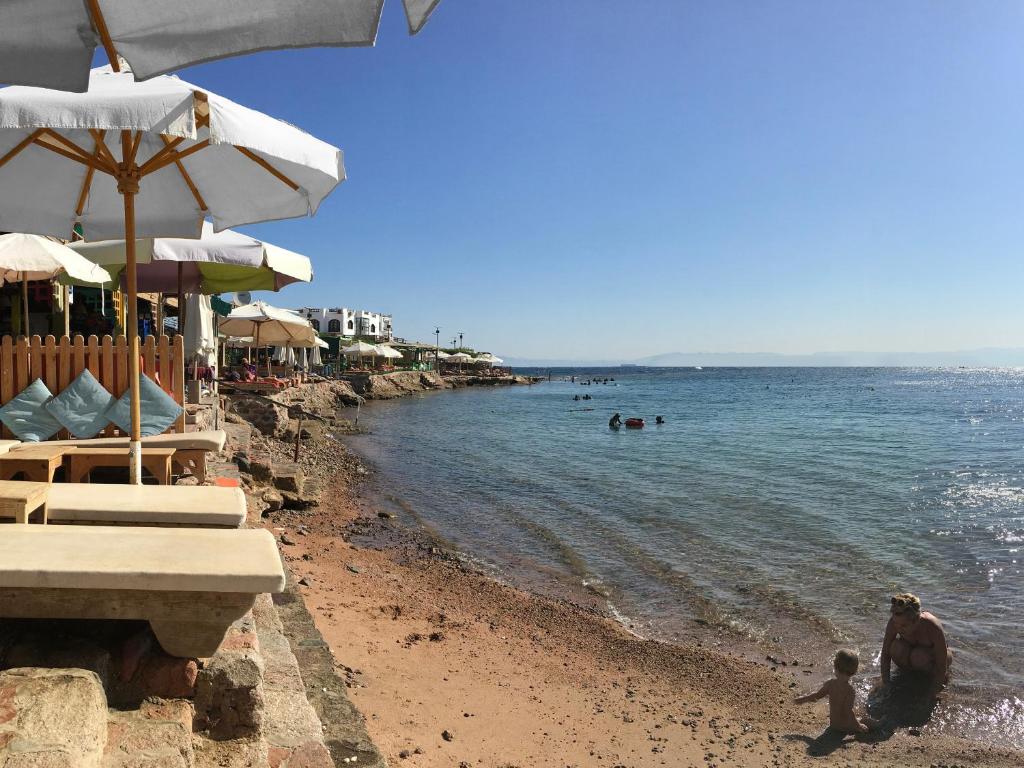 Tropitel Dahab Oasis 
Positioned along a beautiful stretch of the Golden Sinai Mountains, Tropitel Dahab Oasis is a holistic retreat that never takes its sky-high rating for granted. It has been designed to look and feel like a garden of delights. It offers a variety of services, such as diving, sauna, snorkelling, billiards, table tennis, shuttle bus service, car hire, spa, massage, outdoor pool bar, lounge restaurant, breakfast buffet, a poolside bar, and concierge. Guests spend their days pampered, far away from the maddening crowds.
The spot is only 70 minutes away from Sharm El-Sheikh International Airport and has made a lasting impression on its visitors because of its outstanding scenery and leisure facilities.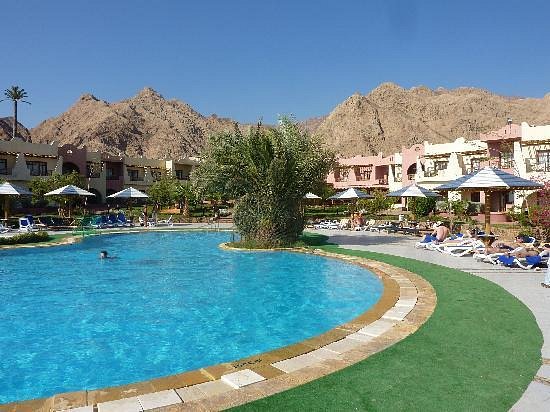 what to do?
Nour Wellbeing Dahab
Tucked away inside the Coral Coast Hotel, Nour Wellbeing offers you a great opportunity to revamp your lifestyle and claim your wellbeing and happiness. With several daily classes in yoga, meditation, fitness, and dancing, Nour Wellbeing provides you with whatever it takes to reach your full potentials. The spot is intended to offer a beam of light to everyone who visits it, with a bevvy of spiritual, phycological, and wellness workshops and courses available. There are several classes for kids too.
The classes and workshops are presented in front of the charming shores in splendid scenery that takes mindfulness to new heights. Nour Wellbeing is a great portal to discovering who you really are and striking some new friendships.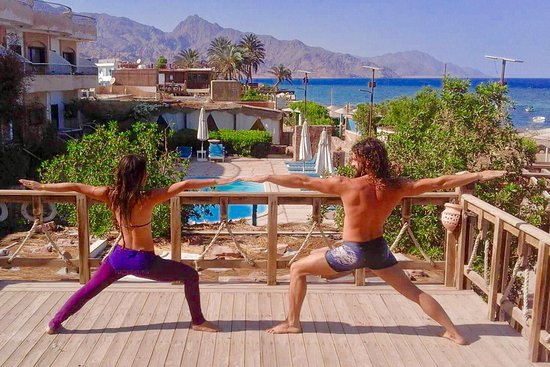 Blue Hole
Speaking of diver evaluations and continuously adequate conditions, the Blue Hole has ticked all the right boxes for a world-class dive site. Novice and veteran divers get the chance to turn off the world and enjoy the crystal-clear water and test their own limits.
Its name sums it all up, imagine diving into blue waters over a wide hole resembling a gigantic well, with a depth of over 100 meters! Magnificent right?
At 55 meters, you can cross an arch of almost 30 meters long and experience a real sense of flying! The Blue Hole is one of the most beautiful diving sites in the world, but also one of the most dangerous ones; therefore, if you don't have ample experience, abide by the minimum level.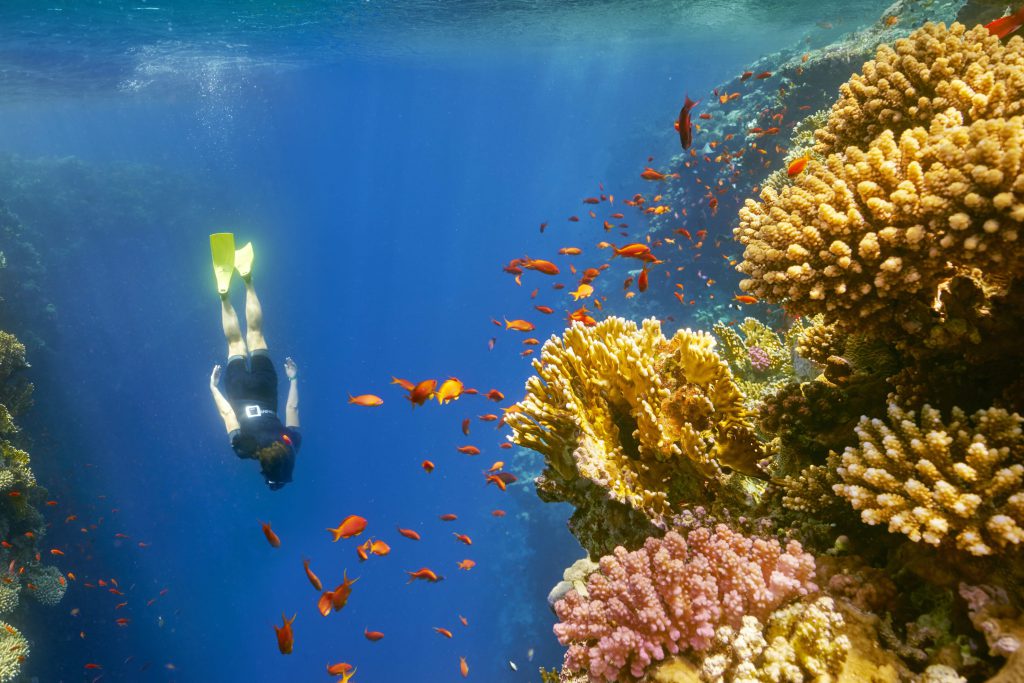 Saint Catherine's Monastery
The Saint Catherine Monastery is a must-see monument that never slips through the cracks whenever we compile a definitive list of the best sites on the Sinai Peninsula. Erected in the 6th century, this Orthodox monastery declares itself a monument of magnificent historical and spiritual importance. All its treasures are to be found in a vast enclosure, bordered by four walls of red granite. You'll envisage several Christian symbols drawn on the walls, including the Maltese cross and some monograms. Some traces of the old fortification of the monastery remain unchanged over the years. The four corners of the enclosure facing the cardinal points rise to a height of 12 or 15 m.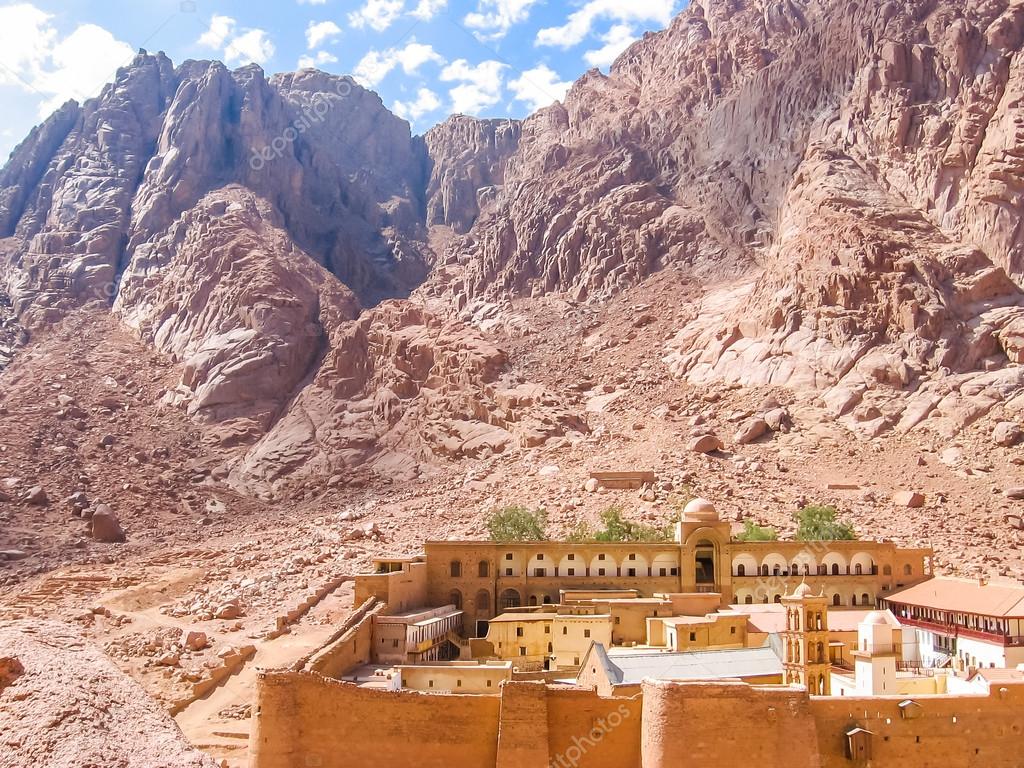 Where to eat?
King Chicken
King Chicken is a top-notch restaurant in Dahab, serving a wide array of locally sourced food with an unrivalled taste. The restaurant is always full to the brim with eaters, and there is always a queue to wait for. It boasts all kinds of chicken dishes, grills, pasta, rice, and drinks. There are family meals at affordable prices as well. King Chicken is also a renowned portal for tourists to enjoy the iconic Egyptian meals of all times, such as Molokhia (Green Soup), Mahshi (Stuffed Vegetables), and Mixed Grills.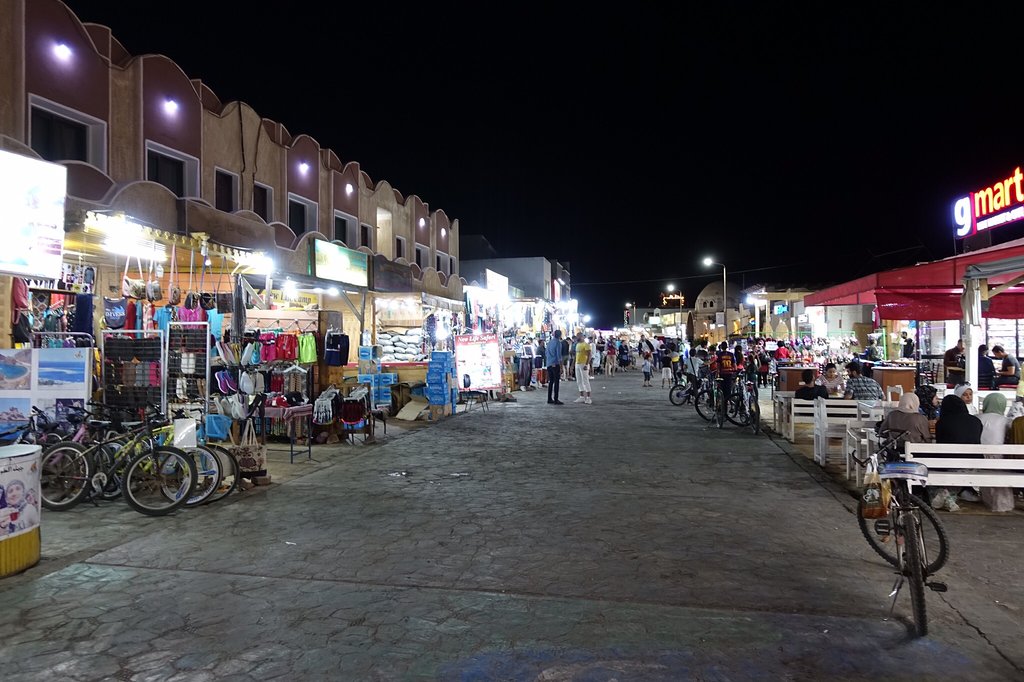 Hell's Kitchen
Hell's Kitchen is a celebration of pork in all its inventive forms. You can also go for their full English breakfast, sky-high burger, and more. The restaurant always endeavours to offer new dishes every day to keep boredom at bay. The vibes of the restaurant are guaranteed to cheer you up as you get to enjoy your dish while listening to some mellifluous performances.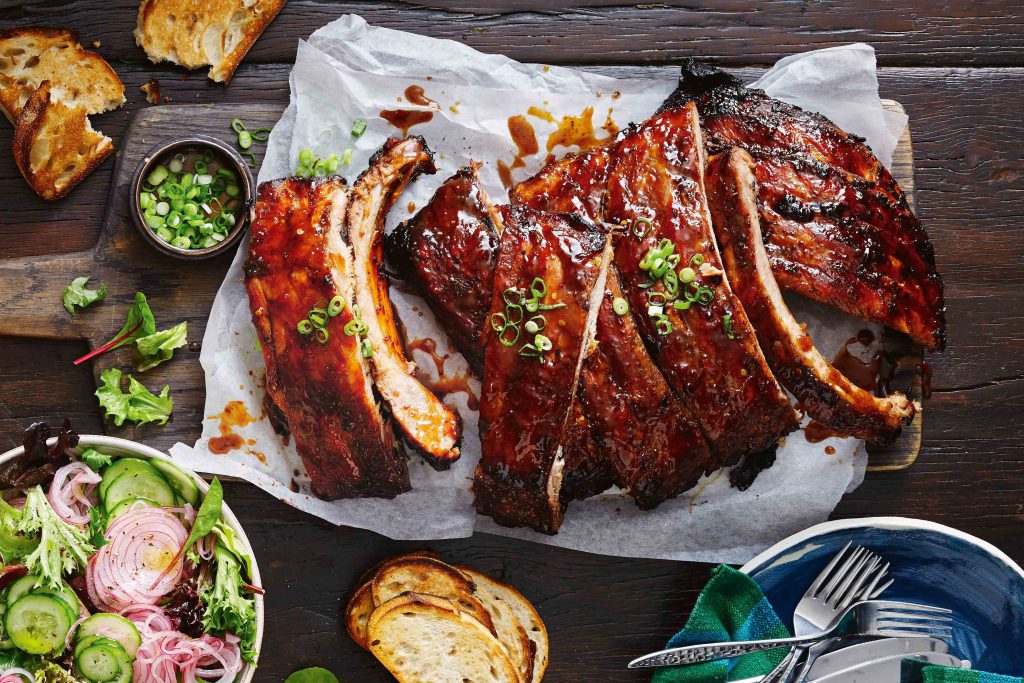 Ralph's German Bakery
This killer café is home to traditional Bavarian baking made with fresh ingredients and is one of the top-rated spots where you can get a gourmet breakfast to set the mood for a happy day. The café's homemade goodies and ambience make it one of the best cafés to catch up with friends over a smashing dish and a well-brewed coffee. Noteworthy, the Tiramisu and Honey Cakes are to die for.