The Trending Actress who Steals the Show
Since she was a young child, Rania Mansour has always been a lover of acting and art in general. She graduated from the faculty of Arts and started her acting career by working as a model in commercials. She acted in the movie Shabab fel Mamno' (Forbidden Youths) and Kelmet Haq (Truth be Told) marking the debut of her acting career. She has recently turned heads after performing in Aswad Fateh (Light Black) as a cancer patient. Christina Aziz interviewed the accomplished actress about her artistic career, lifestyle, future dreams, and more.
Career
How did you start your career as an actress?
I used to be fascinated by acting since I was a child and used to perform in my school's theatre. That is why I decided to study acting by joining the Faculty of Arts, Theatre Department. After graduation, I worked in the field of commercials and perormed in several ads at the time. I was also keeping an eye on the movies and series which were being produced then. I went to many castings till I got my first role in a series called Kelmet Haq (Truth be Told) starring Mervat Amin.
You acted with your twin, Nourhan Mansour, in El Sabaa Arwah (Seven Ghosts) series in 2016. What can you tell us about this experience?
I was performing the role of a girl who has a look-alike, and the director, Tarek Refaat, knew that I have a twin, so he offered Nourhan the role to be my counterpart. She accepted and we shot the scene. I think it was a very good idea that fit the scene perfectly.
You performed a life-changing role in Haret El Yahoud (Jews' District). Can you tell us more about this role? How did you prepare and how did the role affect your acting career?
I love this series so much and was honoured to work in it. The series was informative and remarkable because it tackles the life of the Egyptian Jews – a theme that we don't highlight much. I was playing the role of an evil Jewish girl, which was a brand-new role for me. The role triggered me to do my best and was a portal to a variety of new roles that I was offered afterwards. I loved working with Menna Shalaby, Eiad Nassar, and director Mando El Adl. Regarding preparations, I have an acting coach whom I consult on every role I perform; we conduct a wide range of discussions regarding the history of the character, lifestyle, and manners. Also, because the series takes place in Egypt in 1948, I watched many old movies and tracked how people spoke and what expressions they used, and so on.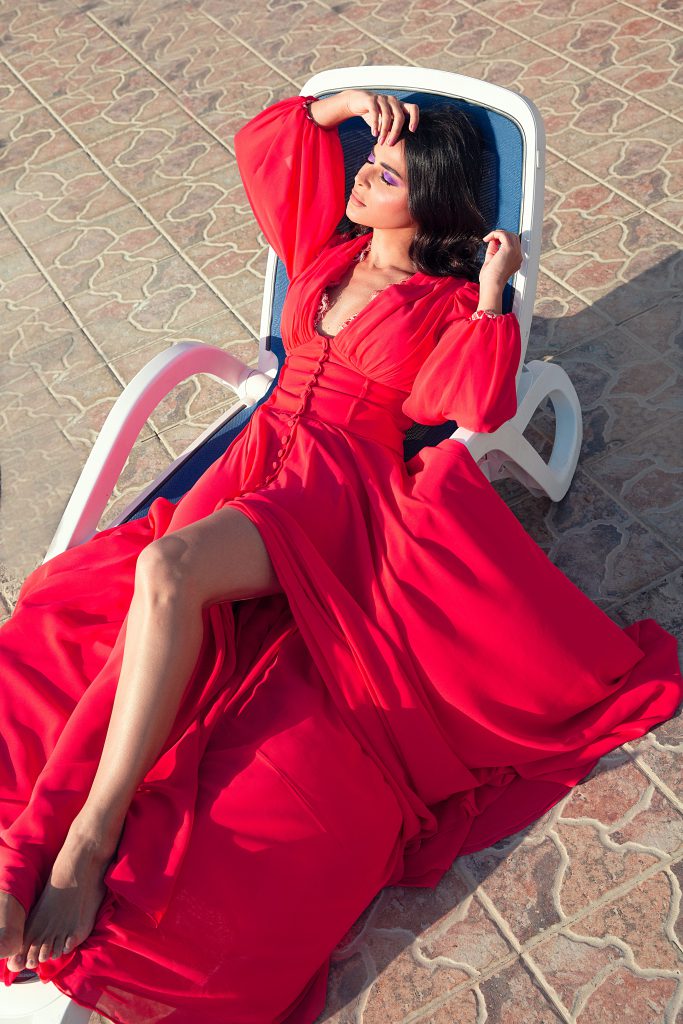 What kinds of career plans or projects do you wish to implement in the future?
I wish to take part in a historical movie or tv series. You must have watched Egypt's Pharaonic Royal Parade and noticed how great it was. I wish we can make similar performances in Cinema and Television.
What are your standards when it comes to picking new roles?
When I am offered new roles, what concerns me the most is to present a new role that I haven't performed before. The director is a fundamental part of any work because he acts like a mirror to actors, offering guidance and tips. I also think of the producing company and the whole casting. Each of these elements is equally important when it comes to making successful performances.
What is the best compliment that you have ever received? And who gave it to you?
I always receive many uplifting comments from the people I meet. However, there is one special compliment that I won't forget: After the series, Aswad Fateh was aired, I received a call from director Mohamed Sami telling me that my performance was authentic and from the heart. He told me that I have the gift of believing in what I do, which is a rare gift that not many people have. I was moved by these words because receiving positive feedback from such a professional specialist in acting, one couldn't be more than happy.
How did you feel playing the role of a cancer patient in 'Aswad Fateh'?
This series is one of my favourite works although it was filmed during extremely difficult conditions. We shot the series in Lebanon and witnessed the emergence of coronavirus' first wave and the explosion of Beirut's port. We had a halt and then resumed acting. I played the role of a common wife who suffers from her husband's careless attitude towards her until she is diagnosed with cancer. Realizing her predicament, she decides to see whether her husband will step in to offer help and undivided attention or otherwise, she will get a divorce and continue her painful journey alone. Such a courageous decision and shift of paradigm are the reasons why I enjoyed performing this role so much. We decided to focus on this theme of mental strength and determination rather than the suffering to give cancer patients a beam of hope. I know that many people went through this devastating ailment and defeated it because they had brave hearts.
Do you feel that your role as Aya in 'Aswad Fateh' was a turning point in your career?
Yes, it was a turning point for me because, after this role, I became so careful when it comes to choosing new roles. I don't want to take a plunge and choose something less significant after the success I achieved.
Did you regret having all your hair cut off for a role?
Actually, I didn't cut my hair before. In Aswad Fateh, we were filming for several months, and the scenes were divided into scenes that should be filmed with my hair and other scenes after the hair falls. It is not easy to choose to film the hair scenes first and then start filming the other ones. When you are filming a movie, you can control which scenes to finish first, yet this is not the case with tv series. That is why we resorted to bald caps and other supplies to show the deterioration of the case.
What is the hardest thing about actors' lives from your viewpoint?
People usually form a mistaken idea about actors' lives, thinking that they are always having a whale of a time. That is due to the photos and vibes people see on social media. However, everyone has his ups and downs. No one can be happy-go-lucky all the time. As actors, we are like everyone else, and our lives involve many depressing days.
What do you like doing in your spare time?
I like to watch tv series, especially on Netflix. I also take spare time as an opportunity to meet my loved ones because when I am working on a project, I don't have the chance to meet everyone. I spend most of my free time with my daughter, working out in the gym and performing several activities.
Do you have a daily sports routine?
Yes, I try to attend my gym training on a regular basis.
If you weren't an actress, what would you have become?
A Fashion designer or an interior designer because I love drawing since I was a child. I used to watch my mother making handmade clothes. I also care about my home designs a lot, and I think I have a special taste when it comes to picking designs.
Which lesson has been the hardest to learn?
It was difficult to learn that not all people are kind because I am the kind of person who trusts people easily. But it is really damaging to keep getting deceived time and time again.
"I wish to take part in a historical movie or tv series. You must have watched Egypt's Pharaonic Royal Parade and noticed how great it was. I wish we can make similar performances in Cinema and Television."