Under the auspices of the Ministry of Environment
PepsiCo Egypt launches "Recycle for Tomorrow" platform for Waste Management
PepsiCo Egypt has successfully launched its waste management platform; "Recycle for tomorrow" under the auspices of the Ministry of Environment, and in collaboration with Dorna initiative "Reverse credit system" designed and implemented by CID Consulting, with investments of EGP 10 million, to collect and recycle the equivalent of 8 million Kgs of our plastic production in 2021 as a first step.
This unique platform contributes in achieving a sustainable model, with a special focus on how to solve and defuse the environmental risks that are occurring in our society. In addition, it helps raise the consumers' awareness about the importance of collecting and recycling plastic.
PepsiCo has a long history in supporting recycling efforts globally, aligned with its vision of a world where packaging never becomes waste. From 2018 to early 2020 the company pledged over $65 million globally in partnership initiatives, with a specific focus on some of the areas with the poorest infrastructure and highest risk in contributing to plastic pollution. Moreover, PepsiCo global has set concrete targets that by 2025 it is planning to have 100% of its packaging to be recyclable, compostable, or biodegradable and to reduce 35% of its virgin plastic content across its beverage portfolio.
"Recycle for Tomorrow" was launched in a press conference organized by PepsiCo, and attended by Her Excellency Dr. Yasmine Fouad, Minister of Environment, Her Excellency Dr. Nevine Gamae ,Minister of Industry and Foreign Trade , Eng. Mohamed El- Sewedy, Chairman of the Federation of Egyptian Industries and Mr. Johnathan Cohen, US Ambassador to Egypt (virtually Through Zoom), Mohamed Shelbaya, CEO of PepsiCo Egypt, Eugene Willemsen, CEO, Africa, Middle East, and South Asia – PepsiCo, Dr. Laila Iskandar, Founder and CEO of CID Consulting and the Former Minister of Urban Renewal and Informal Settlements, and the Actress and Influencer Tara Emad, Ambassador of "Recycle for tomorrow" platform. The turnout also comprised the prestigious presence of a group of senior officials, representatives of the Ministry of Planning and Economic Development and, along with several public figures.
"Recycle for tomorrow" platform includes several projects that help in collecting the largest number of plastic and facilitating the process of waste documentation between waste collectors, intermediators, and PET processors in Manshiyat Nasser, 15th of May area and Izbat Al Nakhl through the Reverse credit system project which is considered a breakthrough in the plastic waste management industry.
Mohamed Shelbaya expressed his pride with the launch. He noted that PepsiCo Egypt is one of the very first companies that constantly adopts unique sustainable initiatives and programs aiming to create a long-term positive impact on the society at large, and the environment in particular, which goes in line with the United Nations' Sustainable Development Goals (SDGs) and Egypt's 2030 Vision.
"This platform is an effective step towards raising the awareness of the Egyptian citizen on the importance of waste management and the risks of plastic waste. In addition, the platform implements on-ground projects that aim at attaining a more sustainable environment, as well as creating a positive change in the Egyptian society, as one of the country's endeavors is to develop the infrastructure for the waste management system." He added.
Shelbaya also praised the efforts of the Egyptian government, with regard to confronting the environmental challenges, in addition to addressing them by utilizing various smart and impactful mechanisms, on top of which is Law No. 202 of 2020, which regulates waste management. It is important to accentuate the fact that this law will play a pivotal role in terms of developing the waste management system in Egypt.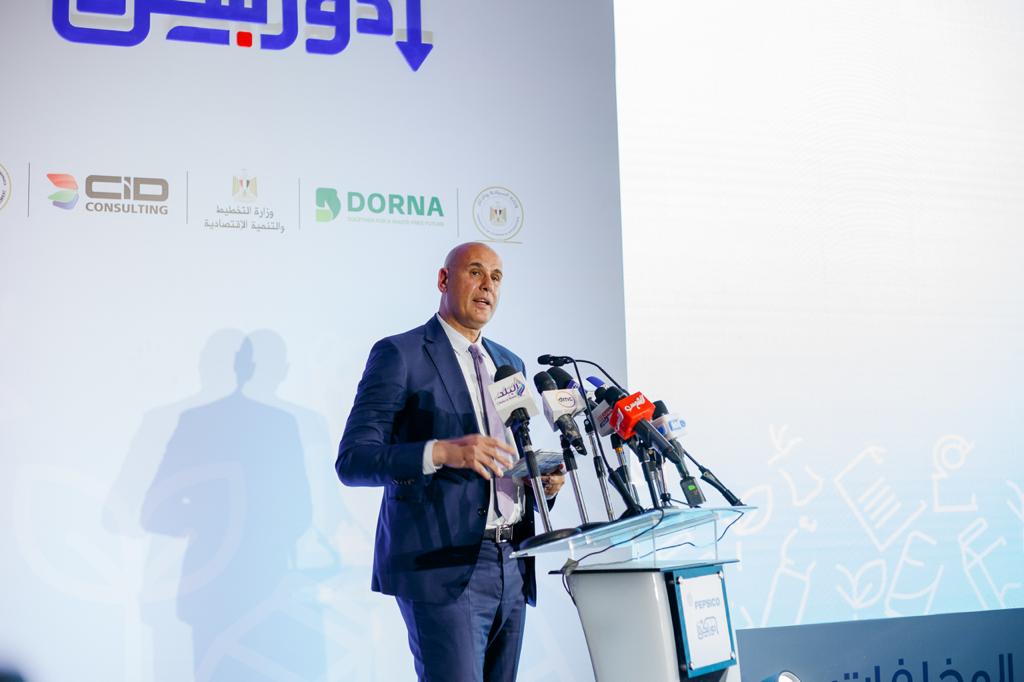 In this occasion, Eugene Willemsen, CEO, Africa, Middle East, and south Asia – PepsiCo, highlighted "Egypt is a dynamic and promising market in the region that we've been investing in for more than 70 years. Throughout the previous years, PepsiCo was able to become a part of the Egyptian fabric with a consumer base that reaches more than 100 million.
He added: "We trust that there is an opportunity to change how the world produces, distributes, consumes and disposes food and beverage, which comes in line with our ambitious vision of creating a world where packaging never becomes waste. We are proud of PepsiCo Egypt that it launched one of the most unique platforms "Recycle for Tomorrow", which contributes to helping Egypt in applying the circular economy concept.
He continued: "We can only achieve positive impact on the society and the environment through engaging the private sector, government, and NGOs which is clearly manifested in this platform".
Dr. Laila Iskandar Founder and CEO of CID Consulting and the Former Minister of Urban Renewal and Informal Settlements, also had something to state regarding this matter: "Many synergies exist between PepsiCo's reverse credit system for the recovery and recycling of plastic packaging and the new waste management law 202 of 2020 with regards to meeting its extended responsibility towards the environment and community. The system drives the collection, recovery, and recycling of plastic beyond current levels. From January 2021 till the end of March this socially inclusive environmental system has led to the recovery, processing, and recycling of 900 tons of PET plastic through 385 traditional recyclers in the informal sector in Manchiyet Nasser and Ezbet el Nakhl."
She also added that The Reverse Credit System covers the cost of collecting, transporting, and sorting of the packaging materials PepsiCo uses. Tracking, documentation, and authentication of quantities recovered by the informal sector allows them to be paid for the work they do. This improves their incomes, livelihoods and living standards. Women are empowered to keep their earnings from their sorting and recycling work. They spend this on improved nutrition for children, health, and education.
She stated that PepsiCo Egypt is currently drawing the broad strokes of an ambitious program to recover and recycle MLP packaging – one of the most difficult materials to collect, transport and recycle. Its light weight, dispersion in rivers, canals, waterways, and streets make it challenging to collect particularly in significant volumes, and even more so to transport or recycle. PepsiCo Egypt's plans include a closed loop model which will result in a commercially and industrially viable final product. This will occur in partnership with the Egyptian recycling manufacturing firm Prima Plast.
She further elaborated that MLP poses a particular challenge to packaging companies that use it and that seek to recover and recycle it in an environmentally sound manner. It has predominantly been used as fuel in cement kilns, but PepsiCo Egypt will depart from that model and implement one that will lead to a new product.