A New Method of Treatment Through Pain Management
Elaraby Hospital in Menoufia signed a cooperation protocol with the American Columbia Clinic Group for physical medicine. The protocol introduces pain management strategies besides physical medicine based on the physical diagnosis of Columbia Clinic in order to treat patients suffering from spinal and joint pain and neuritis. The aim is to enable patients to resume a normal lifestyle without surgical intervention. The treatment focuses on proper diagnosis in treating particular diseases, including musculoskeletal disorders, herniated disc, osteoarthritis, and sciatica.
Dr. Ezz Al-Arab, General Manager of Elaraby Hospital, expressed his pleasure for signing the agreement with Columbia Clinic Medical Group. He said that it will contribute to treating patients using modern systems in many medical specialties such as arthritis and spinal injuries as well as sports medicine and accident injuries. Most importantly, the agreement will provide comprehensive treatment programs with minimal surgical intervention. Also, it is worth mentioning that Elaraby Hospital holds the International Accreditation Certificate (JCI).
Elaraby Hospital is distinguished by the diversity of medical services in the departments of the Oxygen Therapy Unit, the Center for Oral and Dental Surgery, Pediatrics, Oral and Maxillofacial Surgery, Neurosurgery, Spine and Orthopedic Surgery, Vascular Surgery, Gynecology and Obstetrics, Brain and Neurology, Rheumatology Department, Urology, Cardiology, Emergency, Physical Medicine and Rehabilitation, Ophthalmology, Critical Cases (ICU), Dermatology, Surgery, Therapeutic Feeding, Internal Medicine, Ear, Nose & Throat, in addition to Laboratories and Radiology Department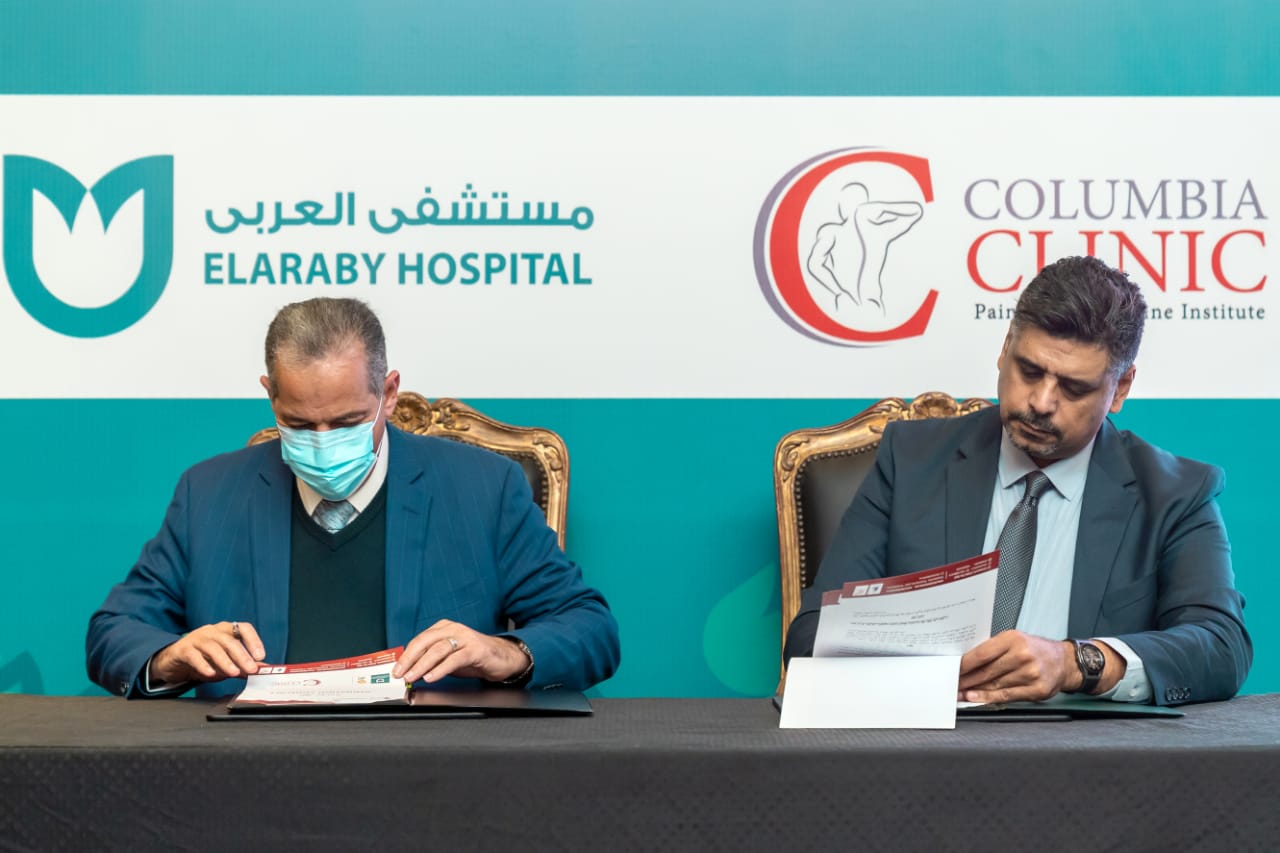 Dr. Osama Gabr, Chairman of the Columbia Clinic Medical Group in the United States of America, praised the international level of Elaraby Hospital's health system. He added that the partnership and the expertise of Columbia Clinic will aid the hospital in advancing the medical level in the field of spine and pain treatments, while training doctors on the latest treatment technologies. This step is the basis for growing the medical knowledge in the fields of pain management medicine, orthopedics and spine surgery. The hospital's health system will exchange experiences and treatments in an interactive manner through the Columbia Clinic medical treatment protocols which are supported by American expertise and technology.
This will contribute to reducing the number of patients who travel abroad to receive treatment in the fields of sports medicine, spine, orthopedics and rehabilitation through receiving the same medical level on the land of Egypt. It's aligned with the government's approach to encouraging medical tourism by attracting patients from African and neighboring countries. Overall, Egypt has ideal opportunities to provide and support medical tourism.
The Columbia Clinic Medical Group was established in South Carolina, the United States of America in 2005. Then, it expanded to Ohio, Michigan, Florida, and New York City. Regionally, Columbia Clinic is strongly present in Egypt, the Middle East and North Africa offering the highest level of medical services by signing medical protocols based on specialized scientific concepts.
Columbia Clinic's treatment system is characterized by offering treatments to various specialties through its highly professional medical staff on both the local and the international levels. Moreover, Columbia Clinic carries a cohesive training system for medical teams and therapists in pace with the recent developments and follow-ups of the latest treatment methods in sports injuries, accidents, joint roughness, spinal injuries, cartilage transplantation, joints and stem cells.