In the last couple of years, the names of Dr Reem Bassiouney's novels have arisen on the list of bestselling books in Egypt. Reem is a writer and university professor whose writings reflect upon Egypt's history and identity.
Why did you pick The Mamluks' period to portray in your trilogy "The Sons of People"?
The Mamluk era is a crucial era in Egypt's history since The Mamluks ruled Egypt as an independent state for 267 years. They ruled from Cairo as the capital, and their rule expanded over numerous cities. In addition, The Mamluks' buildings in Egypt are the most frequent and the most extraordinary Islamic buildings that you can ever find in Egypt. To exemplify, Al-Sultan Hassan Mosque was regarded by historians as one of the marvels of the Islamic world. Unfortunately, we somehow ignored this period of our history; that's why, I wanted to shed light on the political and social systems in such a paramount era.
May you explain to the readers who are the sons of People?
"The sons of people" are actually the sons of The Mamluks, who were not soldiers, but rather free, and of known parents. In short, it is a term that refers to those people who have power. We still use the same term (Awlad El-nas) in Egypt with similar connotations.
We know that both The Mamluks and The Ottomans were outsiders, yet "The Sons of People" sheds light on some huge differences between them. Can you explain more?
On the one hand, The Ottomans had a capital that wasn't Cairo but Istanbul. They were sheer invaders who came only to confiscate Egypt's goods and craftsmen to be exploited in their country. On the other hand, The Mamluks didn't choose to be in Egypt; they were kidnapped children, destined to live in Egypt as their only home. They lived, built tremendous monuments, and died in Egypt. The Mamluks' posterity were regarded as Egyptians. That's why, we can't consider The Mamluks invaders at all.
How much time did you spend in writing the trilogy? And what are the books that helped you understand the history of this period?
It took me three years to finish the trilogy. I used a myriad of references and general articles, in Arabic, English, and sometimes Italian. I used some medieval manuscripts to see what our ancestors were saying about The Mamluks at the time. Medieval texts were extremely interesting and important. I think it took me a lot of time to grasp this period's history.
What are the most crucial themes that you tackled in the trilogy?
I tackled a lot of themes in the trilogy, for I intended to make it a humanitarian novel, displaying people's weaknesses, choices, and social conflicts. That's why, the novel revolves around themes, such as love, sacrifice, perseverance, justice, and faithfulness.
Your trilogy tells three enthralling love stories. Were such stories real? And what was the inspiration behind them?
I believe that love stories take place in every single time and age. If you have a look at Arabs' poems, you will be mesmerized by their beauty. So, writing about love is in fact writing about real stories.
Although it might sound like a political novel, The Mamluks' Trilogy rather focuses on romance and friendship. Why have you chosen this angle specifically?
I think it is very important to speak about these humane issues even from a political or a historical angle because we think that history is done by people who lived and died, but history is more than a bundle of events; it is about humans forming ideologies and evolving in different ways.
You portrayed three peculiar female characters in the trilogy: Zainab, Defa, and Hend. Do they symbolize anything?
Characters, namely women, in my novels stand for more than just individuals; for instance, Hend in the trilogy is a symbol for Egypt.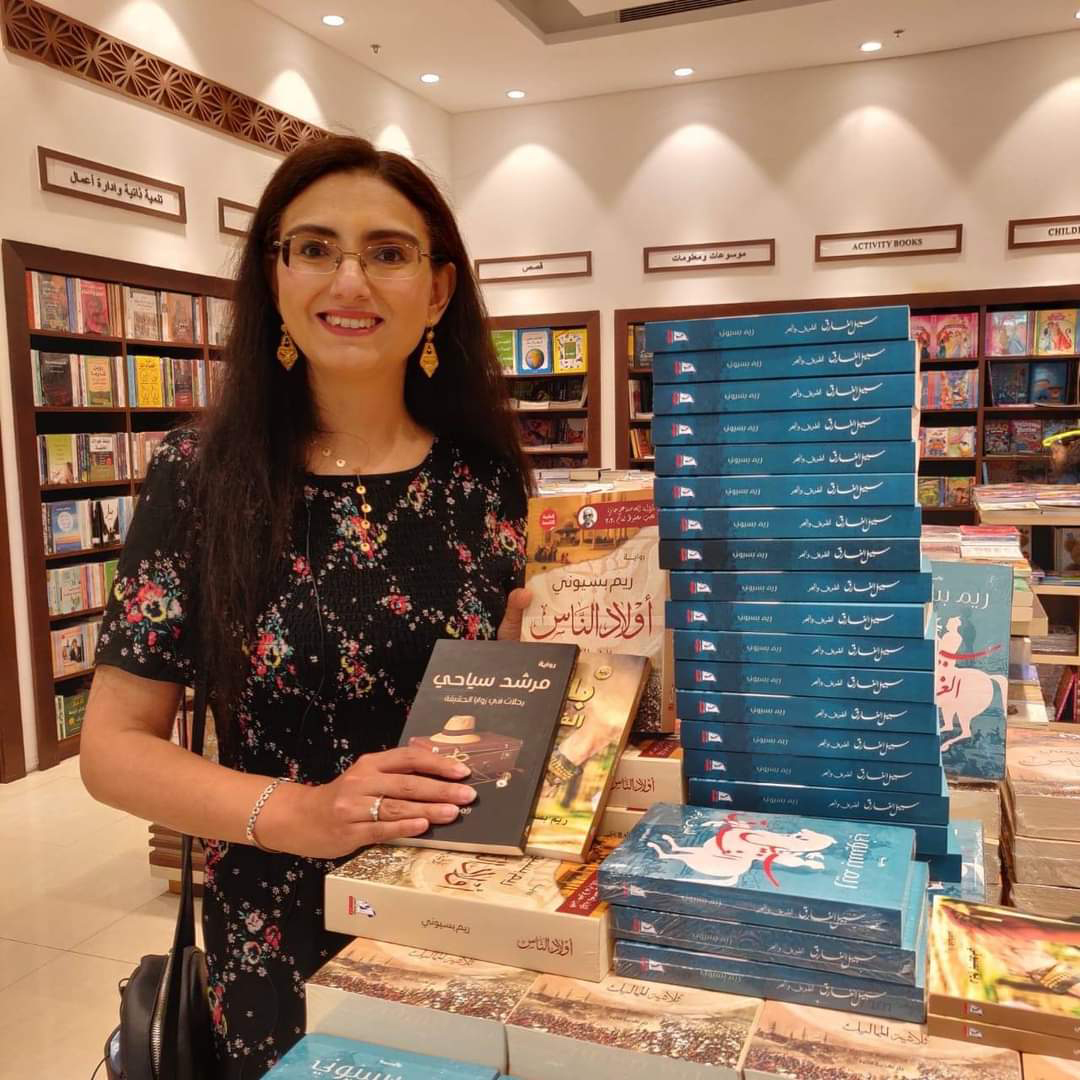 How was women's stance during Mamluks' and Ottomans' period?
There were lots of drastic differences at the time: The Mamluks reinforced women's stance, as women used to negotiate power. You can see that women worked as governors for The Mamluk Sultans. Moreover, at The Mamluks' period, there were marriage contracts that maintained women's rights in all situations; at the time, a woman could stipulate in the contract that her husband would never marry another wife. In the Ottoman period, this freedom was somehow compromised.
Your latest novels, The Trilogy and Sabeel Al Ghareq, portray two periods of invasion, one under The Mamluks and one under English occupation. Does the theme of Egyptian identity interest you and why?
The two periods are totally disparate – one is about The Mamluks' defeat in the battle of Diu and the other is about English occupation. The two periods were characterised by the nation's downright defeat. However, I discovered that the two periods are somehow linked, and it wasn't easy to morph these two periods into a novel. The theme of identity really interests me because I'm an academic who works on language and society. I have a written a complete book about identity, entitled "Language and Identity in Modern Egypt". I also lived outside Egypt for a lot of time.
What are the ethics of writing about historical figures? Do you believe that writers are entitled to create parallel lives or myths for historical figures?
I think a writer should study a lot about the historical figures he wants to portray. Yes, a writer does have freedom to perceive history from his/her viewpoint, but one should be fair. It is a hard work and a responsibility. For instance, I think you are not entitled to turn a good character into an evil one or the opposite.
Do you read your book reviews? How do you deal with bad or good ones?
I try to keep abreast of reviews as much as I can. I respect all opinions, and I don't expect that everyone will like my work. Sometimes positive reviews move me a lot when a reader says that he/she has learnt something.
In "Sabeel Al Ghareq", you talked about losing battles and failure alongside with the philosophical notion of Sophia (complacency). Could you elaborate on that?
The novel is wholly philosophical, and the scenes require a lot of thinking. It exhorts readers to take the road not taken, accept risks, and think about failure in a different way. Moreover, it asks people to try to understand their deep souls.
If you were not a writer, what would you do for a living?
I would have pursued my work as a professor, which I really enjoy. I never wanted to write for a living. I want writing to come when it comes and be an inspiration.
What authors did you dislike at first but grew into?
There are many writers that I didn't read for in the beginning because I thought they are not that interesting, but when I started reading, I loved their writings.
All your novels have a good take on women independence and perseverance, so what are the qualities of an iron woman from your point of view?
I think a strong woman is a woman who doesn't give up but tries again and again with a patient soul. She is a woman who can handle problems either by adapting to them or by overcoming them. I think there are multifarious Egyptian women who follow this example, and they are not necessarily modern women but from diverse eras.
Have you ever gotten a writer's block?
I did get a writer's block for seven years after my fifth novel in 2010. By that time, I won two prizes – one for The Best Young Writer and another for The Best Translated Novel. However, I couldn't write for seven years and thought that my faculty dried out.
Q&A
Have you ever started a novel by its ending?
In some rare times, I have the ending in my mind, and this has happened in the trilogy.
What was your hardest scene to write?
It was the final scene of "Sabeel Al Ghareq", about a meeting between a father who refuses to acknowledge his son. Right before his death, the father realizes that he is mistaken, yet he is too proud to admit his mistake. I wanted to highlight, in this scene, human pain and regret without being melodramatic.
Do you intend to turn any of your novels into a dramatic work?
Yes, we have already signed the contract to turn The Trilogy into a soap opera.
Novelist Radwa Ashour once said that writing is an unexpected visitor. Do you experience the same feeling as well?
Yes, I agree with this saying; in most cases, I have a story in my mind, but things change completely while I'm writing.
Who are the best historians from your point of view (both Arabs and non-Arabs)?
Ibn Iyas and El-Makrizi are very good sources.
"I never wanted to write for a living. I want writing to come when it comes and be an inspiration."
Interview by: Christina Aziz