The Road Not Taken: The Mesmerizing Story of Sister Emmanuelle
Regarded as one of the most influential women in France and Belgium and even equated with mother Theresa, Sister Emmanuelle always preferred to call herself "the trash collector".
Emmanuelle was a Belgian-born nun to a French father and a Belgian mother. She devoted her life to ease the tension of impoverished children in developing countries. For Emmanuelle, missionary life was not a piece of cake as she wasn't a well-off activist who had abundant supply to fund her services; surprisingly enough, she started off with a 6$ capital!
In her autobiography, Emmanuelle reminisced on her younger-self, depicting a life replete with indulgence: In the 1920s, Emmanuelle was merely roaming the streets of Paris to find "immediate pleasure." However, she wrote that she had always heard a whisper calling her for an upcoming great mission. In 1929, self-indulgent Emmanuelle harkened to this continuous voice and dedicated her life to God and society.
Years later, the unearthly mission was finally revealed to 63-year-old Emmanuelle when she encountered some old slums in Matareya, Cairo. The place is entitled as "Zabbalin Destrict", which translates into "The Garbage Collectors". The district was packed with a myriad of rag-clad people, whose number was about 40,000 families living together with rats and insects. Seeing into their heart-wrenching situation, in which neither electricity nor water was available, Emmanuelle decided to live her whole life with them. Consequently, Emmanuelle started making a fuss, asking her supervisors in Rome to give her permission to live among these castaways. "All my life I want to share with the poor" demanded the nun.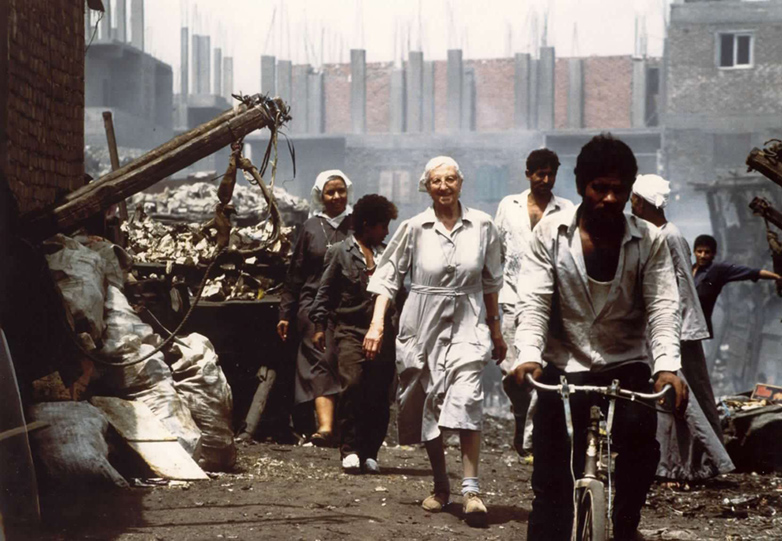 As mentioned before, Emmanuelle  didn't have any wealth to spare for her mission. However, the devout nun couldn't just give up and confined in God's power even when she couldn't see any achievements coming. Emmanuelle believed that to say that something is impossible is equal to saying that it cannot be done by God. Accordingly, Emmanuelle took to United States, England, France, and Belgium to demand the governments' help. "I don't ask for charity. I want justice. If you won't give me money, I will make a holdup. I see the old people die on the ground without medicine or a doctor. I must do something" protested Emmanuelle.
She managed to yield one million dollars and totally transformed the slums into a habitable place, encompassing a kindergarten, clinics, and six charitable buildings called 'The Salam Buildings' (Peace Buildings). In addition, thanks to her utter vocation, sewing, plumbing, carpentry, and electricity are all available in The Zabbalin Destrict nowadays.
Emmanuelle's services extended to Sudan, Philippines, and India as she established Asmae Association in 1980 — an institution dedicated to eradicating homelessness in said countries. Emmanuelle also launched an elementary school in Muqattam and granted trash-collectors many vehicles to ease the process of collecting garbage for them. She didn't teach religion to children because she didn't want to separate Muslim kids from their Christian friends. She gave center stage to pregnant young girls, as she worked like an ant to improve their health and hygiene. Although she didn't get The Pope's approval on it, Emmanuelle taught parents lessons on birth-control, telling the pope that it is a humanitarian duty, done for the sake of people's dignity. Noteworthy, contraception is prohibited in the Catholic church, to which Emmanuelle belonged. Emmanuelle also protested against some of the Catholic Church's die-hard beliefs, such as not allowing priests to marry.
After spending twenty years in Cairo, Emmanuelle finished her mission and returned to France in 1993 with flying colors. She died in 2008 of 100 years old. In her obituary, Nicolas Sarkozy, former French president, called Emmanuelle a sister to all humanity and "a woman of high convictions, but also one of action." Everyone who met her was astonished by her angelic, down-to-earth personality as she was never elevated by people's approbation. "I am not Mother Theresa. She is very strong; I am not so strong. But I can still work for God and people" remarked the faithful nun, who lived a wonderful life like a rose among trash.