Surprise Your Mum with a Brunch
Celebrate Mother's Day with a decadent, but well-deserved, brunch. Instead of going out, take the time and prepare for you mother a special meal for just the two of you and treat her on her special day with one of her favorite recipes. It's time to show her how much you love her. And no worries if you're not a good cook, we've got you covered. We've rounded up some of the best delicious brunch recipes that will make your mum leave the table with a full stomach and a happy belly!
Twice-Baked Citrus-Almond Brioche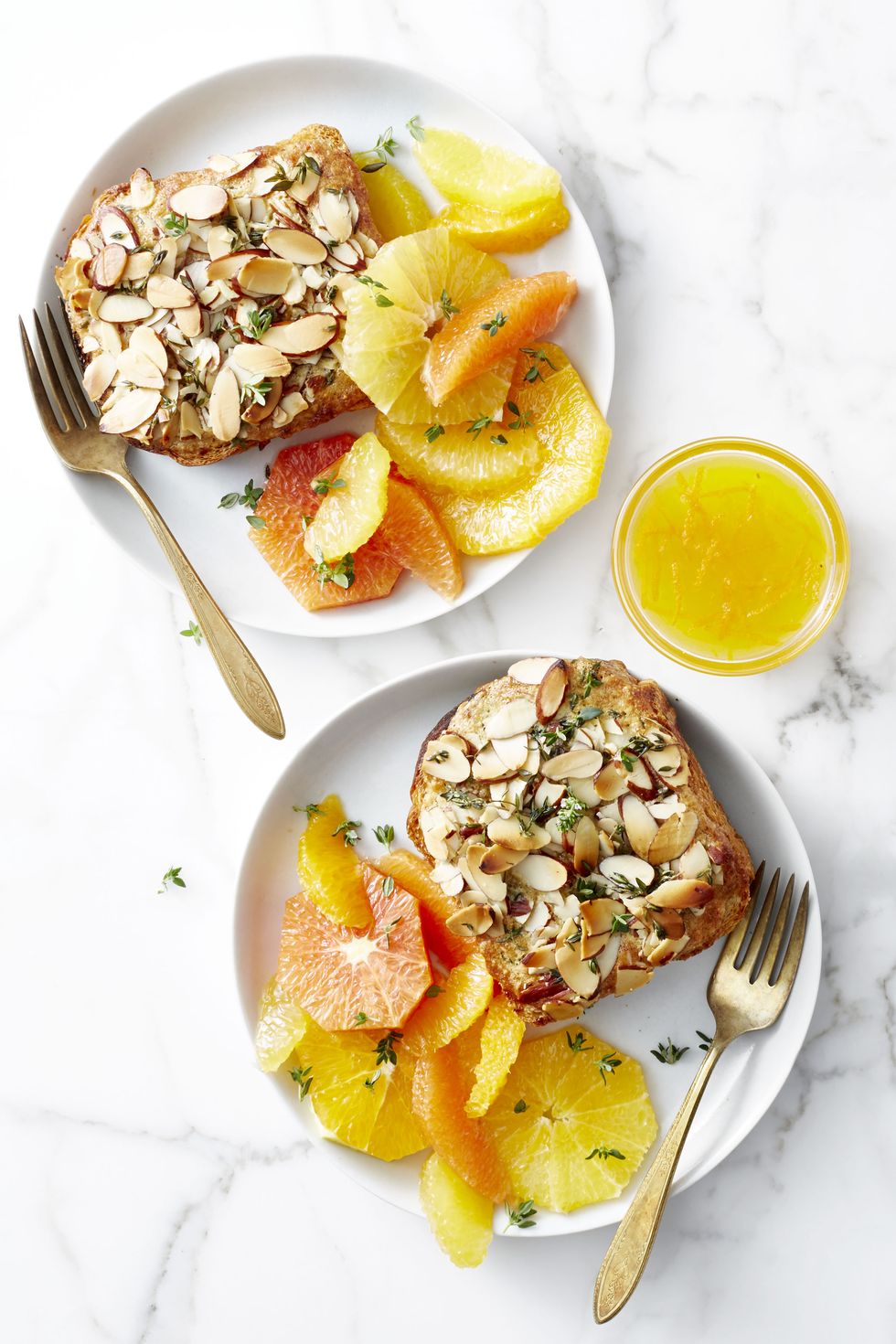 Ingredients
1 1/4 c. sliced almonds
1/2 c. sugar
Kosher salt
1 large egg
4 tbsp. unsalted butter, at room temperature
1/4 tsp. almond extract
1 tbsp. orange zest
1/4 c. orange juice
1 tbsp. olive oil
1 tbsp. Thyme leaves
6 3/4 inch-thick-slices brioche or Easy No-Knead Sweetbread
Sliced citrus, for serving
Instructions
In food processor, pulse 1/2 cup almonds, 1/4 cup sugar and pinch salt until finely ground. Add egg and butter; process to form a paste. Add extract; pulse to combine.
In small saucepan, simmer orange zest and juice, 1/4 c. water and remaining 1/4 c. sugar on medium-high, stirring, until sugar dissolves. Remove from heat; let cool. In small bowl, combine olive oil, thyme, remaining 3⁄4 cup almonds and pinch salt.
Heat oven to 400°F. Arrange bread on baking sheet. Brush each slice with syrup until very moist, then spread with even layer of almond paste (about 2 heaping tablespoons). Top with almond mixture.
Bake until toasts are caramelized on edges and almonds are golden brown, 20 to 25 minutes. Serve with citrus and additional orange syrup, if desired.
Sweet and Sticky Apricot Glazed Ham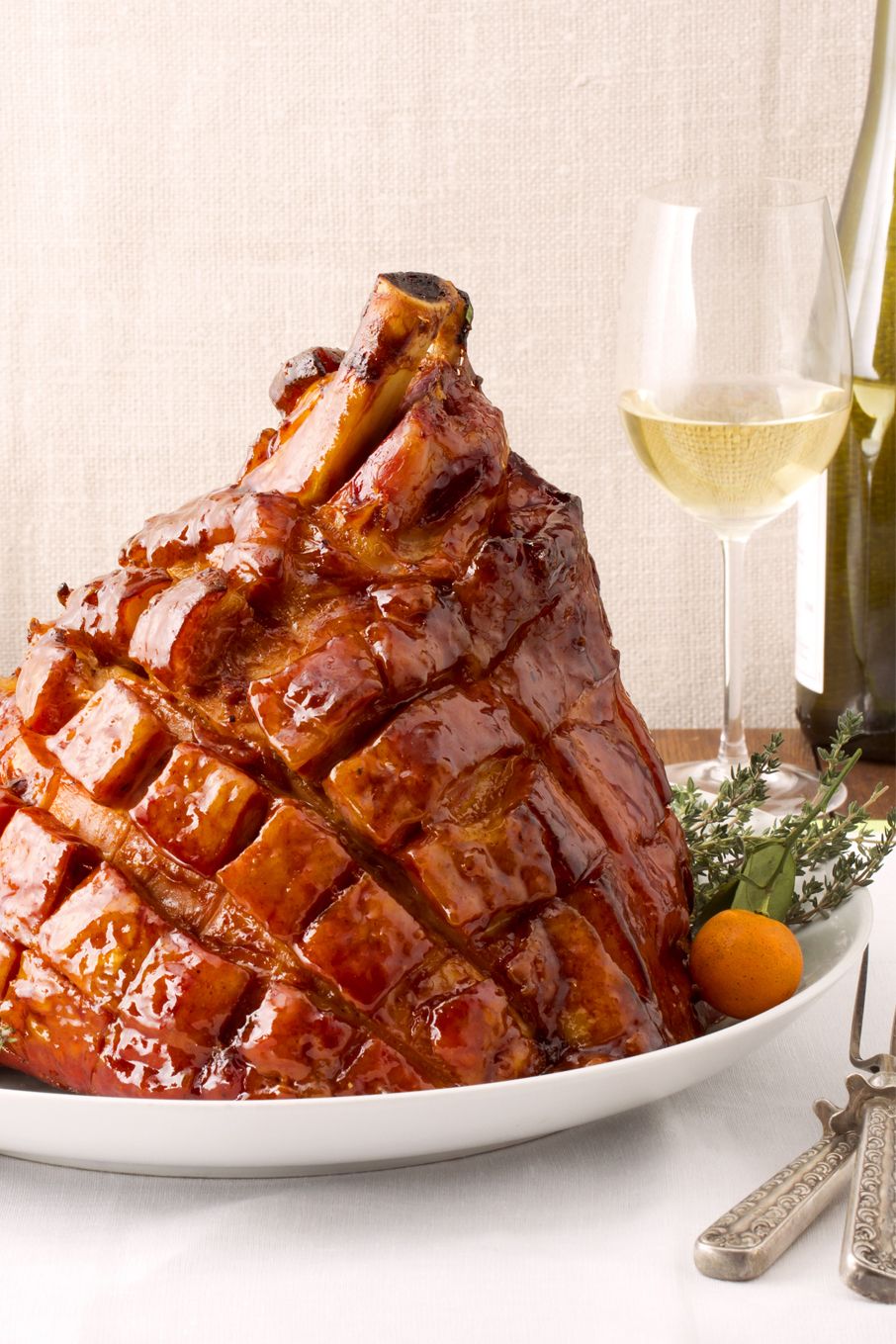 Ingredients
1 (8- to 10-lb.) fully cooked bone-in smoked half ham (not spiral-sliced)
1 c. packed brown sugar
1 c. apricot jam
1/2 c. Dijon mustard
Instructions
Preheat oven to 300°F. Place ham in roasting pan, cut side down. With tip of sharp knife, make long cuts from top of ham to bottom, cutting through tough skin and fat; make perpendicular cuts to form diamonds. Cover with foil. Bake 11/2 hrs.
In medium bowl, whisk sugar, jam, mustard and 2 teaspoon pepper. Transfer 1 cup glaze to separate bowl; cover and refrigerate. Remove foil from ham. Brush some of remaining glaze all over ham. Bake, uncovered, another 1 to 11/2 hours or until glaze is dark brown and internal temperature of ham has reached 140°F, brushing with glaze every 1/2 hour. Allow ham to rest 20 minutes before carving. Serve with reserved glaze.
Blackberry Mint Mule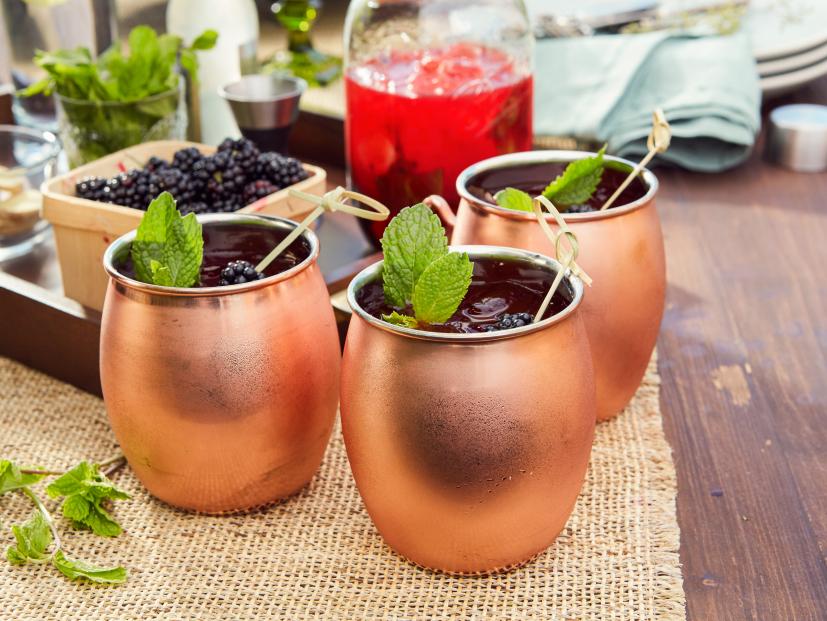 Ingredients
3 ounces lime juice
1/3 cup mint leaves, plus 3 mint sprigs, for garnish
2 tablespoons coarsely chopped fresh ginger
15 blackberries
6 ounces vodka
12 ounces ginger beer
Instructions
Add the lime juice, mint leaves, ginger and 9 of the blackberries to a cocktail shaker. Muddle until the mint breaks down into small flecks, the blackberries into small pieces and the ginger into pieces half their original size.
Add the vodka and some ice to the shaker; shake until combined. Strain into three Mason jars. Pour 4 ounces of the ginger beer over each cocktail. Garnish with a mint sprig and 2 blackberries held together with a toothpick.