Candy has stolen the spotlight on Valentine's Day ever since Richard Cadbury, Cadbury founder John Cadbury's son, started selling chocolates in a heart-shaped box to mark the occasion in 1861. And while Valentine's Day admittedly does give us some of the tastiest desserts, there is actually a whole day's worth of fabulous meals that you could be having. From some heart-shaped Love Toast for brunch to some intimate Valentine's Day main courses for two, this is a great opportunity for turn V-day into the celebration of a foodie's dreams.
Hidden Heart Cake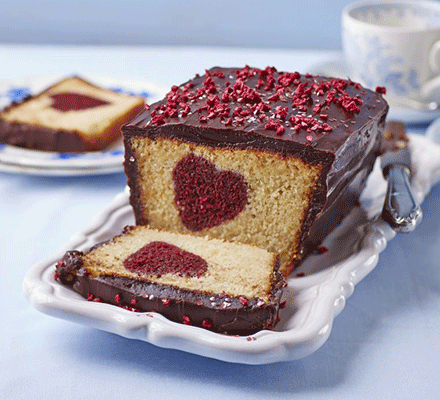 Ingredients
2 x 175g unsalted butter, softened
2 x 175g golden caster sugar
6 large eggs
2 x 140g self-raising flour, sifted
2 x ½ tsp baking powder
3 tbsp cocoa powder
2 x 85g ground almond
2 x 100ml milk
3 tsp vanilla extract
28ml bottle red food colourings or ½ tsp red food colouring gel
100ml double cream
200g dark chocolate, finely chopped
50g unsalted butter
Pink sprinkles (optional)
Instructions
Heat oven to 160C/140C fan/gas 3. Grease a 900g loaf tin and line with a long strip of baking parchment. Cream 175g butter and 175g sugar until light and fluffy. Beat 3 of the eggs and pour in, a little at a time, mixing after each addition. Sift together 140g flour, 1/2 tsp baking powder and the cocoa, then fold into the butter mixture along with the almonds. Combine 100ml milk, 1 1/2 tsp vanilla and all the food colouring and add to the batter, then mix until evenly coloured.
Pour into the prepared loaf tin and bake for 1 hr 10 mins until a skewer comes out clean. Cool for 10 mins in the tin, then transfer to a wire rack. When cool, cut the cake into 4cm slices. Using a 5cm cutter, stamp out the hearts (save any remaining cake for another treat).
Repeat step 1 to make a second cake mixture – you won't have cocoa or food colour in this batch. Pour 3/4 of the mixture into the prepared loaf tin. Push the bottoms of the hearts into the batter in a tightly packed row. Spoon over the remaining cake mixture, covering as much of the hearts as possible. Bake for 1 hr or until a skewer comes out clean. Cool for 10 mins in the tin, then transfer to a wire rack to cool completely.
For the icing, gently heat all the ingredients over a low heat until combined. Leave to cool, then chill until needed. Spread over the cooled cake and decorate with the sprinkles, if using. Will keep for 3 days stored in a cake tin.
Shrimp and Zucchini Scampi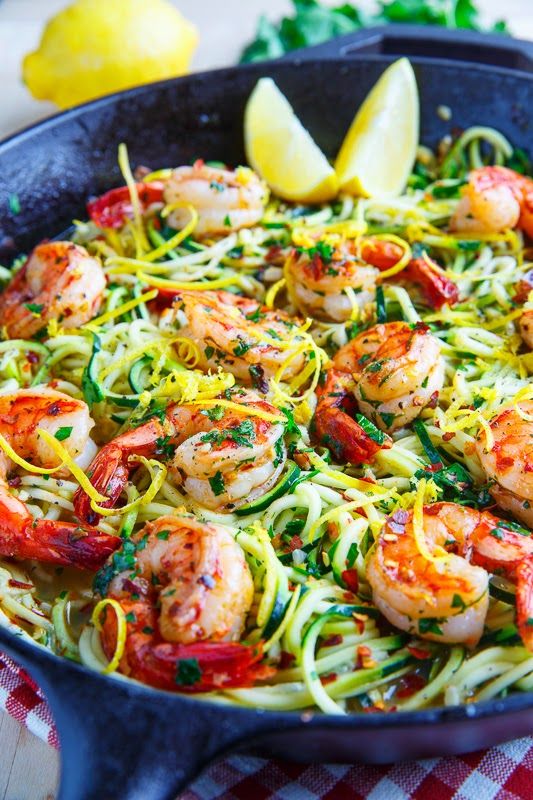 Ingredients
1 1/2 lb. shelled, deveined shrimp
2 tbsp. oil
2 medium zucchini, sliced
4 cloves garlic, chopped
4 tbsp. butter
3/4 c. white wine
1/8 tsp. salt
1 lb. linguine, cooked
1/4 c. pasta cooking water
2 tsp. lemon peel, grated
Chopped parsley, for serving
Instructions
Cook shrimp in oil 3 minutes or until cooked through, turning once. Transfer shrimp to plate.
To skillet, add zucchini, garlic, and butter. Cook 3 minutes. Add white wine and salt; cook 2 minutes, stirring and scraping. Toss vegetables with shrimp linguine, pasta cooking water, lemon peel, and parsley.
Strawberry Shortcake Valentine Hearts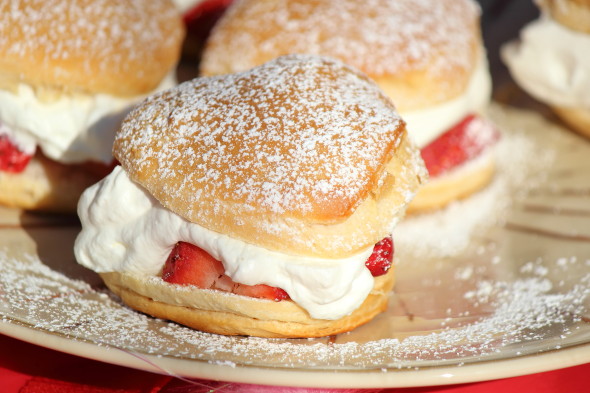 Ingredients
1 can Pillsbury Original Grands Biscuits
3 cups fresh strawberries sliced
1 1/2 cups heavy whipping cream
2 Tablespoons granulated sugar
Powdered sugar for dusting
Instructions
Preheat the oven to 350 degrees F. Line a cookie sheet with parchment paper.
Using a heart shaped cookie cutter, press down on each biscuit to end up with a heart shaped biscuit.
Place each biscuit onto the cookie tray.
Bake in the oven for 13-15 minutes and the top of the biscuits are golden brown.
Let cool for 10 minutes.
Combine the heavy cream and granulated sugar together in a medium bowl.
Whisk until the cream is at the soft peak stage.
Cut the biscuits in half and place enough strawberries on the bottom half of the biscuit to cover the base.
Spoon some of the cream onto the strawberries and place the top half of the biscuit onto the cream.
Dust generously with powdered sugar and serve immediately.
Raspberry Pink Velvet Cake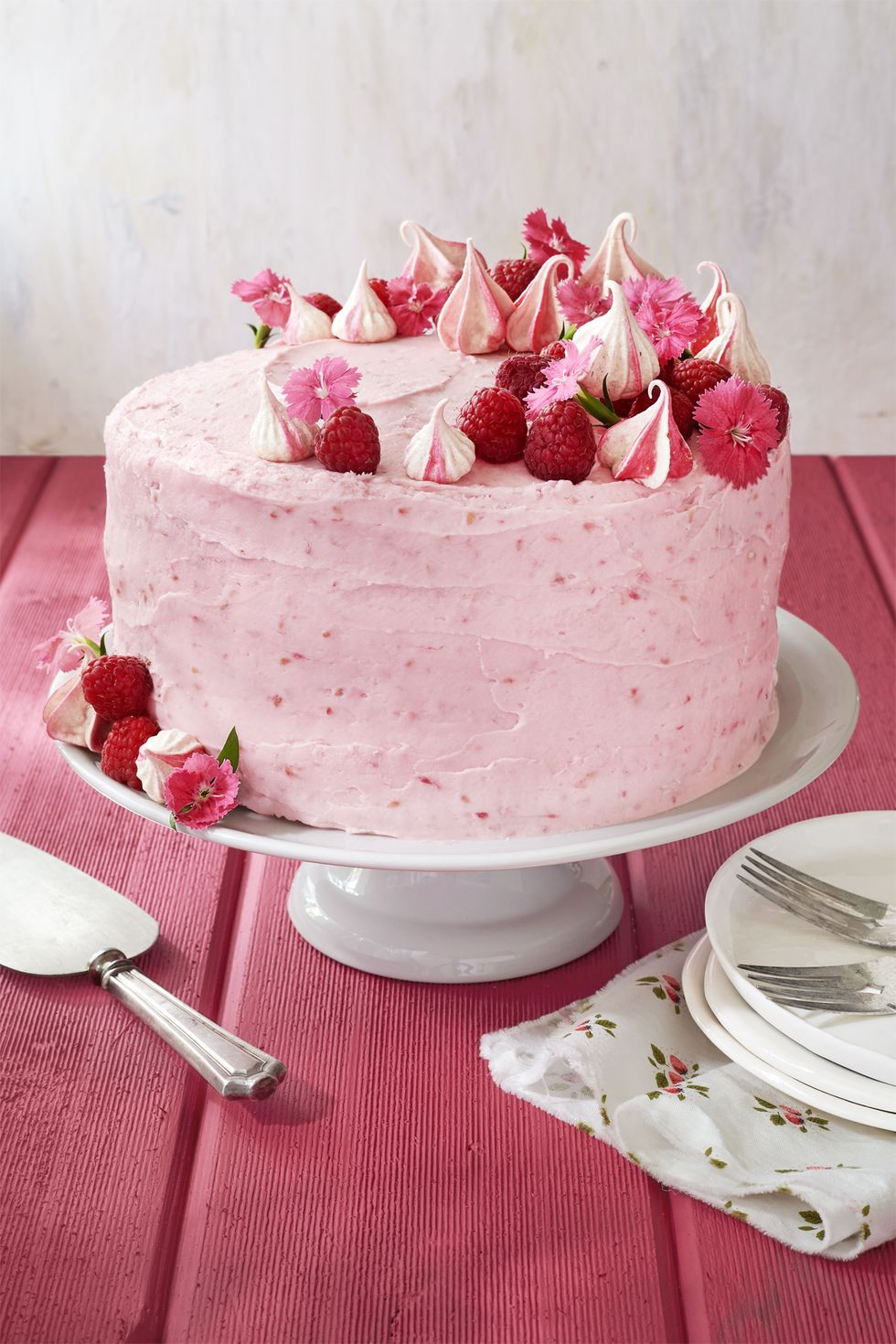 Ingredients
Raspberry Pink Velvet Cake
Cooking spray
3 c. cake flour, spooned and leveled, plus more for pans
1 tbsp. baking powder
1/2 tsp. kosher salt
1 c. (2 sticks) unsalted butter, at room temperature
2 c. granulated sugar
4 c. fresh raspberries, divided, plus more for decorating
4 large eggs
2 tsp. pure vanilla extract
3/4 c. Buttermilk
3 drops pink food coloring, optional
3 tbsp. seedless raspberry preserves
Raspberry Cream Cheese Frosting
Meringue kisses and edible flowers, for decorating
Raspberry Cream Cheese Frosting
1/2 c. (1 stick) unsalted butter, at room temperature
4 oz. cream cheese, at room temperature
1/4 c. fresh raspberries
1 tsp. pure vanilla extract
1/2 tsp. kosher salt
3 c. confectioners' sugar
Instructions
Preheat oven to 350°F. Grease and flour 3 (8-inch) cake pans. Whisk together flour, baking powder, and salt in a bowl.
Beat butter and sugar on medium speed with an electric mixer until light and creamy, 1 to 2 minutes. Add 1 cup raspberries, and beat until smooth, 15 to 20 seconds. Add eggs, one at a time, beating until blended after each addition (mixture will look curdled). Beat in vanilla. Reduce mixer speed to low and beat in flour mixture and buttermilk alternately, beginning and ending with flour mixture, just until flour is incorporated. Mix in food coloring, if desired. Divide batter among prepared pans.
Bake until a wooden pick inserted in center comes out clean, 23 to 25 minutes. Cool in pans on wire racks 10 minutes, then invert onto wire racks to cool completely.
Toss together preserves and remaining 3 cups raspberries in a bowl. Place one layer on a cake plate and top with 1/2 of the preserve mixture; repeat one more time. Top with remaining cake layer. Frost top and sides of cake with frosting. Decorate with meringue kisses, edible flowers, and raspberries.
To make the frosting, beat butter and cream cheese on medium speed with an electric mixer until creamy, 1 to 2 minutes. Beat in raspberries, vanilla, and salt, until raspberries are broken down, 15 to 20 seconds. Reduce mixer speed to low and gradually add confectioners' sugar until blended and smooth after each addition, 45 seconds to 1 minute.
Tomato Soup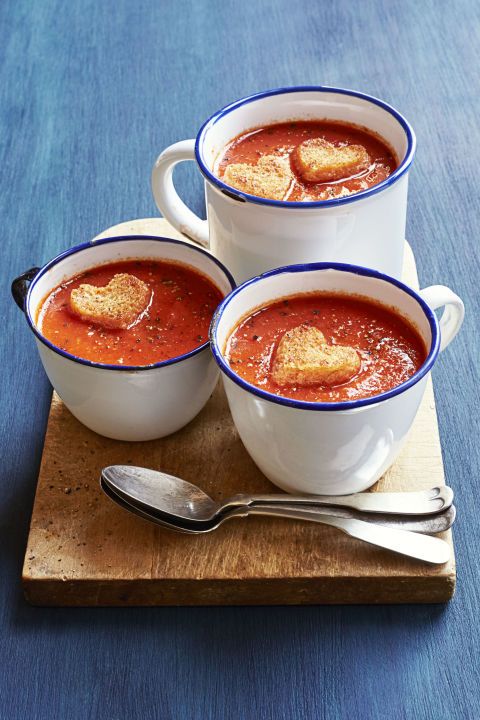 Ingredients
2 tbsp. olive oil
1 medium onion, chopped
2 cloves garlic, chopped
3 c. lower-sodium vegetable or chicken broth
1 28 oz. whole peeled tomatoes
2 bay leaves
4 slices white bread
1 tbsp. butter
1/2 tsp. sugar
Instructions
In 5- to 6-quart saucepot, heat oil on medium. Add onion and garlic; cook 10 minutes, stirring. Add broth, tomatoes, bay leaves and 1/2 teaspoon salt. Heat to boiling on high. Reduce heat; simmer 20 minutes, stirring occasionally.
Meanwhile, trim crusts from bread. With heart-shaped cookie cutter, cut 4 hearts from bread slices; toast hearts. Stir bread scraps into soup.
Remove and discard bay leaves. Stir in butter and sugar. In batches in blender or with immersion blender, blend soup until smooth. Stir in 1/4 teaspoon pepper. Serve topped with heart croutons.