Through getting deeply into her circle, it turns out that May Elghety is more than an actress, there is much you don't know about her music and writing plans. A book will be released soon, following by an EP (extended play records) for her music. In addition to her coming soon projects in the acting career. 
Which lesson has been the hardest to learn?
Letting go.
How would you describe yourself in 3 words?
Everything, Nothing, and Unicorn.
What's the best advice that was given to you?
"It's going to be okay."
What would we be surprised to know about you?
I'm allergic to bananas.
Which did you enjoy more cinema or TV and why?
Cinema, because it's timeless and it provides you with the movie-going experience. It's more than a narrative unfolding on a screen, it's an emotional experience that brings people together.
What kind of projects are you interested to do? Any specific genre?
Psychological thrillers, musicals and action.
How were you offered your first role? And weren't you afraid of having your first role in this genre? How did you conquer your fears?
The first proper role I was offered as a teenager was 'Badr El Bedour', a musical on the national theater for children and I was scared because I had to sing in Arabic and at the time I was taking singing lessons at the Opera House but in opera singing, so it was out of my comfort zone and it caused me a lot of anxiety. However, I remember the opening night, right before I walked out on stage I couldn't see the audience, only the spotlights, and I remember telling myself "yes this is what I want to do for the rest of my life". So the way I conquered my anxiety and fears was just throwing myself out there.
How did you prepare yourself psychologically for your role 'Bayada' in 'El Kaserat'?
I was nearly 15 years old at the time, but I remember being fully aware that these issues are prevailing in Upper Egypt culture, and I felt it was my duty to portray how living in such conditions is difficult so that girls my age in Upper Egypt would save themselves from such situations. I didn't do much to prepare I just put myself in that mindset before every scene. Additionally, acting with the legendary Salah El Saadeny was incredibly crucial, I owe him a lot because his performance influenced mine greatly, I even remember at times I was scared of acting with him because he was a real great actor, and that fear was reflected in my performance Bayada's fear from Abdelkawy.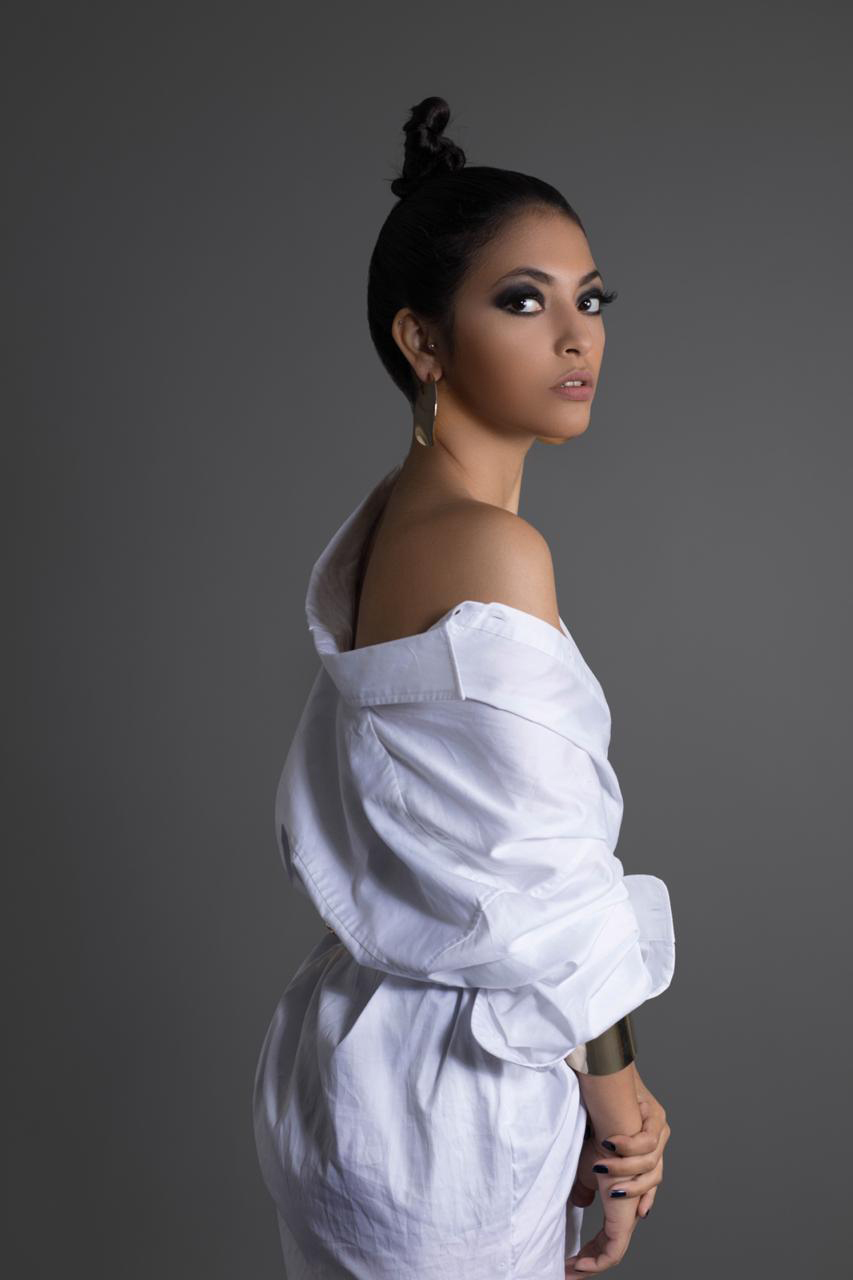 The series 'Zodiac' was a huge success, tell us about that project and your role in it?
The audience of the show were mainly online/social media users which are the young audience. It's a very unique show because it doesn't play on the same repetitive narratives on TV but rather has a story of its own and I think Egyptian TV needs more of this mystery genre. In addition, I was very happy with the role because I've always wanted to play this badass hippie type of character because you usually have either-or, but Mariam was both and you couldn't really narrow her character to one or two traits so I enjoyed her a lot, and I look forward to portraying her again.
Your new movie 'Banat Sanawy' will be released soon, what do you expect for it? tell us briefly about the story and your role in it, we don't want to spoil it for the audience.
I'm really excited, we generally struggle with the lack of female representation in Egyptian cinema, and this is finally coming out to say that we need a change in the infrastructure of the film industry. In the film, every girl has her own story and character, but I think mine is more rough on the edges but sensitive on the inside, and it's a duality that I tried to explore through Shaimaa. Especially that often at this age, girls tend to create a persona for themselves that isn't necessarily true but they do so in order to protect themselves and fit in. So I hope people can relate to Shaimaa because I know I certainly do.
About your role in the series 'Taye3':
How you got the role?
I was contacted by Robert Talaat, the executive director for 'Tayea' whom I already worked with before at 'Grand Hotel' and 'La Totfe' Al Shams'. He told me that Amr Salama was interested in me to play the role and things took off from there.
How you felt acting beside the star Amr Youssef?
We had previously worked on Grand hotel together so it was comforting because it's always nice to work with co-stars you worked with before.
What were the challenges? and how you dealt with them?
The desert and heat during the day and cold during the night were our biggest enemies, so a lot of water and mindfulness to avoid screaming at the weather.
Who do you aim to work with? Why?
I really wish to work with Kamla Abu Zekry and Dawood Abdelsayed, because I think they're absolute legends in their way of telling stories. On the international level, I dream of working with Ari Aster and Wes Anderson, because their visuals are absolute works of art.
If you weren't an actress, what would you have become?
A bakery or bookstore owner.
Be our inspiration and tell us about your battle with breast cancer.
I emphasized multiple times that it was benign and people have spun this story in a ridiculous manner. It was never about cancer it was about wearing my scars proudly.
Q&As:
Your happy place?
With my loved ones on a comfy couch, eating comfort food and watching good films.
Your favorite brands?
None, I wear used clothes. My favorite brand is whatever environmentally conscious product is produced.
Your teen crush?
Keanu Reeves (still is).
Your secret hobby?
Pottery and building things.
A super power you wish to have?
Teleportation.
When did you last tell a lie?
Yesterday, I was trying to pass myself as a 17 years old to get into an art exhibition for free. (Didn't work)
What food most sums up happiness?
Pizza.
What's next? Short and long-term?
On the short, I'm almost done with a TV series 'Kol Esbo3 Youm Gom3a' and it's coming out soon. I'm finally working more on my music and hopefully releasing an EP. Also, I'm expecting the release of my book very soon, it's a collection of poems and I'm excited for it to come out. On the long, I'm not really looking that far ahead, but I'm aiming to advance on my academics by doing post-grad studies and hopefully looking forward to some international projects.