It's Christmas season and we all know what that means! You decorate a Christmas tree, buy presents, wrap them, and organize a menu for the best dinner of the year! And we cannot forget about the candy. Some of us are die-hard Christmas cookie fans, while others dream of eating peppermint in all its many forms every day of December. We've brought you some of our most favourite and delicious Christmas recipes that will make your holiday sparkle!
Orange-Ginger Roast Chicken with Fennel and Radicchio Salad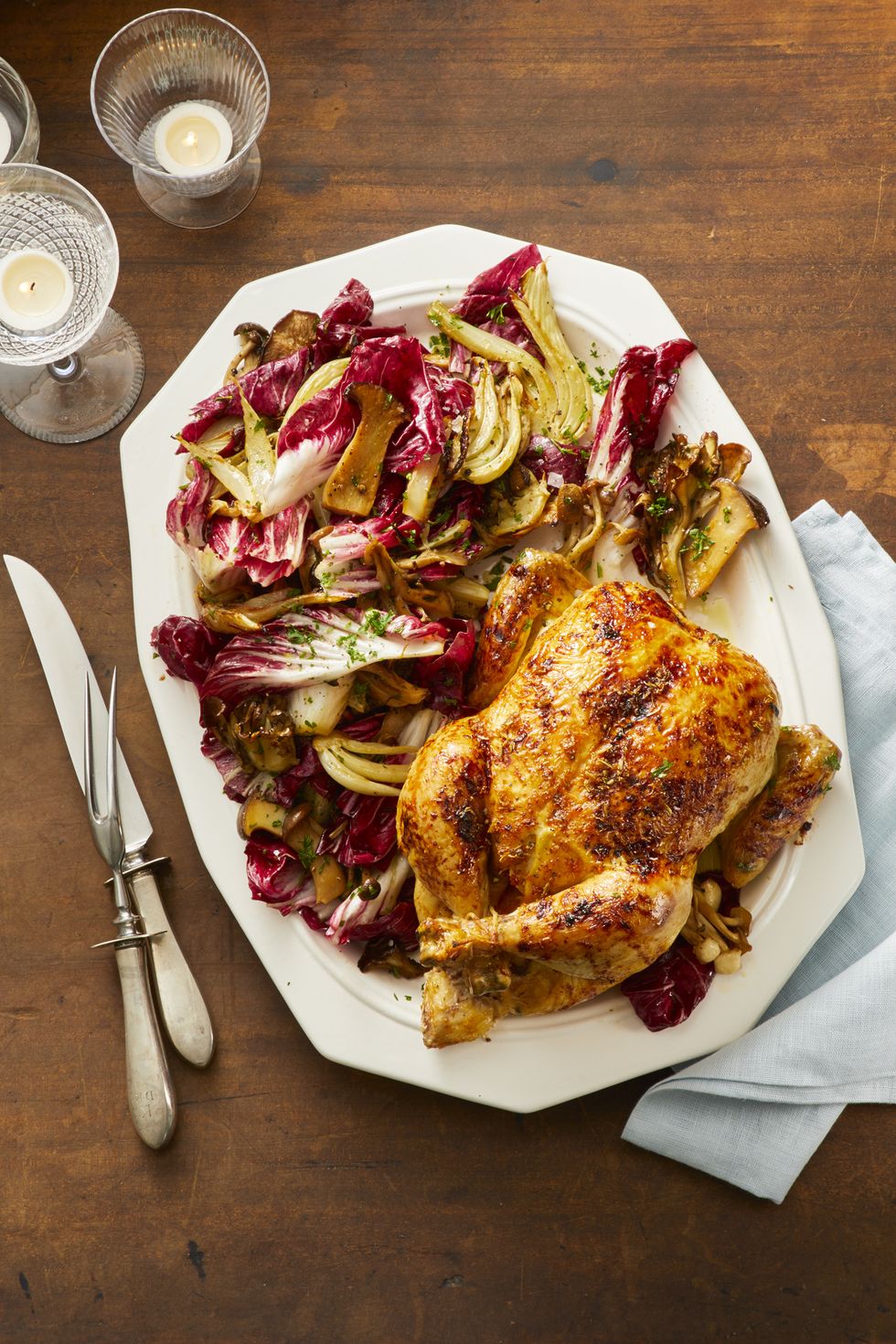 Ingredients
2 bulbs fennel, cored and sliced into 1/4-inch pieces
1 tbsp olive oil
Kosher salt
Pepper
1 navel orange
2 tbsp honey
2 tbsp grated fresh ginger
2 tsp fennel seeds, coarsely crushed
1 4- to 5-lb chicken, giblets discarded
1 lb mixed mushrooms, cut if large
1 tbsp sherry vinegar
1 small head radicchio, torn into large pieces
Chopped flat-leaf parsley, for serving
Instructions
Heat oven to 350°F. Line rimmed baking sheet with parchment paper. On prepared sheet, toss fennel with oil and 1/2 teaspoon each salt and pepper. Move to outer edges of pan.
Grate zest of orange into small bowl, then squeeze in 3 tablespoons juice (reserve orange halves). Whisk in honey to dissolve, then stir in ginger and fennel seeds.
Pat chicken dry, place in center of prepared baking sheet and stuff with orange halves, then brush with half of juice mixture. Roast 40 minutes.
Increase oven temp to 425°F. Toss mushrooms with fennel and brush chicken with remaining juice mixture. Roast until temp reaches 165°F on instant-read thermometer inserted into thickest part of thigh, 25 to 30 minutes. Transfer chicken to cutting board and let rest at least 10 minutes before carving.
Toss mushrooms and fennel with vinegar, season with salt and pepper if necessary and then fold in radicchio. Serve with chicken, topped with parsley if desired.
Peppermint Brownie Trifle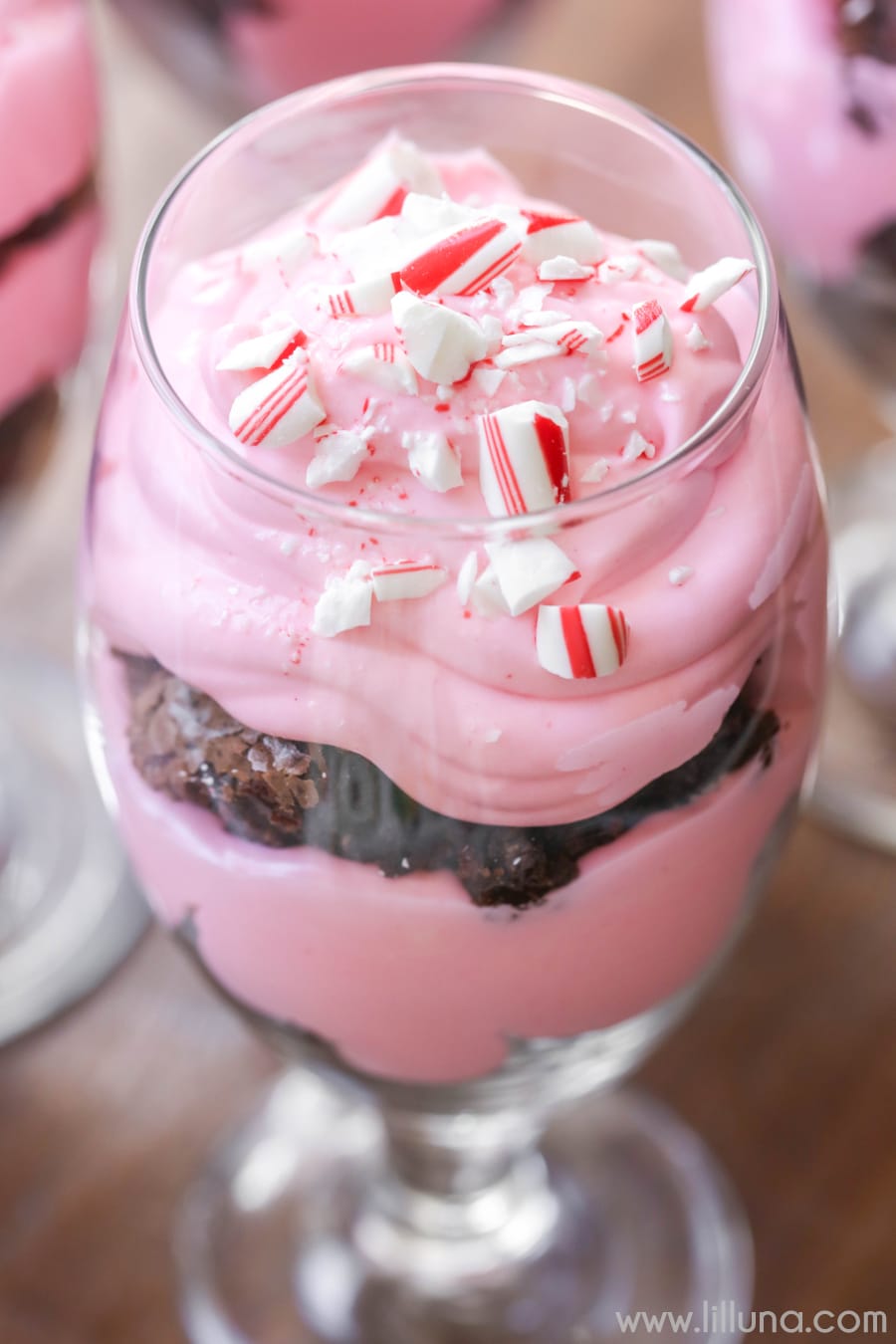 Ingredients
Brownie Box (plus ingredients on back)
4 oz. cream cheese (softened)
1/4 cup butter (softened)
1/2 cup powdered sugar
1 small container Cool Whip
1 – 3.3 oz box white chocolate or vanilla pudding
1 1/2 cups milk
1 teaspoon vanilla
1 teaspoon peppermint extract
Pink food coloring
Crushed candy canes
Instructions
Make brownies as directed on box. Let cool and cut into small squares.
In a bowl, beat cream cheese and butter until smooth. Mix in powdered sugar and fold in whipped topping. Set aside.
In a separate bowl, mix pudding, milk, vanilla, peppermint and pink food coloring. Fold this mixture in with the cream cheese mixture. Refrigerate for at least 15 minutes.
Right before serving, layer brownies and cream mixture. Top with crushed candy canes and serve immediately.
Vanilla Cranberry Mimosa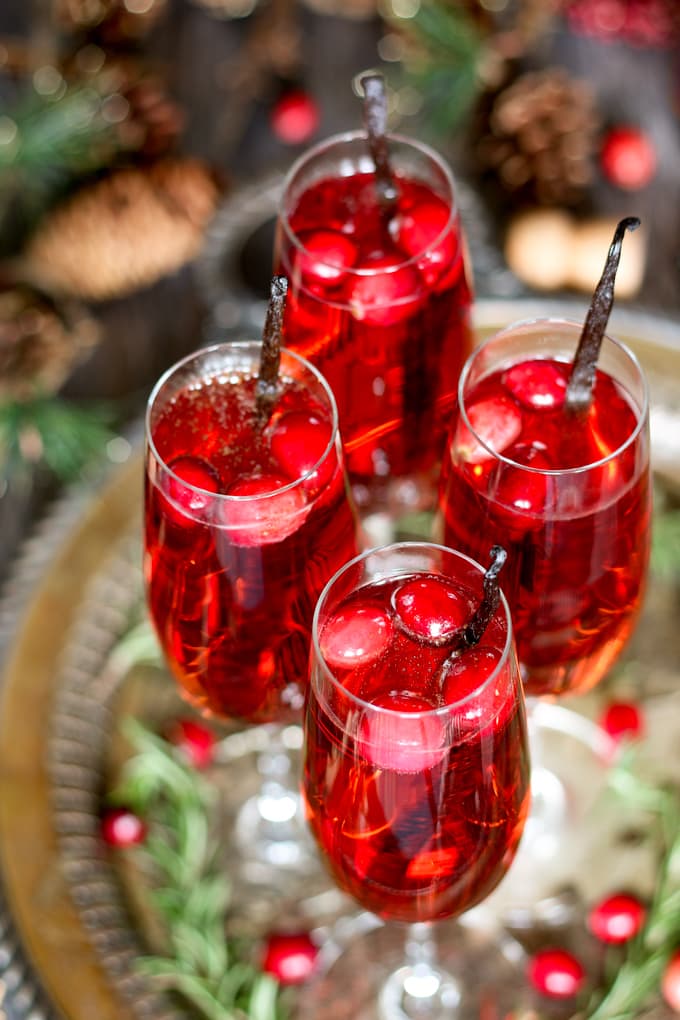 Ingredients
1 1/2 ounces of vanilla flavored vodka
1 1/2 ounces of cranberry juice
Sparkling wine (champagne, prosecco, cava)
Instructions
In a cocktail shaker, combine the vanilla vodka, cranberry juice and ice. Shake vigorously, then strain into a champagne flute. Fill the glass to the top with sparkling wine.
White Chocolate Gingerbread Crescent Rolls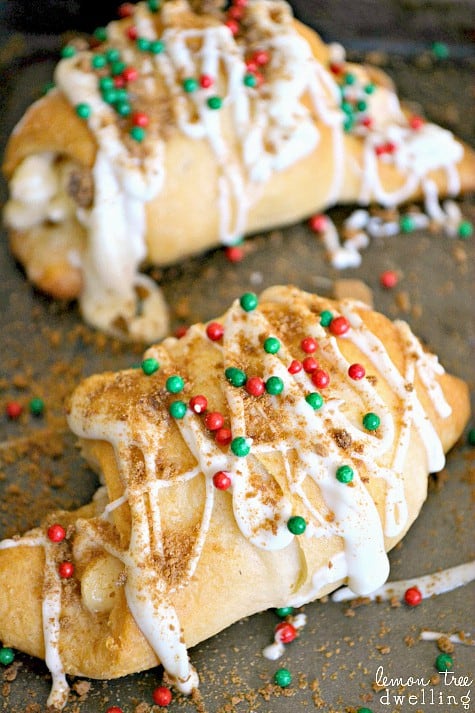 Ingredients
1 roll 8 ct. crescent rolls
4 oz. cream cheese
3/4 c. white chocolate chips
8 gingersnap cookies crushed
Candy sprinkles
Instructions
Roll out crescents on a lightly greased baking sheet.
Fill each with 1/2 oz. cream cheese, 1 Tbsp. white chocolate chips, and a sprinkle of crushed gingersnaps.
Roll gently to form crescent shape, starting with the wide end of the dough.
Bake at 350 degrees for 15-18 minutes or until golden brown.
Drizzle with remaining white chocolate chips, melted, and remaining crushed gingersnaps. Top with candy sprinkles.
White Chocolate Candy Cane Cookies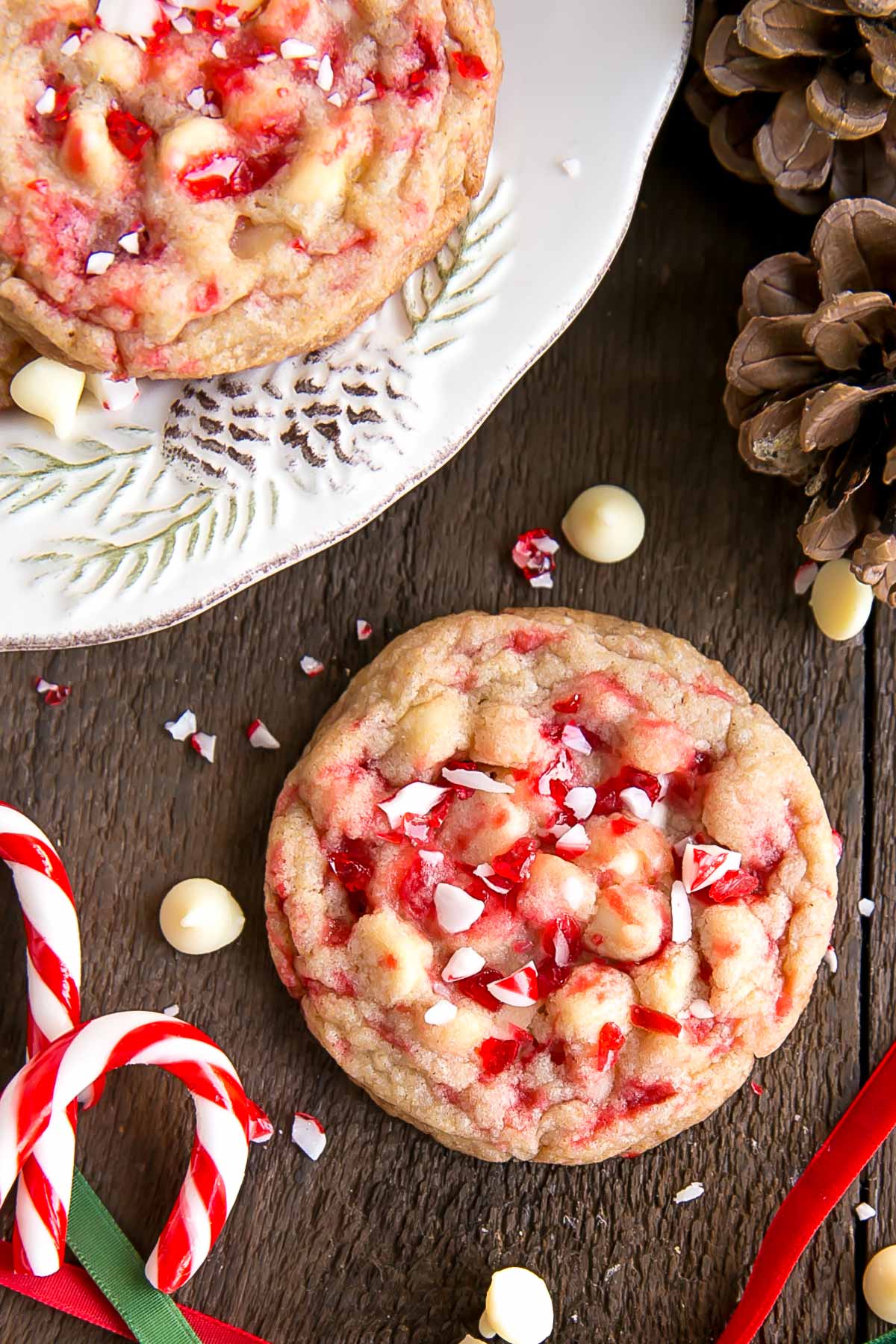 Ingredients
1 cup + 2 tbsp all-purpose flour
1/2 tsp sea salt
1/4 tsp baking soda
1/2 cup unsalted butter room temperature
1/2 cup light brown sugar packed
1/4 cup granulated sugar
1 large egg room temperature
1 tsp vanilla
1 cup white chocolate chips
1/2 cup crushed candy canes
Instructions
Preheat oven to 350F and line baking sheets with parchment or silicone mats.
In a small bowl, combine flour, baking soda, and salt. Set aside.
Beat butter and sugars with an electric mixer until pale and fluffy (approx. 3 mins).
Add egg and mix until fully combined. Add vanilla.
Reduce speed to low and add in flour mixture. Mix until just combined.
Add in crushed candy canes and chocolate chips and mix until just incorporated.
Using a medium cookie scoop (1 1/2 Tbsp), scoop cookies onto baking sheets. With floured hands, roll each one into a ball.
Bake for 10-12 mins until cookies are golden brown on the edges. Cool completely on baking sheets.
Christmas Candy Cane Cookies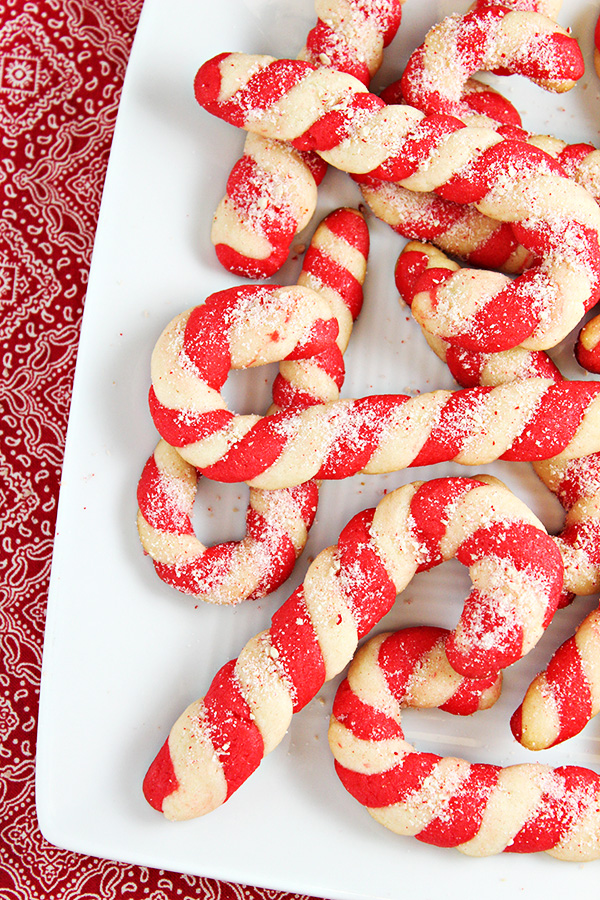 Ingredients
1 cup butter
1 cup sugar
1/4 cup powdered sugar
1 teaspoon vanilla extract
1 teaspoon peppermint extract
1 egg
2 1/2 cups all-purpose flour
1 teaspoon baking powder
1/2 teaspoon salt
Red food coloring gel
2 tablespoons finely crushed peppermint candies
2 tablespoons granulated sugar
Instructions
In a large bowl, beat together butter, both sugars, both extracts, and egg on low, just until combined. Stir in flour, baking powder, and salt.
Divide dough in half, making sure you have 2 equal portions. Add red food coloring gel to half of the dough until the desired color is reached. Wrap each portion of dough in plastic wrap and refrigerated for 3-4 hours.
In a small bowl, combine peppermint candy and 2 tablespoons sugar. Set aside.
Preheat oven to 350 degrees F.
To make a candy cane cookie, take 1 level teaspoon of each dough. Roll each teaspoon into a 5″ rope (use a ruler, if necessary). Place one red and one white rope next to each other and begin twisting the two colors together, while pressing ends together so that they won't unravel.
Place on an ungreased baking sheet, curving the top to one side to form the look of a candy cane. Bake for 8-10 minutes or until lightly browned. Immediately sprinkle cookies with the sugar/peppermint mixture. Movie cookies to a wire rack to finish cooling.
White Chocolate Truffles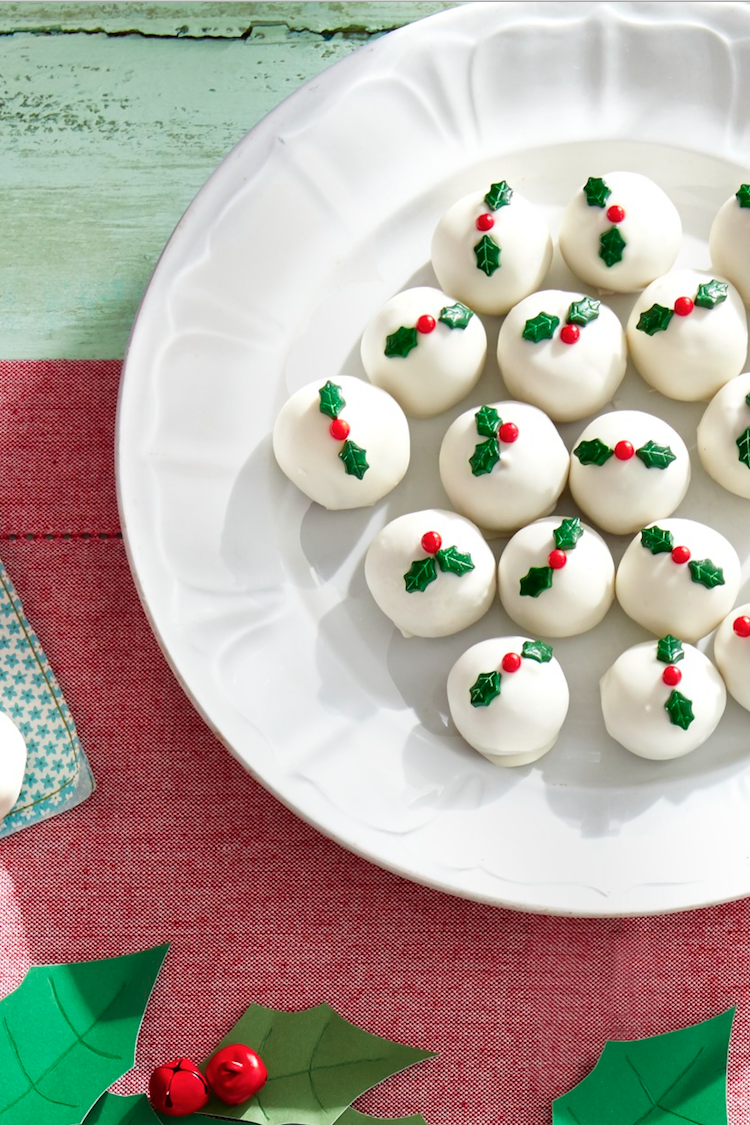 Ingredients
1/2 c. plus 9 tablespoons heavy cream, divided
1 (11-ounce) bag, plus 3 cups, white chocolate chips, divided
2 oz. cream cheese, at room temperature
32 Speculoos cookies (such as Biscoff), finely crushed (2 1/2 cups crumbs)
Holly sprinkles, for decorating
Instructions
Heat 1/2 cup cream in a medium saucepan over low heat until bubbles form around edges, 1 to 2 minutes; remove from heat. Add 11-ounce bag of chips and let sit 2 minutes; whisk until smooth. Whisk in cream cheese. Fold in cookie crumbs until combined. Transfer to a bowl and chill until firm, 2 hours or up to overnight.
Line a rimmed baking sheet with parchment paper. Roll mixture into tablespoon-sized balls; transfer to baking sheet. Freeze until firm, 35 to 40 minutes.
Microwave remaining 9 tablespoons cream and 3 cups chips in a microwave-safe bowl on high 1 minute. Whisk until smooth. Dip truffles in melted chocolate, tapping off excess, and place on a prepared baking sheet. Immediately place a holly sprinkle on top; let set.