It's pumpkin season! Yes, fall is finally here and we have just what you need to celebrate the season with these pumpkin recipes. This roundup is filled with dishes featuring the flavorful gourd. You and your family will love diving into a plate filled with pumpkin goodness, whether you're preparing it for breakfast, lunch, dinner or even for a drink. Not only are these recipes super tasty, but many of them are ridiculously easy to make too. It's time to get the pumpkin party started with these delicious dishes you'll be making all season long.
Pumpkin Protein Pancakes
Ingredients
2-3 tbsp butter, for frying
4 egg whites
1 cup pumpkin puree
2 cups vanilla protein powder
1 tsp pumpkin spice (or a mix of cinnamon, nutmeg and ginger)
1 tsp baking powder
Instructions
1- In a large bowl, mix all ingredients for pancakes together until just combined.
2- Heat butter in a large frying pan over medium heat. Add a small spoonful of pancake mixture to test, making sure skillet is hot enough to add pancake batter. Once bottom of tester pancake starts to form, flip and then remove from heat.
3- Add pancake batter by large ladle scoop, cooking four pancakes at a time and flipping once a bottom starts to form, about 5 minutes.
4- Freeze pancakes up to 2 months, reheating in microwave on high for 1 1/2 to 2 minutes or reheating in the toaster. Top with optional toppings and serve.
Pumpkin Muffins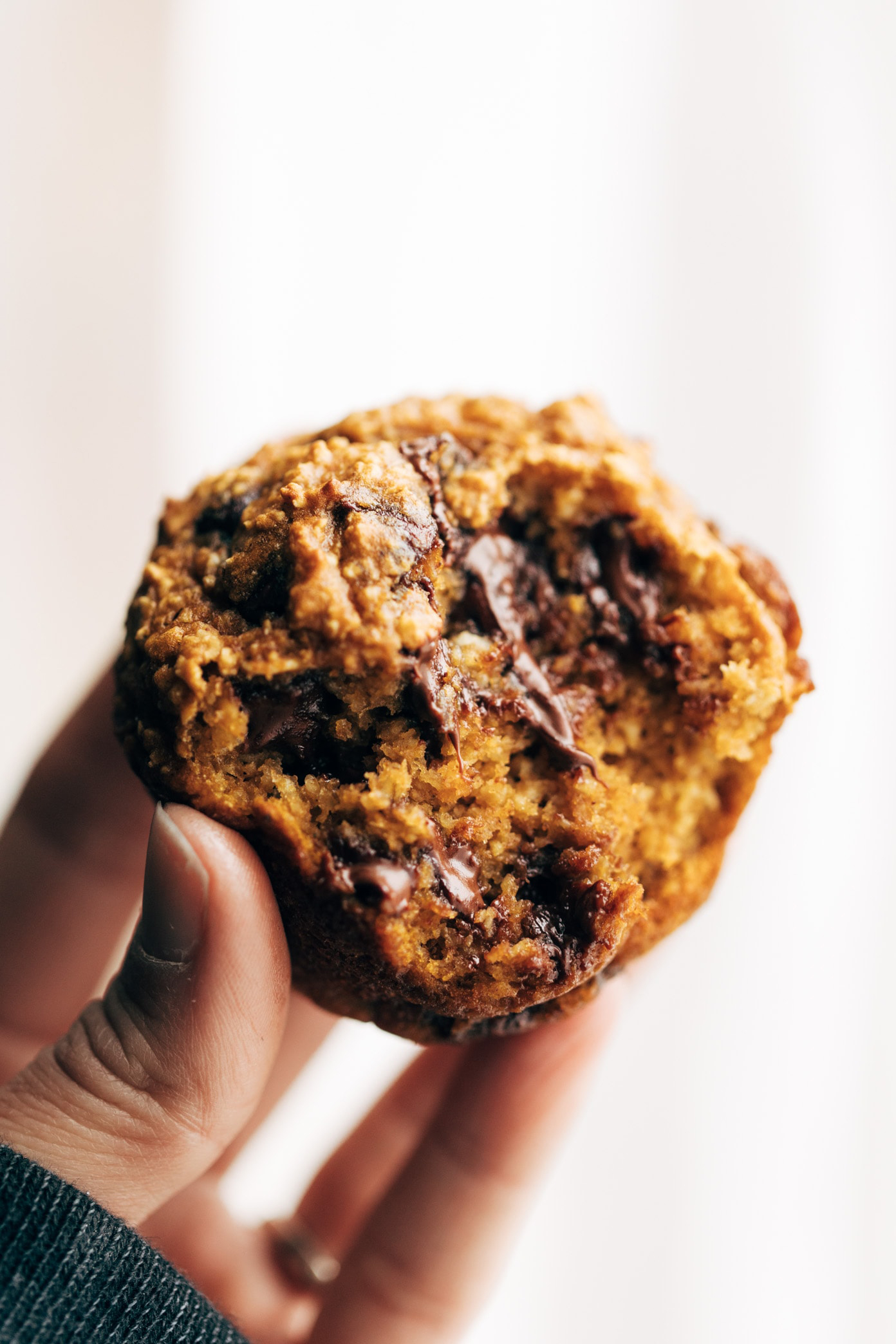 Ingredients
2 cups rolled oats
1 cup pumpkin puree
6 ounces plain Greek yogurt
1/2 cup real maple syrup
2 eggs
1 teaspoon baking soda
Pinch of cinnamon and salt
Chocolate chips (optional)
Instructions
1- Preheat oven to 375 degrees.
2- In a food processor or blender, pulse the oats for about ten seconds to get them mostly smooth.
3- Add all the rest of the ingredients with the oats and pulse until mixed (some pieces of oats may remain). Stir in chocolate chips if you want them.
4- Transfer to a greased muffin tin. Bake for 15-ish minutes. They're best warm, but good the next day, too.
Baked Parmesan Pumpkin Fries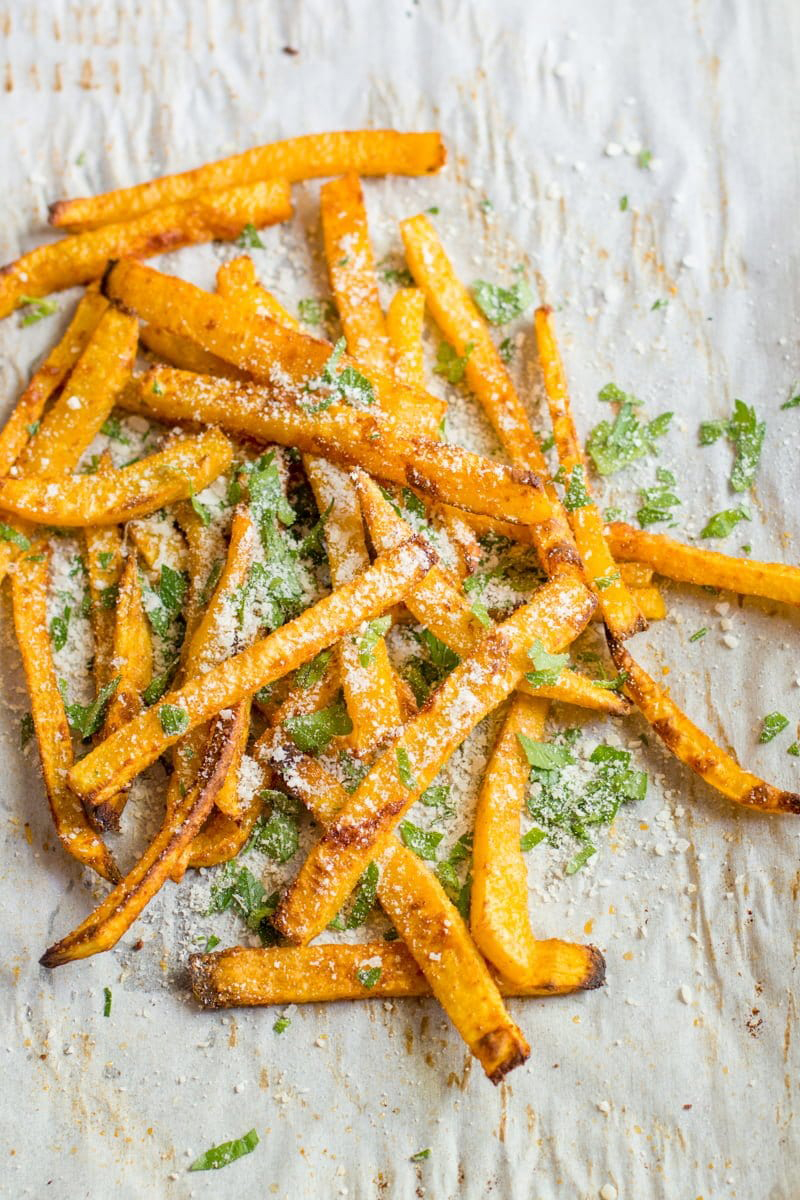 Ingredients
1 small pumpkin
2 teaspoons cornstarch
2 teaspoons olive oil
1 teaspoon paprika
1 teaspoon garlic powder
3 tablespoons grated Parmesan cheese
1/4 cup minced fresh parsley
1/2 teaspoon coarse sea salt
Instructions
1- Using a sharp knife, slice the pumpkin in half. Scoop out the seeds and pulp (reserve the seeds for roasting).
2- Slice the two ends off of each half of pumpkin. Then slice each half in half again. Using a sharp vegetable peeler, peel the pumpkin pieces. Then slice the peeled pieces into 1/4″ fries.
3- Place the pumpkin fries in a large bowl and cover with cold water. Let the fries soak for at least 30 minutes, but preferably overnight.
4- When fries are finished soaking, preheat the oven to 425°. Line two or more baking sheets with parchment paper. Set aside.
5- Drain the fries, and then pat dry with paper towels.
6- Fill a large zip-top bag with the dried fries, and then top with cornstarch. Close the bag and shake to cover the fries.
7- Place the fries in a large bowl, drizzle with the olive oil and then toss to coat with your hands. Sprinkle on the paprika and garlic powder and toss again until well-coated. Spread fries in a single layer on the prepared baking sheets.
8- Bake in preheated oven for 10-15 minutes, flipping once halfway through, until the fries are crisp and golden brown.
9- While the fries are baking, toss together the cheese, parsley and sea salt. As soon as the fries come out of the oven, sprinkle on the Parmesan mixture.
Pumpkin Risotto with Goat Cheese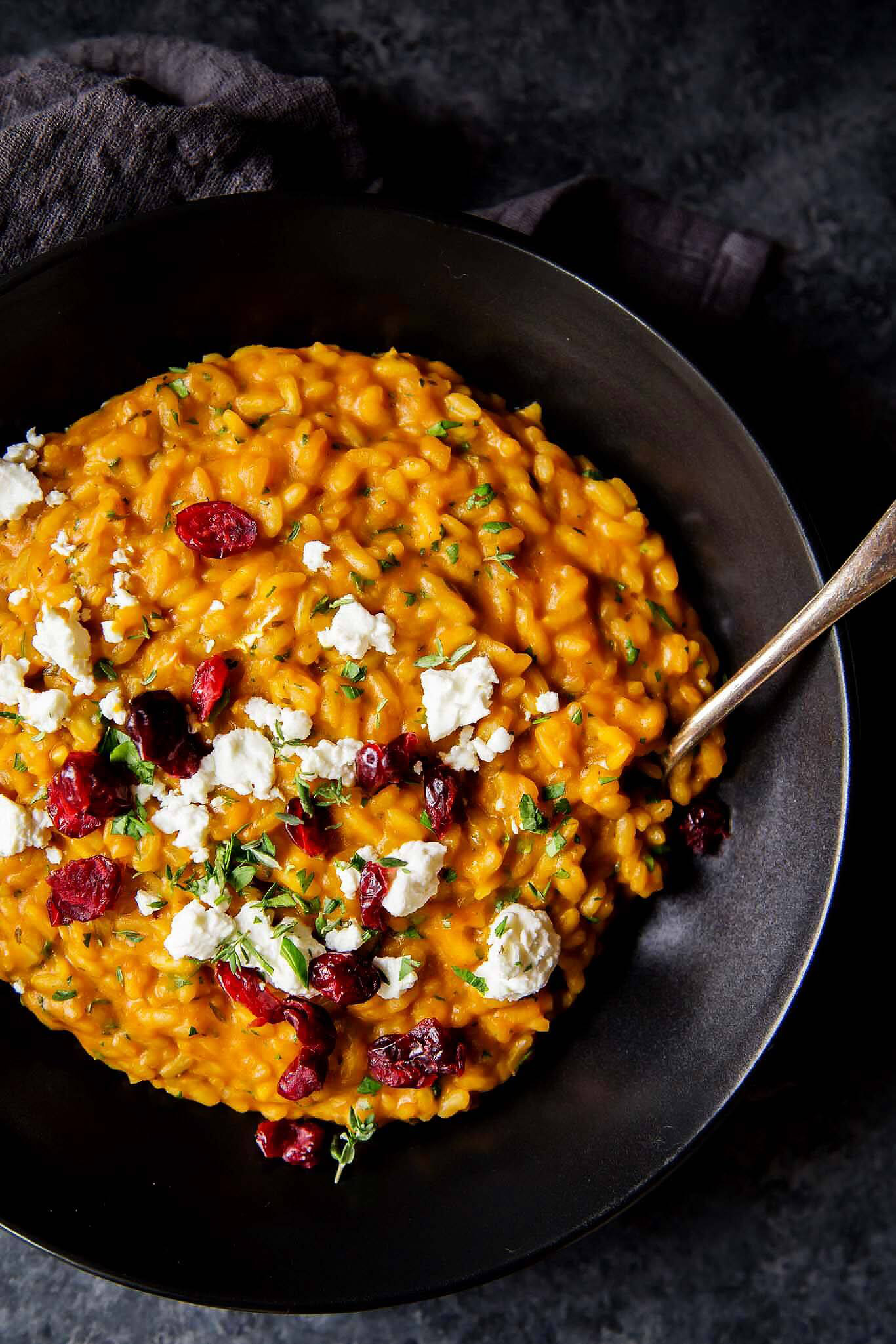 Ingredients
4 cups bone broth or vegetable stock
1 cup canned pumpkin puree
2 tablespoons unsalted butter
1 shallot minced
1 teaspoon kosher salt
1 teaspoon chopped fresh thyme
1 1/2 cups Arborio rice
1 teaspoon white wine vinegar
1/2 cup grated Parmesan cheese
1/4 cup chopped fresh flat-leaf parsley
1/4 teaspoon nutmeg
Fresh ground black pepper
1 cup crumbled goat cheese
1/2 cup dried cranberries
Instructions
1- In a medium saucepan, whisk together the stock and pumpkin over medium heat. Bring to a simmer and reduce the heat to low. Cover and keep warm.
2- Melt the butter in a large dutch oven or saucepan over medium heat. Once the foaming subsides, add the shallot and salt. Cook until softened, 2-3 minutes. Add the thyme and rice and cook for one minute longer.
3- Add the white wine vinegar and a ladle of warm stock and cook, stirring occasionally, until the liquid has evaporated. Add another ladle of stock, and continue cooking until evaporated again. Continue cooking, adding a ladle of stock at a time, and allowing to evaporate in between each addition. Cook until the rice is done, but has a bite to it, it should be creamy in texture, and will take about 20-25 minutes.
4- Mix in the parmesan, half of the parsley and nutmeg. Season to taste with salt and pepper. Top with the remaining parsley, goat cheese and dried cranberries.
Pumpkin Shepherd's Pie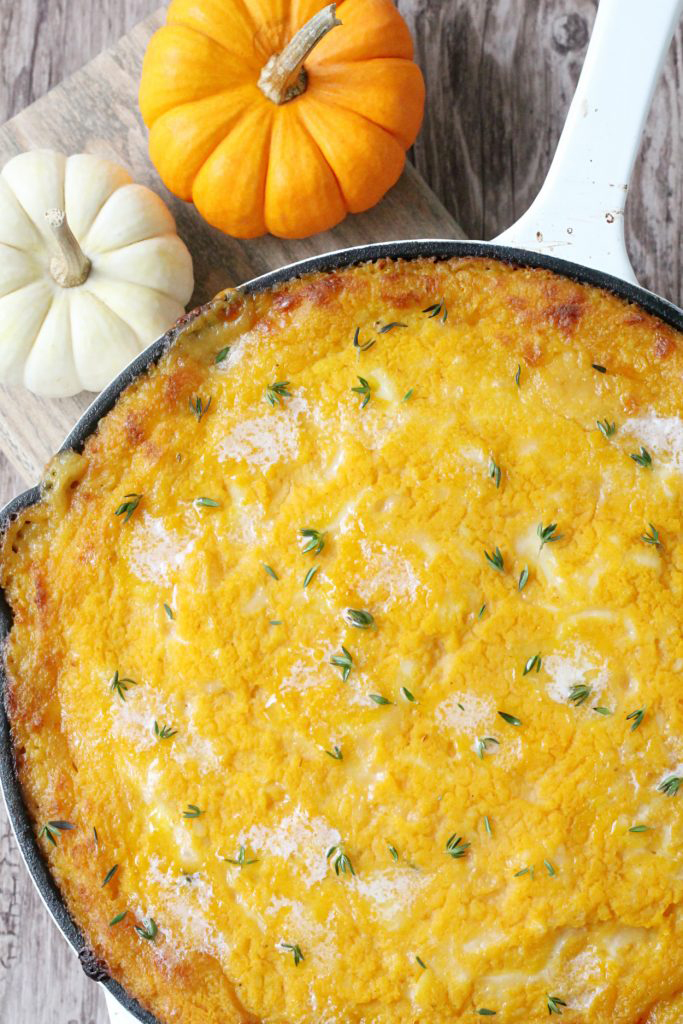 Ingredients
4 cups russet potatoes peeled and chopped
1 cup pumpkin puree
1 cup baby Swiss cheese shredded
1/2 cup milk or cream
6 tbsp butter divided
1 tsp salt
1 tsp fresh thyme
1/4 tsp nutmeg
3 slices bacon chopped
1/2 yellow (or sweet) onion chopped
2 cups fresh brussles sprouts stems removed and sliced
1 lb 99% fat free ground turkey
1 cup chicken or turkey broth
1/3 cup jellied cranberry sauce
2 tbsp all-purpose flour
1/2 tsp salt
Instructions
1- Preheat the oven to 400 degrees F.
2- In a large pot, cover the potatoes with cold water. Bring to a boil and reduce heat to simmer. Cook the potatoes until fork tender. Drain the potatoes and add the pumpkin puree, milk or cream, 4 tablespoons of butter and salt. Mash well. Stir in the shredded cheese, thyme and nutmeg and set aside.
3- Heat the remaining 2 tablespoons of butter in a cast iron skillet (12 inches in diameter) until melted. Add the bacon, onion and brussels sprouts. Cook over medium heat until bacon is browned, about 10 minutes. Add the turkey and salt. Cook, stirring often to break up the turkey. Once the turkey is cooked through stir in the broth and cranberry sauce and simmer for about 5 minutes. Stir in the flour and cook for an additional 2 minutes to thicken up the sauce.
4- Remove the skillet from the heat. Spread the pumpkin mashed potatoes evenly over the cooked turkey mixture or if you don't have a skillet for baking, transfer the filling to a 9×13 pyrex (or similar) baking dish. Top the filling with the pumpkin mashed potatoes.
5- Bake the shepherd's pie at 400 degrees for 35 – 40 minutes, then serve.
Pumpkin Bread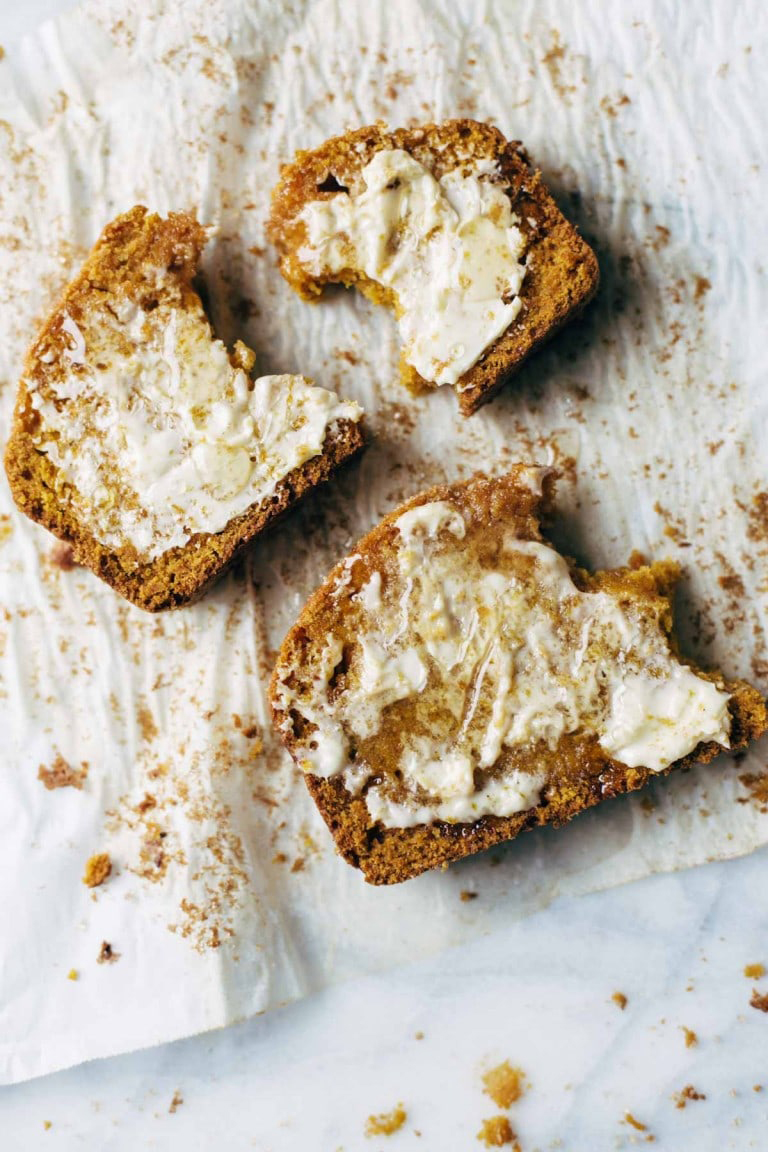 Ingredients
4 eggs
1/2 cup vegetable oil
1/2 cup olive oil
2 cups cane sugar
1 15-ounce can pumpkin (not pie filling – just regular pumpkin)
1/2 cup milk
1/4 cup water
3 1/2 cups all purpose flour
2 teaspoons baking soda
2 teaspoons salt
1 heaping teaspoon cinnamon
1/4 cup melted butter
1/4 cup turbinado raw cane sugar
Instructions
1- Preheat the oven to 350 degrees.
2- Whisk the eggs, oils and sugar together until smooth. Add the pumpkin, milk and water – whisk until smooth.
3- Stir in the flour, baking soda, salt and cinnamon.
4- Transfer batter to two 9x5inch loaf pans lined with parchment paper. Bake for 35 minutes. Remove from oven, brush with melted butter and sprinkle with turbinado sugar, and return to oven for another 5-10 minutes to set the sugar. The bread should be golden brown and firm to the touch when done and a toothpick inserted should come out clean. When in doubt, we would say err on the side of under-baking since it yields a most moist bread. The longer it bakes the more possibility you have that the bread will dry out.
5- Let cool slightly before slicing and serving. Store in the refrigerator.