Ditch Junk Food & Go Healthy
Eating healthy doesn't have to suck with these totally delicious recipes. Whether you love chicken, pasta or are gluten-free and vegetarian, these healthy recipes shake up your comfort food favourites by adding more veggies and swapping out cooking methods. We're sharing with you some of our favourite healthy recipes, try them out!
Chicken and Whole Wheat Spaghetti Recipe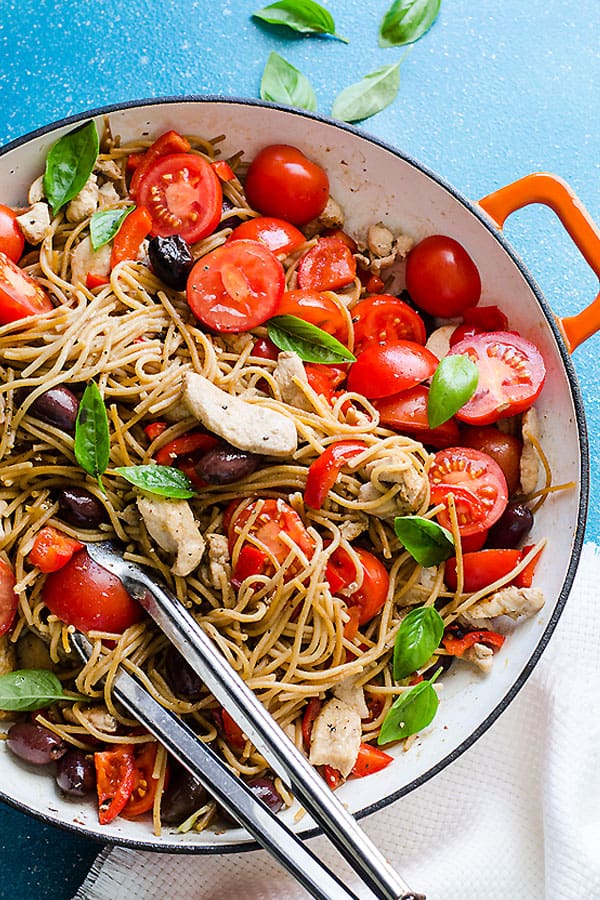 Ingredients
1 lb grape or cherry tomatoes, cut in halves
2 medium bell peppers, coarsely chopped
2 tbsp avocado or coconut oil
2 lbs boneless and skinless chicken breasts, thinly sliced
2 1/2 cups water or chicken stock
2 cups Kalamata olives, pitted
1 1/4 tsp salt
Ground black pepper to taste
2 bay leaves
12 oz whole wheat spaghetti
Handful of basil, chopped
Instructions
1- Preheat large deep skillet or a dutch oven on medium heat and swirl oil to coat. Add peppers and cook for 3-4 minutes, stirring occasionally. Transfer to a bowl with sliced tomatoes.
2- Return skillet to the stove on medium to high heat and add chicken. Cook for 5-7 minutes or until opaque, stirring occasionally. If any juices appear, don't drain. Add water or stock, olives, salt, pepper, bay leaves and gently stir. Take a bunch of spaghetti and snap in three adding to the skillet. Give a gentle stir to mix ingredients.
3- Cover and cook for 10 minutes. Remove lid, stir well softened spaghetti with the rest of the ingredients, cover and cook for 5 more minutes. Turn off heat and add previously cooked peppers, tomatoes and basil. Stir and serve hot.
Caprese Zoodles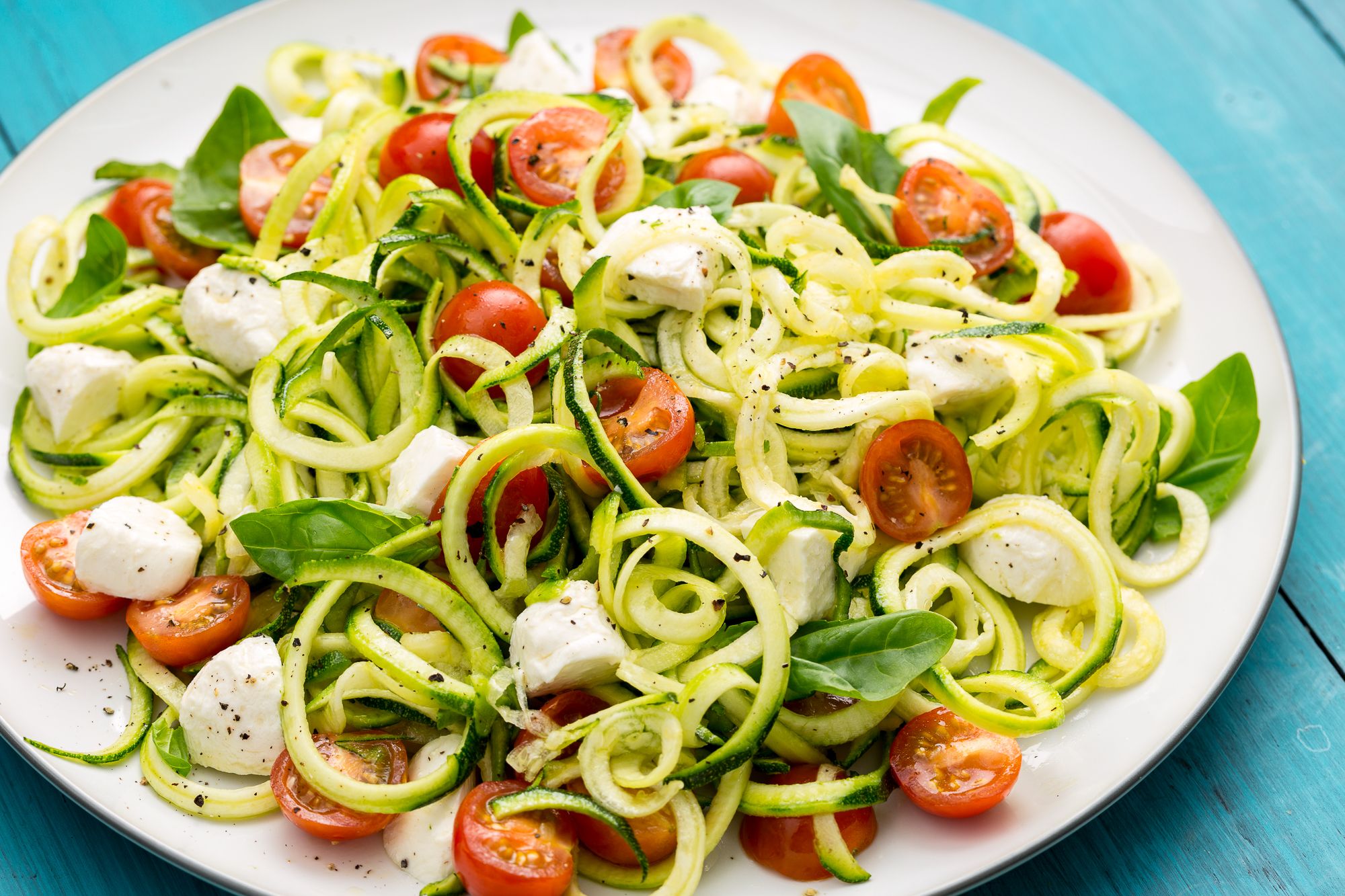 Ingredients
4 large zucchini
2 tbsp extra-virgin olive oil
kosher salt
Freshly ground black pepper
2 cup cherry tomatoes, halved
1 cup mozzarella balls, quartered if large
1/4 cup fresh basil leaves
2 tbsp balsamic vinegar
Instructions
1- Using a spiralizer, create zoodles out of zucchini.
2- Add zoodles to a large bowl, toss with olive oil and season with salt and pepper. Let marinate for 15 minutes.
3- Add tomatoes, mozzarella and basil to zoodles and toss until combined.
4- Drizzle with balsamic and serve.
Honey Garlic Salmon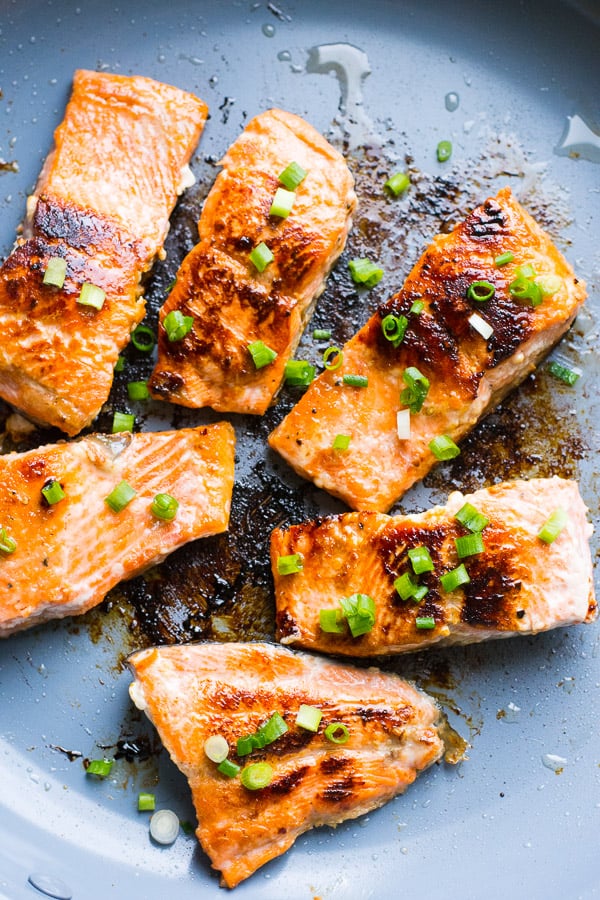 Ingredients
2 tbsp honey
1 tbsp lemon juice
2 – 3 large garlic cloves, grated
1/2 tsp salt
1/2 tsp ground black pepper
6 x 3 oz each salmon fillets, skin on/off
1 – 2 tsp avocado oil
2 green onions, finely chopped
Instructions
1- In a small bowl, whisk together honey, lemon juice, garlic, salt and pepper.
2- Place salmon fillets in a large resealable ziploc bag and pour marinade over. Squeeze as much air out as possible and seal the bag. Gently move fillets around inside the bag to make sure they are all evenly coated. Place flesh side down and let marinate 15 minutes.
3- Preheat large non-stick skillet on low to medium heat and add oil, making sure it coats the bottom of the skillet evenly. Place salmon fillets flesh side down leaving enough space in between them. Cover with a lid and cook for 3 minutes.
4- Remove the lid, cook another minute and flip over. Repeat: cover, cook for 3 minutes, remove the lid and cook for another minute. If your skillet is not large enough, cooking them in two batches. If you over crowd the skillet, cooking time increases by a few minutes for each step.
5- Serve hot garnished with green onions, alongside quinoa and steamed broccoli.
Tuscan Butter Roast Chicken
Ingredients
1 whole chicken
Kosher salt
Freshly ground black pepper
1 lb. baby potatoes, halved
1 large head broccoli, cut into florets
1 large red onion, cut into wedges
2 cup cherry tomatoes
2 tbsp extra-virgin olive oil
Pinch red pepper flakes
4 tbsp melted butter
3 cloves garlic, minced
1 tsp Italian seasoning
Spinach, for serving
1/4 cup thinly sliced basil
Instructions
1- Place a large skillet in the oven and preheat it to 450°. Pat the chicken dry with paper towels and season generously with salt and pepper. Let it sit at room temperature while the oven preheats and you prepare remaining ingredients.
2- In a large bowl, toss together potatoes, broccoli, red onion, cherry tomatoes and oil. Season with salt, pepper and a pinch of red pepper flakes.
3- In a small bowl, combine butter, garlic and Italian seasoning. Brush it all over the chicken.
4- Carefully remove the skillet from the oven and place the chicken in the centre, then scatter vegetables around. Bake until skin is crispy and golden and internal temperature of thigh registers 165°, about one hour. Let it rest for 15 minutes.
5- Serve chicken and vegetables over a bed of spinach. Spoon additional pan drippings over, if desired and top with basil.
Garlicky Lemon Mahi-Mahi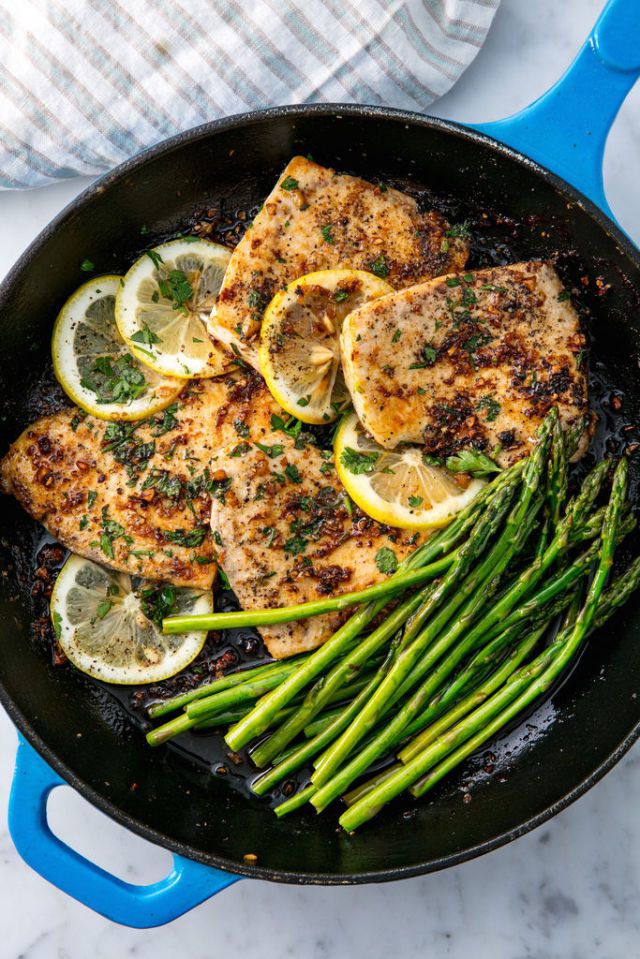 Ingredients
3 tbsp butter, divided
2 tbsp extra-virgin olive oil, divided
4 mahi-mahi fillets
Kosher salt
Freshly ground black pepper
1 lb asparagus
3 cloves garlic, minced
1/4 tsp crushed red pepper flakes
1 lemon, sliced
Zest and juice of 1 lemon
1 tbsp freshly chopped parsley, plus more for garnish
Instructions
1- In a large skillet over medium heat, melt 1 tablespoon each of butter and olive oil. Add mahi-mahi and season with salt and pepper. Cook until golden, 4 to 5 minutes per side. Transfer to a plate.
2- To skillet, add remaining 1 tablespoon of oil. Add asparagus and cook until tender, 2 to 4 minutes. Season with salt and pepper and transfer to a plate.
3- To skillet, add remaining 2 tablespoons of butter. Once melted, add garlic and red pepper flakes and cook until fragrant, 1 minute, then stir in lemon, zest, juice and parsley. Remove from heat, then return mahi-mahi and asparagus to skillet and spoon over sauce.
4- Garnish with more parsley before serving.
The Ultimate Fruit, Cheese & Nut Salad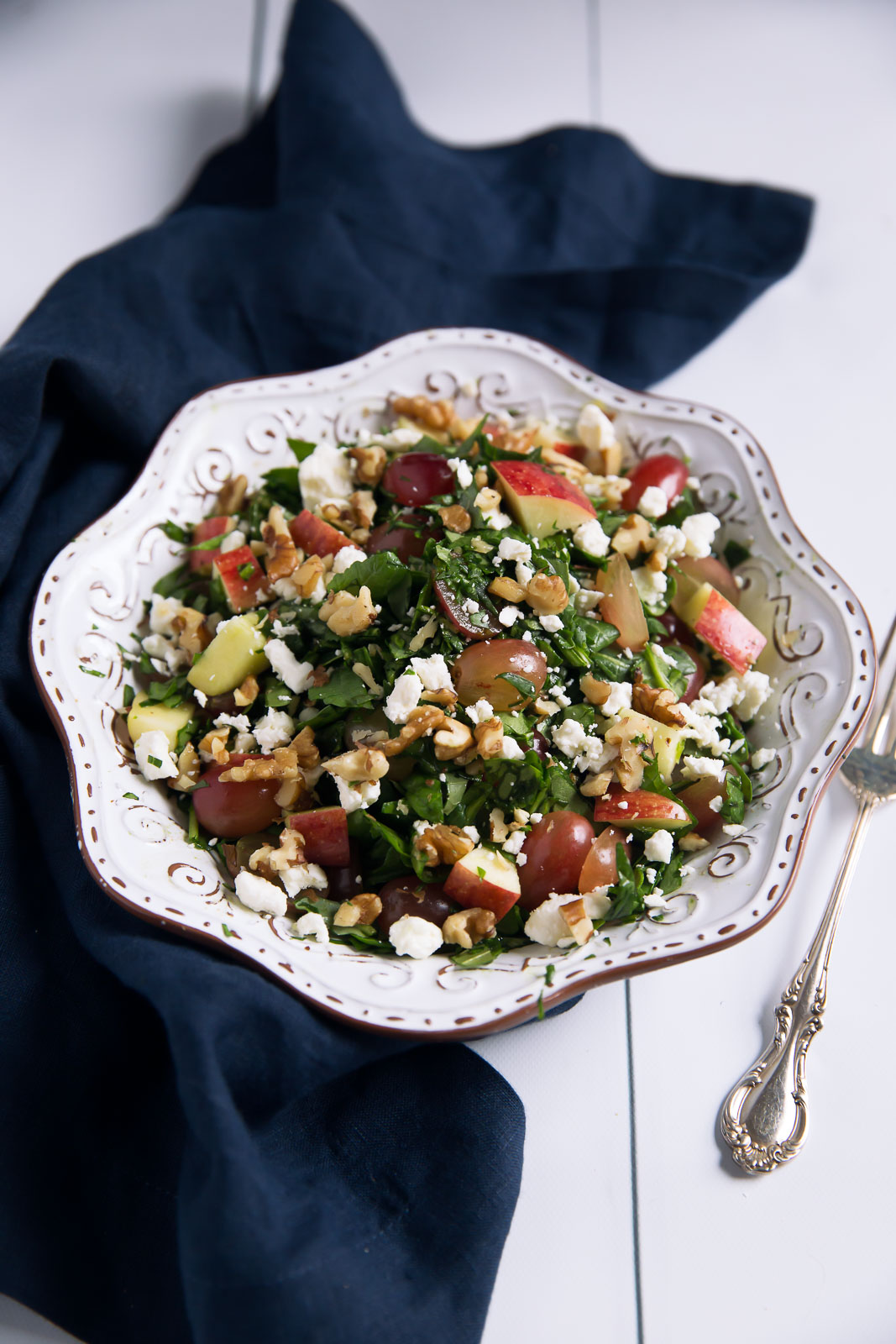 Ingredients
For the balsamic vinaigrette:
3 tbsp olive oil
1 tbsp balsamic vinegar
1 garlic clove, minced
1 tsp dijon mustard
Salt and pepper to taste
For the salad:
5 oz organic baby spinach or spring greens
2 small organic apples, cut into thin slices
1 cup grapes, sliced lengthwise
1/4 cup crumbled feta
1/2 cup toasted walnut halves
Instructions
1- In a small bowl, whisk olive oil, balsamic vinegar, garlic and dijon mustard together until smooth and well combined.
2- In a large bowl, toss lettuce, apples and grapes together. Pour dressing over the fruit and lettuce and toss again to combine. Top salad with feta crumbles and toasted walnuts. Serve immediately.