The opera singer Farrah El Dibany is the first Egyptian to win the Prix Lyrique de l'AROP, which is the best opera singer award awarded by the Paris Opera house. Born in Alexandria, Egypt, El Dibany joined the Arts Centre of the Library of Alexandria in 2005.
Five years later, she attended the Hanns-Eisler Academy of Music in Berlin. In 2016, she joined the Paris Opera troupe, becoming the first Egyptian national to ever join the prestigious academy. .The young singer won a number of other awards, including a prize at the 2017 Kammeroper Schloss Rheinsberg Festival and the Wagner Stiftung Prize in 2018. Now, the Egyptian mezzo-soprano is a jury member for the German music competition 'Jugend Musiziert,' for the national round of the Eastern Mediterranean region.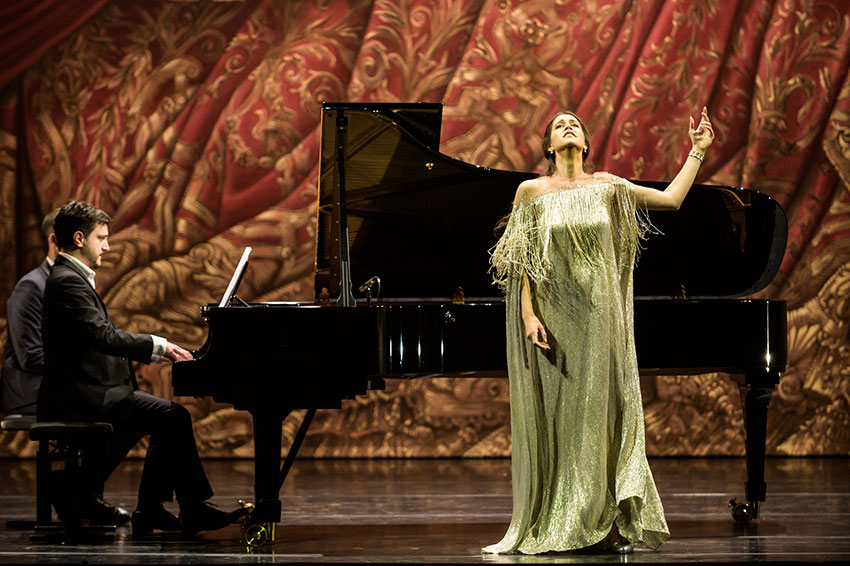 What song is your top favorite that you enjoy preforming the most?
If you're talking about opera, then it's Carmen by Bizet. If you're talking about other songs, then It's Bambino by Dalida. It has a special connotation for me because my parents used to listen to Dalida and my grandmother used to call my dad bambino, then his nickname turned to Bino from this song.
How was your experience shooting a trailer at National Paris Opera house for Devialet?
It was an amazing experience, something that happens once in a lifetime because it's very rare that you find something shot at the opera of Paris. We've shot in spaces that nobody enters, for example nobody is allowed to be on the rooftop, but I was walking there at sunrise. It's amazing to just experience this opera, this palace at this time of the day. We also shot at the basement, it was very interesting. I felt special; it was very touching like I was driven back in time like I was in a different era. It was very professional and very amusing. It was two days of shooting we started at 12 am and we finished the next day at noon, so it was very exhausting but very exciting as well.
Other than opera, what's your favourite genre?
I like oldies; I'm a bit of an 'old is gold' person. I listen to a lot of oldies like
Dalida, Aznavour, Frank Sinatra and Dean Martin. I grew up listening to them and I love them till now. And for sure, I listen to Abdel Halim Hafez, Shadia and Fairouz. I listen to all kinds of music; I even listen to Latin music, French music and pop music like Christina Aguilera and Whitney Houston, but I listen more to oldies.
Who did you look up to growing up?
I've always looked up to my parents. They are always inspiring me till now. I was indirectly affected by Dalida. I was really inspired by her, still I'm. I'm addicted to black and white movies. You see, I'm a bit of a nostalgic person. I grew up watching Soad Hosny, she's a multi-talented woman. I was inspired by actors: the Egyptian ones, of course, and the American ones like Catherine Zeta-Jones, Meg Rayan and, of course, the amazing Julia Roberts.
For people who don't like opera, is there a particular album or show that you'd recommend that might change their minds?
Yes, Carmen. If someone doesn't like opera, the minute you tell them listen to Habanera of the opera Carmen, I think they'll definitely recognize it and would definitely be interested in listening to the rest of the opera. It's very well-known, the most played opera in the world and people love it.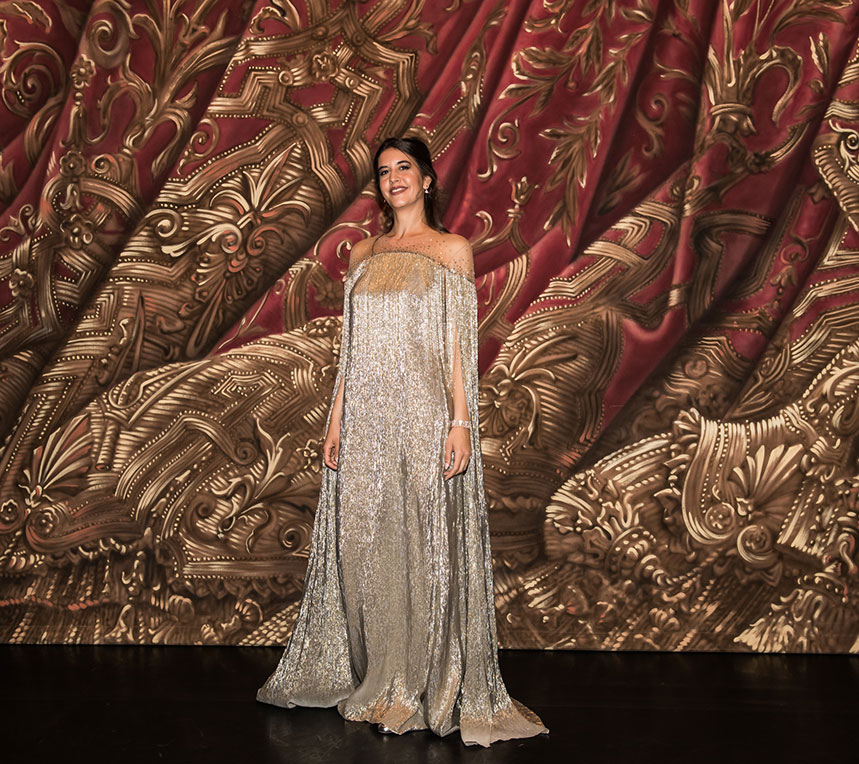 Have you ever had an on-stage catastrophe?
Of course, that's very normal. I got hiccups and I had to sing which is a catastrophe because you need to hold it and sing and it disturbs the singing the whole time. Another thing was when my toe broke! Someone literary crushed my toe on stage while we're singing. I felt the pain, but I didn't stop, I didn't even imagine it was broken and I continued as if nothing happened. Something that is very common is when I want to sneeze on stage and I have to hold it in because everybody will notice. These moments you learn how to deal with afterwards, but sometimes they happen unexpectedly and usually the audience don't really notice these things.
What's your secret power?
I'm a multi-tasker. I can text and write two different things at the same time.
And I can pick up languages very easily. I spent three weeks in Moscow and I was already understanding Russian and speaking a bit.
What are your future plans?
First I'd like to focus on Egypt the coming year, so I'd like to perform more in Egypt, do more concerts and be more present. I have concerts in France and in Germany. I'd like to sing some roles like Amneris of Opera Aida. I'd like to perform the role of Dalilah of Samson and Dalilah worldwide, but that's far future. I'd like to perform Carmen more & more worldwide.
Do you have any hidden talents?
I love to act and playing with the camera as well. And I think I'm a good cook. I don't follow any recipes; I just do my own recipes. I have kind of a sense of what use what to add. And I love that I can do that.
How do you spend your free time?
I love to go to the beach. It's the place I love the most The Mediterranean. Just sleeping in the sun doing nothing but empting my head listening to the waves. So whenever I have time I do that. I also like to write a lot. I write my thoughts, Or random things. Also I try to do some sports. I actually was an athlete, I used to play tennis not professionally but hardcore tennis.
And what's your favorite destination?
Mediterranean Sea specially Egypt. Sidi Abdel Rahman, Ghazala and SidiHeniesh. Then comes Greece.
If you didn't become an opera singer what would have been your second best career choice?
Architecture. I studied architecture in Berlin. I love architecture, I think it's very creative and I think it is the mother of all arts.
Tell us a secret indulgence or a guilty pleasure of Farrah that no one know of?
I always do a ritual. At certain times of the day I love watching black and white movies and eating burrito. And I love eating Nutella from the jar. I actually have phases of things I like to eat while watching movies, I had the Nutella phase, fruit phase, and burrito phase. I love chocolate so much and I love eating it slowly to enjoy it. I always have chocolate in my bag.
Who inspires you the most?
For me it's not about who it's about what. So what inspires me the most is nature. I get a lot of strength and a lot of inspiration and I get more in touch with myself with my own thoughts and feelings from nature.
What's your daily routine like?
I wake up but not too early because I'm not a morning person, I stay in bed a bit and check my newsfeed on Instagram and Facebook. Then I have breakfast it's my favourite meal of the day. And prefer Egyptian Breakfast Fool, Falafel, Cheese with tomato and eggs. I always like to watch a movie while having breakfast. Then I warm up my voice. I do some exercises. Then I go to work. Then I go home and cook or have lunch at work. And then I relax a bit or send some emails or go out and see friends it depends but usually I end my day watching a movie or a series and I usually eat fruits while doing that then I go to bed go through my phone again and go to sleep.