As summer comes, everyone is wondering where to go, which beach is the best, and where to go to have fun. With its beautiful weather and captivating landscapes, Sahel has become one of the hottest spots for most Egyptians to go to for a vacation. Summer now means SAHEL! And because you may want to get a property in Sahel to make it easier for you and your family, here are some of Sahel's most exclusive, luxurious, and happening beachfront property resorts.
Fouka Bay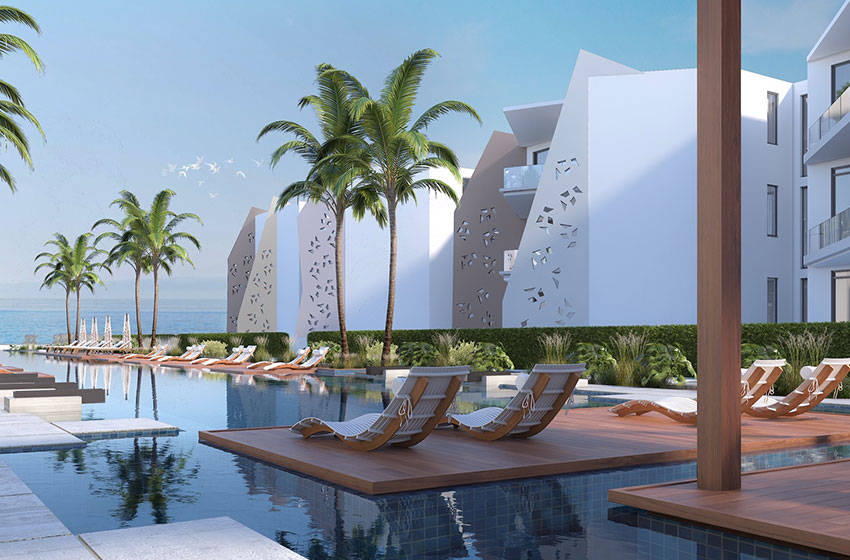 Company: Tatweer Misr
Hotline: 16094
Wake up to a joyous mosaic of 12 island clusters, beckoning paradise-surroundings; fringed by 7 km of white sandy beaches, and soaked in Crystal Lagoons. Expertly conceived by Tatweer Misr Developments, and world renowned Italian architects Gianluca Peluffo and Partners, Fouka Bay is the place to socialize, relax and repose, as you enjoy a unique profusion of tropical island life. Nestled in sublime water surroundings in every direction to ensure that every home is a waterfront home. The development brings to fruition a breakthrough vision of beachfront simplicity, and unparalleled exclusivity, inviting residents to experience a front-row seat onto Ras El Hekma's virgin coastline.
Gaia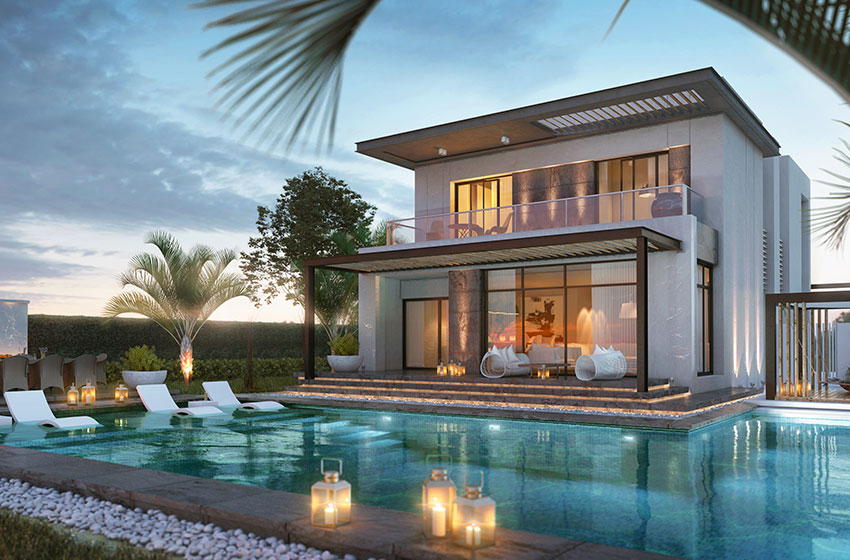 Company: Al Ahly Group
Hotline: 16033
GAIA is an upscale resort enveloped by the vibrant community of the North Coast, located on km 194 Alexandria/Matrouh road. GAIA is a destination for ultimate luxury within a beach resort covering a vast area of 279 acres boasting a 550-meter beach-front view, 20000 meters of swimmable water lagoons, with a total of 2740 units in an assortment of sizes; ranging from 120 m2 to 284 m2. The resort offers a variety of home styles that includes stand-alone villas, attached twin houses, duplexes, chalets and cabanas; providing ultimate luxury within a beach resort. The harmonious blend of contemporary architecture within an Arabian atmosphere aims at creating a healing environment that motivates, inspires and nurtures both the body and soul through its line-up of facilities; including recreational areas, walking and cycling tracks, kids' area, spa and gym.
Marassi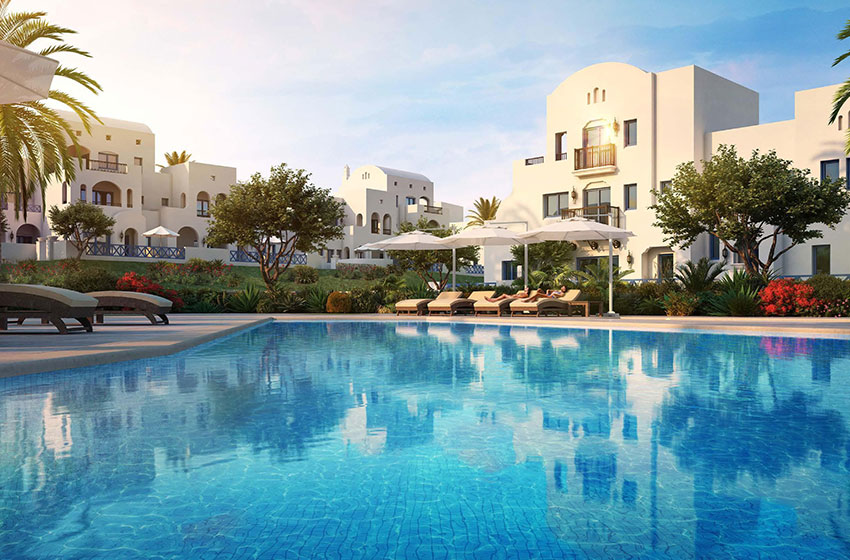 Company: Emaar
Hotline: 16116
Indulgence transcends from its shores across its lavish residences and 3,000 hotel keys, creating a lifestyle of sheer pleasure for every holiday seeker. Marassi has a number of outstanding features that make it a prized resort development, including one of the region's largest marinas and signature hotels and residences. Overlooking the mesmerizing turquoise waters and ideally situated along the Alamein coastline, Marassi harbours within it an enigmatic community with neighbourhoods inspired by six different Mediterranean lifestyles including Egypt, Morocco, Tunisia, Greece, Spain, and Italy. Marassi has well established itself as a world-class tourism, leisure, and golfing holiday destination.
Marseilia Beach 4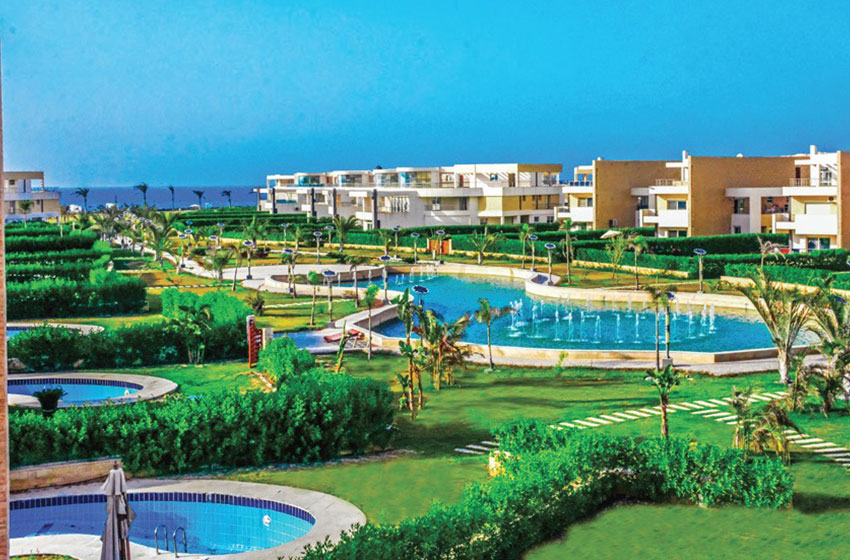 Company: Marseilia Real Estate Investment
Hotline: 19071
In a unique and distinguished location in Sidi Abd El Rahman one of the most brilliant and beautiful landscapes in Egypt, comes the latest addition to Marseilia's group of beach resorts, Marseilia Beach 4. Among the incredible nature and tremendous landscape, Marseilia has risen to the challenge of keep the purity of such amazing nature without affecting it by adding beautiful construction and simplistic modern building in order to create the perfect harmony between nature and the artificial. Beach 4 is spread over 130 acres of beachfront land and is easily accessible from Borg El Arab and El Alamein airports.
Bo Islands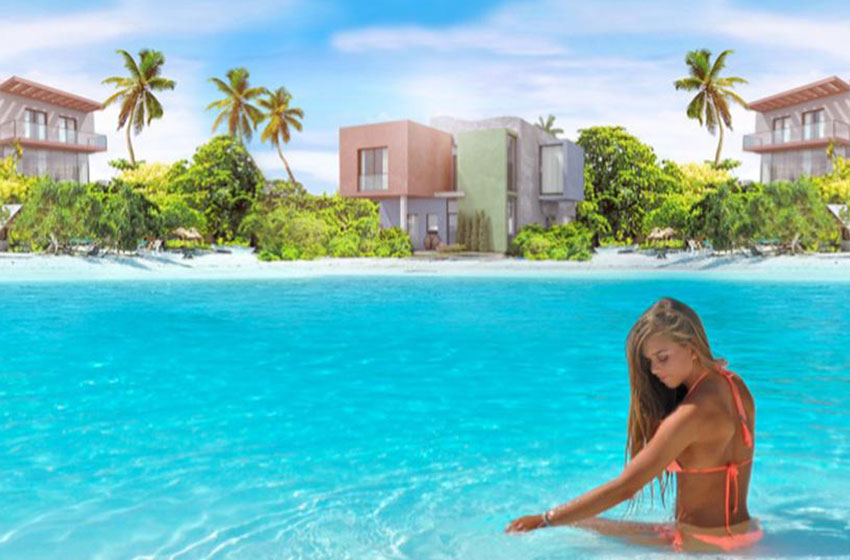 Company: Maxim Group
Hotline: 19249
You'll find a range of activities to enhance your time at this exclusive resort, Bo Islands is situated at the very heart of Sidi Abdel Rahman Bay. Generous sports and leisure facilities, varied dining and retail amenities, two luxury hotels, a health and beauty spa, an environment-friendly tram service and a pedestrian-friendly network of paths and walkways have all been created to complement your water front experience. Inspired by the Bohemian architecture concept with eco-friendly features, every detail has been carefully considered and designed to give you and your family an extraordinary lifestyle. Bo Islands offers an array of property types, ranging from luxurious stand-alone villas to cozy chalets. The master plan is uniquely designed by the internationally renowned architects and master planners, AECOM and HCP, where each property is on the waterfront.
La Vista Cascada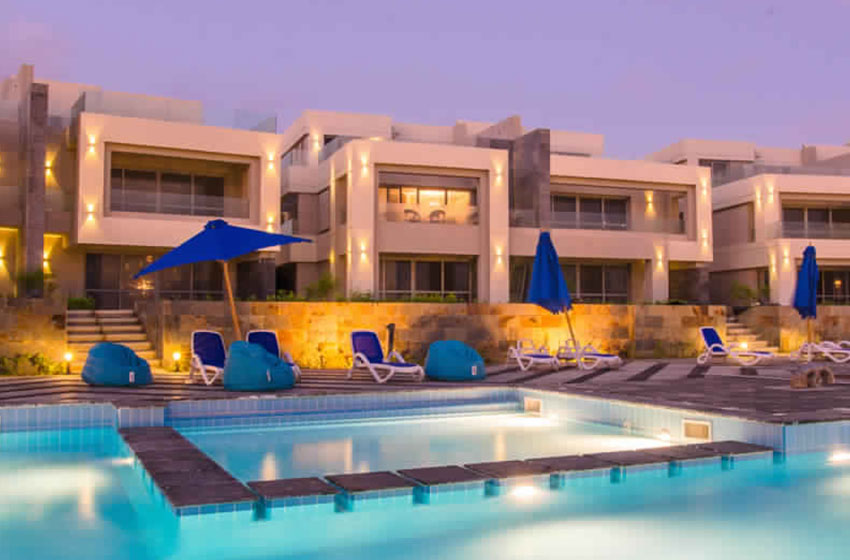 Company: La Vista Developments
Hotline: 16063
Adhering to the La Vista's philosophy of luxury, exclusivity, and comfort, La Vista Cascada's rich green landscaping has been carefully planned and developed to make summer holidays fulfilling, peaceful, and rejuvenating. Sitting along the soft sandy beach of the stunning Mediterranean, located at Km 130 on the Alexandira-Matrouh road and the pristine waters of Sidi Abdel Rahman, La Vista Cascada boasts a sprawling beachfront, features geometric contemporary architectural design seen in the residences, pools, and landscaping. Residents can enjoy several swimming pools, waterfalls, beach entertainment, commercial venues, medical services, as well as year-round compound maintenance and security. La Vista Cascada is comprised of stand-alone villas and chalets that form five rows arranged in a descending step formation towards the sea. 
White Bay Sidi Heneish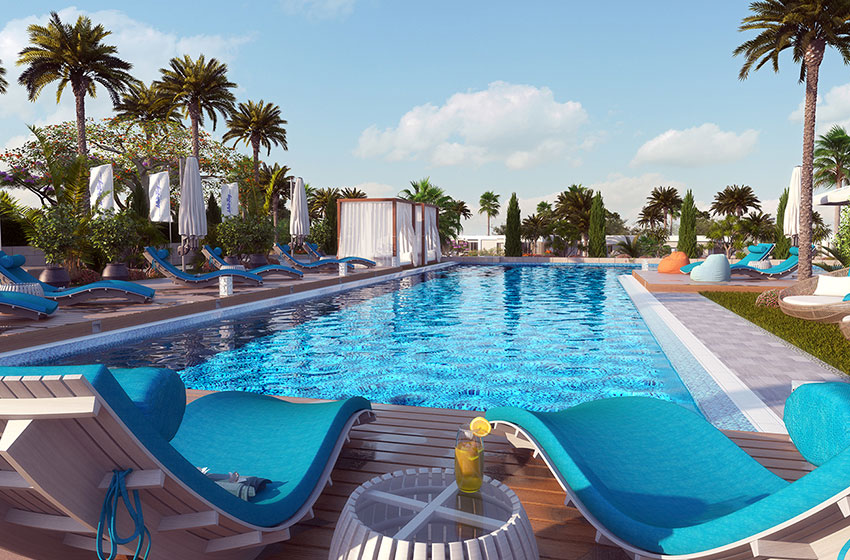 Company: White Bay Sidi Heneish
Hotline: 19164
Sidi Heneish has always been Sahel's best kept secret – a serenely beautiful destination for a lucky few. Today, thanks to the new Fuka road and nearby international airports, Sidi Heneish has evolved; it's centrally located, easily accessible, and full of life at White Bay. To create the perfect fusion of green and blue, White Bay has partnered with SITE's International, the world-wide award winning landscaping consultant, to ensure the best outcomes. Not only will you enjoy Sidi Heneish's gasping beauty, you will also enjoy the 360 degrees Crystal Lagoon, planted at the heart of White Bay, giving every unit a brilliant view. Be it a standalone villa, twin or town house, junior or superior chalet or their signature sky villa, each of their units is a stunning and spacious retreat for spending your summer in Sahel.
Telal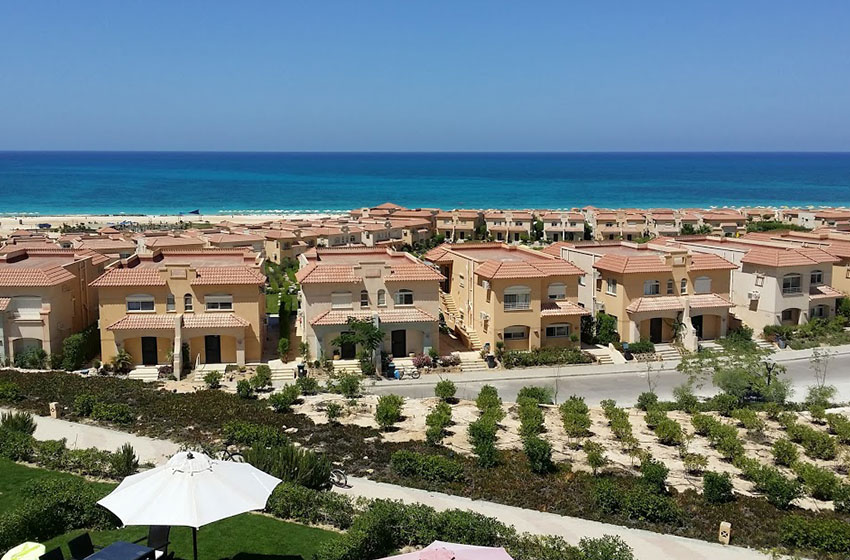 Company: Rooya
Hotline: 16466
Nestled within an extension of Egypt's Western Desert and the alluring Mediterranean Sea, Telal provides luxury living in the arms of nature. Lying on a million m² area, Telal El Alamein consists of more than 1000 luxurious villas & chalets, enjoying a 1.5 km beachfront. Brilliant architecture has been used to create carefully studied living solutions, taking into consideration every aspect of daily and holiday life, ensuring your Sahel vacation is just as you dreamed. Telal offers a wide range of facilities that go hand-in-hand and with its community desires. Telal is a beach destination created in harmony with its surrounding natural environment.
Emirates Heights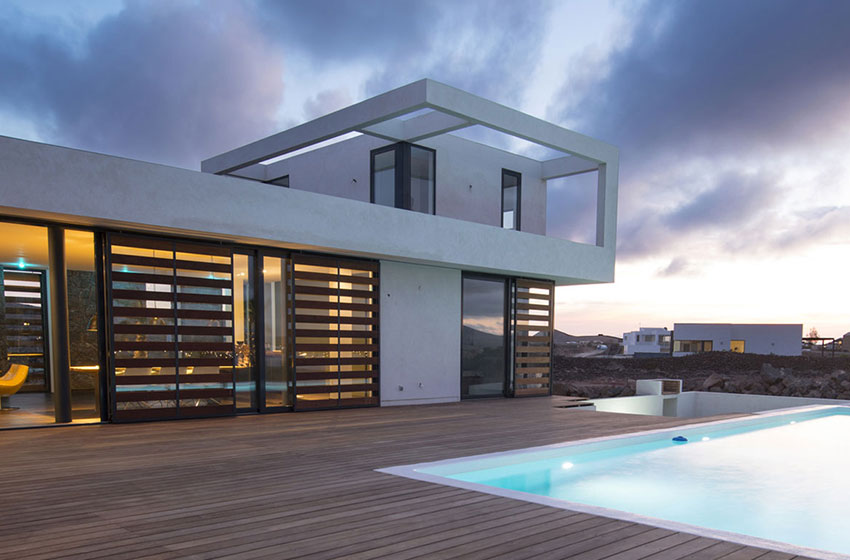 Company: Yafa Mac for Touristic Development
Hotline: 16448
Emirates Heights has been aesthetically designed to articulate a unique living experience. Nestled in a breath-taking spot on the North Coast's pristine shoreline, the private beach is ideal for honeymooners and oiled-up loungers wanting to relax, sunbathe or simply sip on a refreshing cocktail while enjoying a good read. For the more adventurous, fun-packed water activities such as sailing, snorkelling, wake boarding, and water skiing are an exclusive guarantee for good times. The beach provides unparalleled amenities, as well as kids' activities, ensuring fun in the sun for everyone. Boasting a variety of contemporary housing options combining beachfront simplicity with ultimate elegance, the project spoils residents for choice with its colourful array of leisure and entertainment facilities offered at every doorstep. Home to the North Coast's largest Aqua Park, two world-class hotels, a bustling marina and a premium Spa, Emirates Heights guarantees a daily dose of fun for everyone. 
http://www.emiratesheights.com/
Jefaira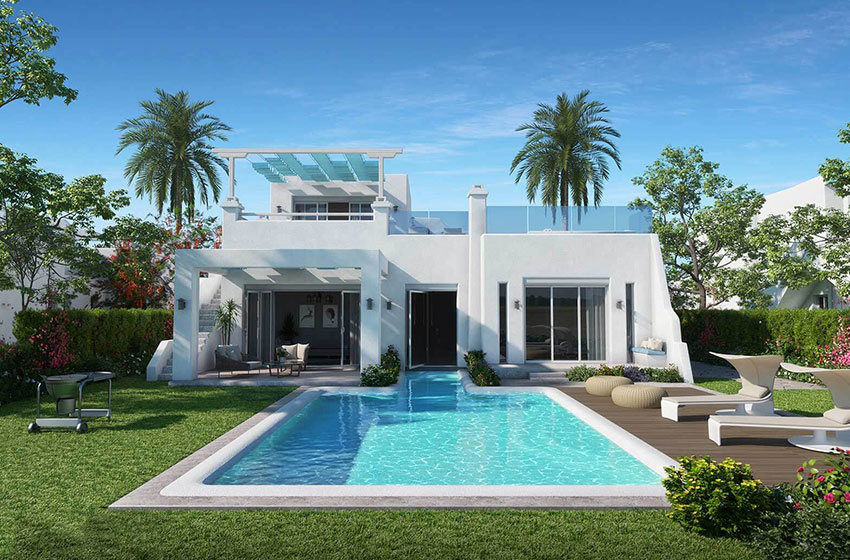 Company: Inertia
Hotline: 19655
Visualise a Mediterranean escape that you would never have to leave, a blissful getaway that can become a lifestyle, a home. Jefaira is stretched over 5.5 million square metres that overlook the enigmatic shores of the Mediterranean on the Egyptian North Coast. Every unit within Jefaira has an access to the Aeolian salty sea breeze driving between the wide causeways leading to the promenade and marina where eyes will meet the endless deep azure of 3.6 km of enchanting Mediterranean coast. Days in Jefaira can be spent walking placidly along its shores or invested in a myriad of water activities. Residences in Jefaira are inspired by the Mediterranean islands' architecture, that aim to merge visual aesthetics with their natural surroundings. 
Kai Sahel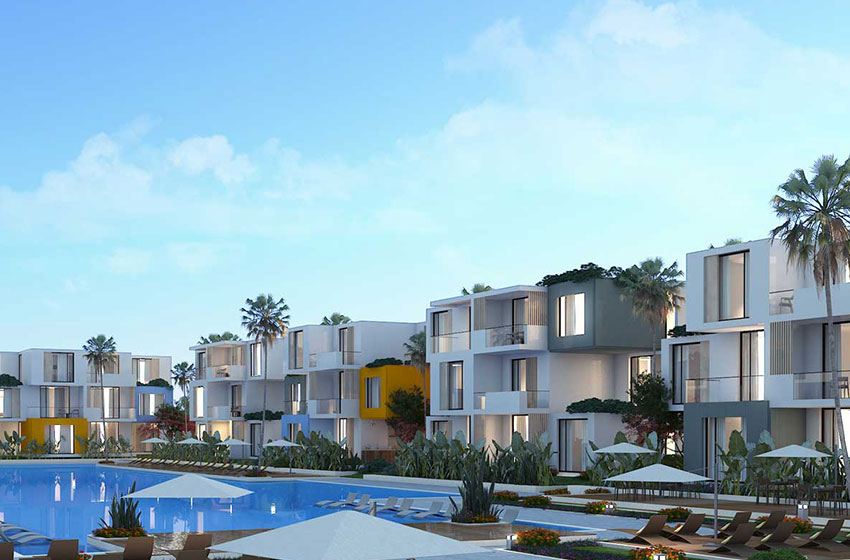 Company: MISR Italia Properties
Hotline: 16519
The Kai lifestyle has a unique blend of elegance, comfort, and peace of mind. It caters to the needs and interests of all family members and serves as the perfect escape. Over an area of 207 feddans, Kai Sahel offers a rich experience and breath-taking scenery. It provides the comfort of the getaway and help you recover and restore your senses in this brilliantly designed project where 100% of the units have a water view, whether lagoon, spring, lake, pool, or sea-view. Kai Sahel is divided into 25% chalets and 75% Villas, and they have Komo culture hub, sports arena, hele water chalets, Eden lagoons, sensations park, Makai Sea-front villas, a hotel, a pier, serenity swimmable lagoons.