The Sensational Sculptor
Mai Abdullah, a young Egyptian 'Ostraka' award winner, has mastered the art of sculpting statues, following in the footsteps of classical artists. With numerous awards won before graduating from art school, she's already been certified as a professional and now has many of her projects showcased in locally prominent art galleries. The contemporary artist shares with us her experience in the field and talks about her personal thoughts and motives.
When and how did you become interested in art?
My interest in art flourished since childhood. It was more of a subconscious intuitive mission than a growing interest. I taught myself how to paint and draw, and that's when it had all begun.
Who are the artists you get inspired by?
The list here is endless, since inspiration comes from several directions. However, I could think of some remarkable Egyptian artists that I personally look up to. For instance, there's Dr. Mohamed Galal, my professor who guided me throughout my graduation project. There's Adam Henein, one of the pioneers in abstract sculpture in Egypt, as well as the late Abdelhady El Weshahy and Gamal El Segeiny, who tutored generations of contemporary sculptors.
Tell us about the awards you have received.
Locally, I won first prize in 'The Week of Egyptian Girls' competition and the second prize in the 'Innovation 5' contest. Other than that, Minya University has granted me a professional's certificate and put up one of my sculptures in the 'Modern Art Museum', which has a splendid collection of artworks by the greatest artists worldwide, and I'm the youngest among them. This made me so happy and proud of myself! I received many other awards in several competitions. I participated in various galleries as well including the 'Suez Canal University Gallery', and 'Salon El-Shabab'. My most notable award was Ostraka Symposium's prize for the best graduation project locally among all universities specialized in art. I will be participating in its upcoming round, which will be located in Sharm El Sheikh.
Which artistic project are you most proud of?
I love and enjoy creating all of my projects, so that's kind of a difficult question. I engage with every sculpture I make; however, if I had to pick a favourite, it would be my graduation project because it demanded extra efforts and hard work that lasted over three months.  It's also worth noting I'm in love with the pieces 'Abdel Fatah Al Kasri' and 'Zizi'.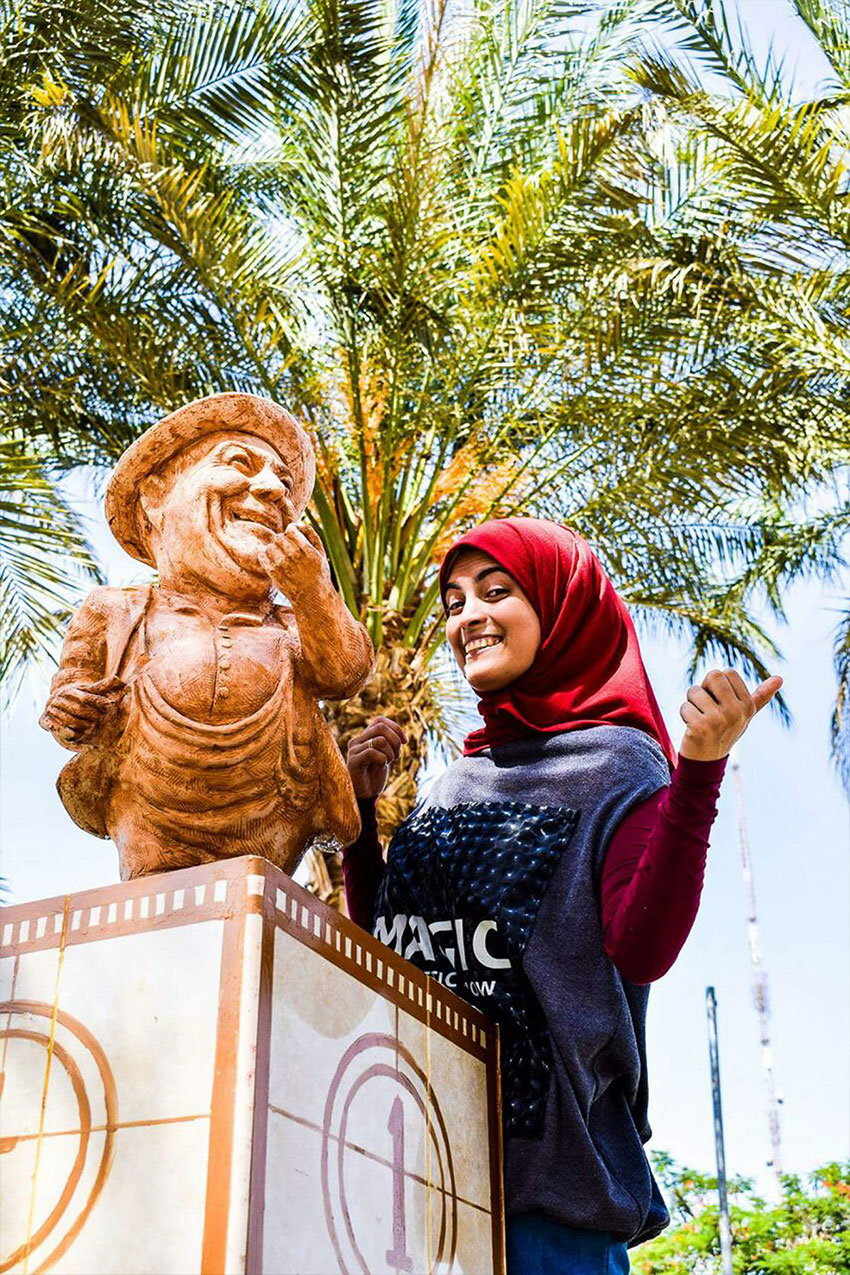 Have you been facing any obstacles that hindered your way to success so far?
Thankfully, I've been strong enough to face any obstacles and challenges that were thrown my way. I proved myself, and specialized in the field I'm passionate about. However, the challenge I'm facing currently is to balance between my studies and work.
What makes sculpting fun?
The most beautiful thing about sculpting is that it's a way for me to directly engage with my work. I get the opportunity to reflect all my feelings and thoughts in the piece I'm working on. With the feeling of mud on my hands, and with no one directing me, I can shape the most intricate details of my piece easily and simply.
What essential characteristics do you think any sculptor should have?
A sculptor should never stop learning. Being up-to-date with the most recent symposiums, exhibitions, and technologies is a must for us. Patience is always a key player as well. Sometimes it takes several months to finish up just one sculpture, and giving up is not an option. Moreover, having an eye for detail is what sets a skilled artist apart from everybody else; details could make or break a piece of art.
What do you hope to achieve in five years' time?
Currently, I'm focusing on the exhibition; it is a very important step for me. I hope I get the chance to showcase my work further in more exhibitions and not just locally, but perhaps make it to the rest of the Middle East as well as Europe. I also want to create my own eponymous brand alongside broadening my horizons by getting a PHD.
Do you have any advice for young sculptures who look up for you?
Don't listen to the ones who frustrate you. Do whatever you love, no matter how many people hold you back. Don't surrender to negativity, and follow your passion even if it seems too simplistic. This goes especially to women: challenge all the circumstances no matter how difficult it is. Search for your hidden talent and develop it. No one lacks talent, but many aren't able to discover it. Exploring whatever God blessed you with is a sure way to success. Ignore any unconstructive criticism, but perhaps use negative words as motivation to push you further and prove your worthiness and flair to yourself.
A word for our readers…
I would like to thank a lot of people who stood by my side, helped, and encouraged me. On top of the list are my parents, siblings, and fiancé, Hossam. He was especially my source of positivity; he always lent me a hand whenever I faced any dilemmas. I would also like to thank my professors for helping me polish my skill. In addition to these amazing support groups, I can't be thankful enough for Mr. Amr Koura, the man who recognised my talent and decided to nurture it. Without his support and his team of top-notch calibres at 'Creative Arab Talent', I wouldn't be giving this interview now.
Last but not least, I would like to thank the people who tried to bring me down as they only fuelled my passion to advance forward.
And of course, I'd like to show sincere gratitude to the people who uplifted my soul with their positive comments on social media platforms without even knowing me personally. They really have made a difference in my life and perspective.