The Audacious Adventurer
The inspirational adventurer, Hamsa Mansour, was delightfully rousing to speak to on her travels and astounding future plans. Though it's difficult for us to believe, Mansour says she wasn't always the energetic daredevil she is today; her mental and physical transformation are what truly establish her as an influential adventurer, whom we anticipate will soon be widely recognised around the globe that she will continue to trek. Most importantly, the journey she's about to commence this November will prep her to become the first female cyclist to solo-cycle Egypt in 2019. As she flouts conventions and orthodox lifestyles, Mansour's progressing journey is the epitome of oneness with nature and intrepidity.
What introduced you to athleticism in general and cycling specifcally?
I actually wouldn't consider myself an athlete, but an adventurer. I've loved cycling like every other kid, but it all started when one day, while I was on the road to Sokhna, I spotted a solo-cyclist in a scenery that inspired my dream.
How did you end up working at Omar Samra's 'Wild Guanabana' as an adventure trip leader?
I applied for a marketing position and got accepted. A month after getting the job, Galal Zekri Chatila was leading an off-road cycling trip with 'Wild Guanabana,' and I went with him for support. It was then that we discovered how good of a team we made. I came back to the office telling Omar, "that's it, that is what I want to be doing!"
You plan to be the first woman to solo-cycle Egypt. Tell us more details about the trip!
This November, I'm going on an unsupported solo-cycling trip around the red sea and Sinai. This will be my training for solo-cycling around Egypt in 2019. My husband, Nour El Din Sherif, and one of my best friends, Galal Zekri Chatila, have already accomplished this feat. I hope to become the first Egyptian woman to do so! I want to indulge in this adventure to see myself grow and see what I will discover about myself in the process. I want to see if my impression of the beautiful roads I've always loved will stay the same, or if I will end up hating them for how exhausting they'll be. I want to challenge myself; see the country in a different light, and come back and tell stories.
What do you hope to prove to society with this journey?
I want people to pursue their dreams and believe that they can accomplish what is deemed impossible, and to believe in themselves and see the alternative way of living. I want the perception of adventure sports being a man's domain to change. I've been called 'reckless' among other things, and I want to inspire people to push through this kind of negativity until they realise their dreams.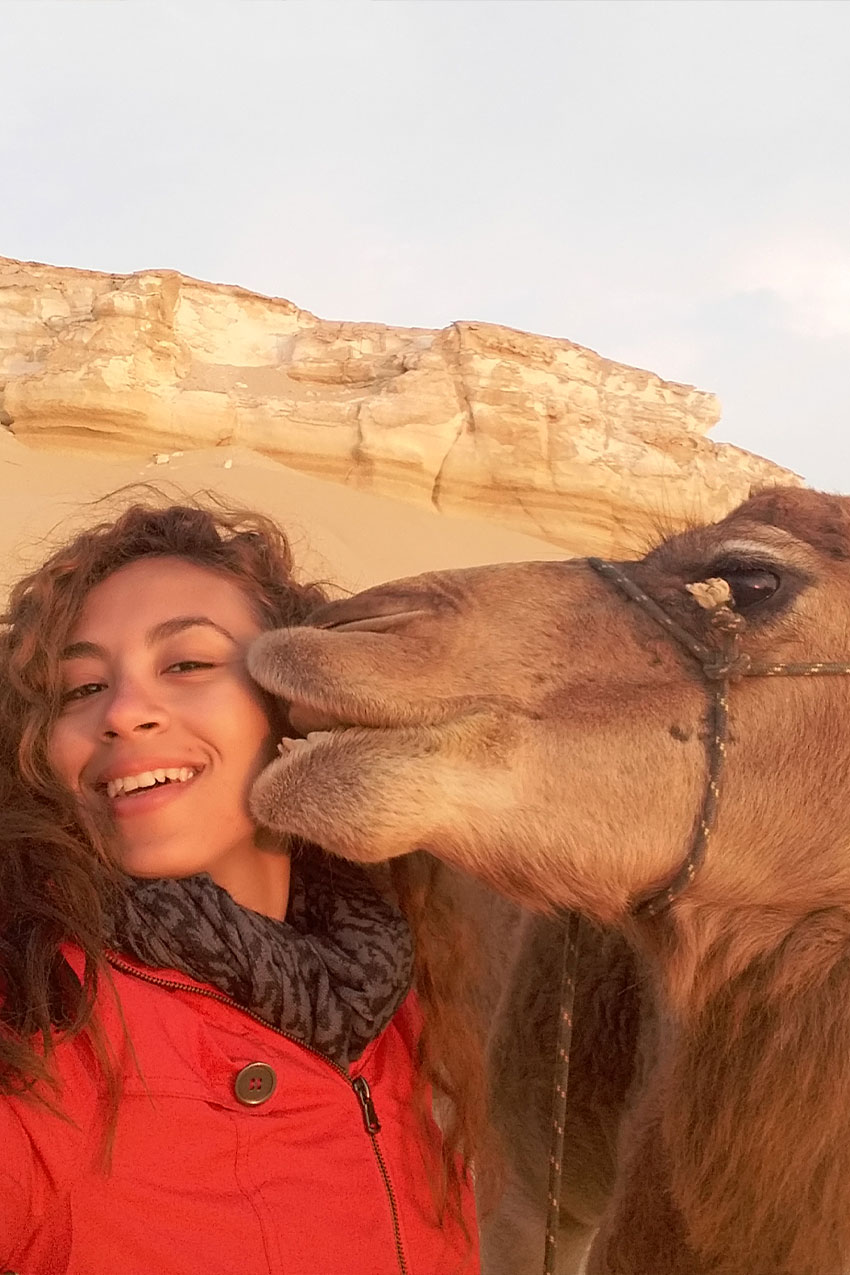 Is solo- cycling your only adventurous interest?
Solo-cycling isn't my only adventurous domain. I love mountains and hiking. I have goals that aren't cycling-oriented. My husband and colleague, Nour, and I are planning on kayaking from Aswan to Damietta unsupported! I plan to enter a sailing competition in the Indian ocean where you sail a boat made of mango tree, and I want to climb the world's seven summits one day.
What safety precautions will you be taking?
I will have a spot device that sends my coordinates regularly to a team in Cairo. I will also have emergency contact individuals along the way, who can reach me in case of an emergency. Precautions aside, I actually believe that the roads will be safe; I cycled from Cairo to Ismailia on my own and the people I ran into were very helpful and friendly. My friends' experiences are no different than this.
What kind of training are you undertaking before going on your trip?
I'm focusing on strengthening my body, especially my legs, and on cycling regularly before the trip apace with some endurance training. Right now, I train on my home stairs, by carrying weights while running up and down the stairs several times, alongside cycling 100 kilometres twice per week.
Name the places you wish to explore the most.
This is a very challenging question to give a succinct answer to! A lot! I want to start with locations in Egypt like The Halayeb Triangle including Elba mountain and Gilf Kebir.
Did you have to undergo physical transformation?
I went from being a physically frail girl to a very active and a much more robust person. The hardest obstacle was my impatience with my physical progress, since I always wanted my body to become much stronger overnight because of the number of things I wanted to try and do. But I understand now that it needs more work, training and some patience.
Anything you would like to say to our readers?
Try and explore new activities because it is the only way to discover yourself and what you love.
And never let fear dictate your actions. We all get scared and tired, but this should not stand in the way of realising your dreams; instead, have those emotions pass through you and out.
I'd also like to verbalise my appreciation for the on-going support I receive from 'Wild Guanabana' as well as for the company sponsoring my expedition.